Last Updated on March 20, 2023 by the staff of TheAllElectricLawn
When the weather changes and the cool temps start creeping in, the trees start shedding their leaves in your yard.  The best way to deal with fallen leaves is with a leaf blower.  Many folks are switching from gas powered leaf blowers to battery powered leaf blowers.  Let's find out the best battery operated leaf blower 2023 edition.
We hope you love the products we recommend! If you buy something through our links, we may earn an affiliate commission.
| Model Image | Model Name | Description | Buying Options |
| --- | --- | --- | --- |
| | EGO Power + 765 CFM 200 MPH Variable Speed 56 Volt Lithium ion Cordless Blower  | Powerful hand held blower with variable speed and large 56-Volt Battery | Get It Now |
| | RYOBI 165 MPH 730 CFM 40 Volt Lithium Ion Cordless Backpack Blower  | Powerful 40V backpack style cordless blower with variable speed, dual battery slots, and turbo mode for more on demand power | Get It Now |
| | Snapper XD MAX 550 CFM Cordless Leaf Blower | Powerful 82-Volt hand held blower with unique debris scraper for cleaning off damp leaves | Get It Now |
| | EGO 145 MPH 600 CFM Cordless Backpack Blower | Strong 56-Volt powered backpack style blower with variable speeds. | Get It Now |
| | WORX WG585 Nitro 40V Power Share Turbine Cordless Leaf Blower with Brushless Motor | Lightweight yet powerful 40V brushless leaf blower | Get It Now |
| | Sun Joe 24V X2 JB500 CT Cordless Brushless Turbine Jet Blower | 24V cordless leaf blower with light weight and long runtime | Get It Now |
| | DEWALT Flexvolt 60V MAX Brushless Leaf Blower | Small but powerful brushless powered blower using the 20V MAX line of batteries | Get It Now |
| | RYOBI 40V HP Brushless 650 CFM Whisper Series Blower Kit | Super powerful handheld blower 85% quieter than gas blowers | Get It Now |
| | Greenworks PRO 60V BRUSHLESS LEAF BLOWER 700 CFM 170 MPH | Powerful CFM and MPH numbers with long running 60V battery | Get It Now |
| | Husqvarna 230iB Leaf Blower | Light weight blower with unique crevice cleaning tool | Get It Now |
Let's take a look at some of the best battery operated leaf blowers for 2023.  These cordless blowers will suit a wide range of duties from smaller sweeper type cordless leaf blowers to full-on backpack style blowers for larger leaf cleaning tasks.
This EGO blower knocks it out of the park with super long runtimes and strong CFM and MPH numbers. This is the cream of the crop handheld brushless blower. This leaf blower is a little heavy, but with its impressive power and airspeed, you will have your leaves cleaned up in no time.
5.0 Ah 56-Volt ARC lithium-ion battery can power all EGO products
Variable-speed control
260-580 CFM with a staggering 765 CFM in turbo
Up to 150 minutes of continuous run time on a low setting
Weather-resistant construction
Weighs 12.5 lbs
What We Liked
The runtime on this blower is crazy. It runs forever, it seems. If you have a large lawn with many leaves, this is a winner
Power, power, and more power, this is one powerful leaf blower
Being able to use lithium-ion batteries with EGO products is a great value
What We Disliked
It might not seem heavy but can become heavy in a short time, expect to switch hands often when using this blower. This is mostly due to the large batteries
Battery life can dwindle fast if you run it in turbo mode all the time
For a handheld blower, the model is a little pricey, but you get what you pay for
RYOBI has a winner on its hands with this super quiet and powerful backpack blower.  This is a go-to if you need to move a large volume of
RYOBI has a winner on its hands with this super quiet and powerful backpack blower. This is a go-to if you need to move a large volume of material and need longer runtimes to get the job done. This blower has dual 40V battery capability, though it only runs on one battery at a time.
I personally own this blower and love it. I didn't realize how much until I had to use my old gas blower this past fall, doing some heavy leaf cleanup in my yard. The vibrations from the gas blower were so annoying, I had forgotten how heavy and noisy it was and how much it shook all the time. I enjoy this blower and I think you will too if this model fits your needs.
Industry's quietest backpack blower 59db's
Accepts dual 40V batteries for extended runtimes.
CROSSFORCE Fan Technology and brushless motor
730 CFM/165 MPH performance
Variable speed throttle and cruise control
Adjustable straps and contoured back
What We Liked
Backpack blowers are much easier to use, and weight distributions help you work longer
Being able to use the same 40V battery with other Ryobi tools is a huge value
Strong like gas performance when using the "turbo button" mode
What We Disliked
Eats batteries in "turbo" mode. You will want extra batteries for larger jobs
Not as powerful at full throttle when not using the "turbo" mode
It can be heavy when loaded with dual batteries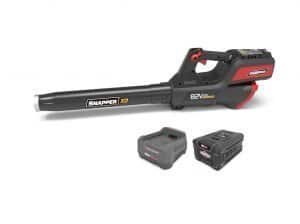 Snapper has been known for its quality lawn mowers in the past, but they have now jumped into the battery powered lawn equipment category.  The Snapper XD 82V has impressive CFM and MPH performance.  The massive 82V battery included in this blower kit provides long runtimes and great performance.
Up to 40-minutes run time with the Briggs & Stratton 82V lithium ion 2.0Ah battery

550 CFM / 130 MPH performance

Infinite speed control maintains desired airflow along with a stable, anti-tip base design

Metal tube bumps/scrape-protecting end ring and push button start

Quiet operation with no maintenance

Weighs 8.38 pounds
What We Liked
The gigantic 82v battery included with this blower kit is super powerful for a handheld blower and has a decent run time when not running at full throttle
If you have ever had to blow wet leaves, you will appreciate the scrapper tool to loosen up those stubborn leaves stuck to hard surfaces
Ability to use the 82v battery with other Snapper 82v line of tools
What We Disliked
Like all hand held blowers they can become heavy when running for long periods of time and the large 82v battery doesn't help the situation.
Running the blower is full throttle will limit battery life considerably, usually halving the runtime
Since this is a high end hand held blower it is a little on the expensive side
This EGO backpack blower along with the RYOBI backpack blower below takes the cordless blower to another level.  The EGO backpack blower has awesome runtimes and very strong CFM and MPH numbers.  While on the heavier side the weight is easily managed by shoulder straps.  Choose a backpack blower when you have to move large amounts of leaves or need long run times.
Hi-efficiency brushless motor
Variable speed control
Powerful 5.0 Ah Arc-Lithium battery is compatible with all EGO POWER + products
Adjustable harness with a waist belt for comfort during both long and short work sessions
320 CFM (gentle) to 600 CFM (turbo) /145 MPH performance
Weighs 12.9 lbs
What We Liked
Nice runtimes out of a single 56v battery charge, and  you can use the same battery with other EGO products
Backpack blowers take the weight off your arms and let you continue blowing leaves for a longer period of time
Like most EGO products, the 56v battery is powerful
What We Disliked
When running a full throttle, the battery life drops significantly, but if you need longer run times, you can adjust the power level
This is a very high end blower, and it has a high end price
Like the Ryobi backpack blower above, it eats batteries at higher throttle, almost necessitating having extra batteries on hand
The Worx WG585 is a great battery powered blower offering a powerful 40V battery power via 2x20V batteries. The Worx blower has a turbo boost that kicks up the CFM and MPH numbers to move those stubborn piles of leaves at a value price.
Sonic TURBINE fan technology delivers forceful, high-capacity air volume, Hyper-Stream air nozzle handles extra tough conditions
Weighs 6.6 lbs
Variable speed control with TURBO boost
Powerful 40V MaxLithium battery from 2 20V batteries
620 CFM/165 MPH performance
What We Liked
Light weight allows for extra work time.
You can use the 20v batteries in many other Worx 20v tools, which adds value.
The unique adjustable nozzle lets you adjust between speed (mph) and volume (cfm)
What We Disliked
One of the smallest batteries we tested in this comparison. Blowers consume batteries at a fast pace, so smaller batteries hurt in runtime.
The Worx blower seems a little underpowered if you have to clear a larger lawn
Really on good for lighter duty blowing tasks like hard surface cleanup and smaller yards
This Sun Joe 24V has long runtimes and is pretty light weight for a blower in this class. It also offers decent CFM and MPH numbers. This blower might be better suited for cleaning off hard surface areas like decks, driveways, and sidewalks.
24-volt 2.0 Ah jet blower
sleek and lightweight
variable speeds and turbo mode
Up to 50 minutes of whisper-quiet runtime on a single charge
Weighs 7.7 lbs
560 CFM/140 MPH performance
What We Liked
Light weight, the second lightest of the blowers we tested.
The battery can be used in other 24v Sun Joe products, which enhances the blower's value.
Great for cleaning up hard surfaces like garages, patios, and pool decks
What We Disliked
Underpowered for serious leaf moving
Only useful for hard surface cleaning due to its limited battery life.
The rotary power selector is a little awkward to use when using the blower with one hand
This DEWALT blower joins many of the others in the 60V MAX line of outdoor power tools that use the 60V MAX batteries. This DEWALT blower offers impressive performance for a 60V blower with a high CFM number which will get the leaves moving in the direction you want them to.
Brushless Motor maximizing motor efficiency and durability
Innovative axial fan design that maximizes air output and run time
600 CFM/125 MPH performance
Variable trigger and speed lock.
Weighs 9.7 lbs
Includes 60V MAX 5.0Ah Lithium Ion Battery, along with charge
What We Liked
Uses the same 60V MAX batteries that other DEWALT tools use, so you have an added value there
The variable speed trigger allows you to dial in just the amount of power to handle your light duty blowing tasks
Works great to clean up job areas and worksites (sawdust doesn't stand a chance)
What We Disliked
The 90mph blower speed just isn't super impressive
It eats 60v MAX batteries, so runtimes are a little on the short side
It intended to be a work sight blower or garage cleaner, doesn't work great in the yard clearing heavy leaves
This Greenworks PRO blower is the cream of the crop for Greenworks handheld blowers, and you can see why with the massive 700 CFM numbers.  This blower is powered by 60V UltraPower line of batteries, which provide longer than average runtimes.  This blower has a list of impressive top-of-the-line features, including variable speed, cruise control, and a turbo button.
700 CFM and 170 MPH
 Turbo button and variable speeds
50 minute runtime
10.14 lbs
Includes 60V 5.0 Ah battery & charger
What We Liked
Impressive CFM and MPH numbers for a handheld blower
Long runtimes with the provided battery
Included Fan and Concentrator nozzles that can help direct airflow depending on the job
What We Disliked
The blower can be heavy with the larger batteries
Turbo mode will kill the battery pretty quickly and shortens runtime considerably
The battery release is close to where some operators might rest their hands if using the blower with two hands, and this can cause the battery to release
Husqvarna has been making outdoor power tools for many years, and before I switched to all electric outdoor power equipment, they were my gas powered brand of choice.  They make great quality tools.  Husqvarna has recently entered into the battery powered outdoor tool business, and the 230ib blower is a great blower.
It boasts 650 CFM numbers with a respectable 136 MPH.  This blower has cruise control and a turbo mode and is powered by Husqvarna's 40V line of batteries.
650 CFM and 136 MPH
Variable speed, turbo mode, and cruise control
Integrated control panel with all functions in easy reach
8.4 lbs
Included 40v battery and charger
What We Liked
Powerful CFM and MPH numbers
Lightweight even with the battery installed
One touch control pad
Debris scraper to help get debris in concrete expansion joints
What We Disliked
The price was a little high for this type of blower
Blower not available to purchase in as many retailers as other blowers
Some users have reported issues with batteries failing
Why choose a battery powered leaf blower?
I believe that battery operated leaf blowers are perfect for the average homeowner.  Battery powered leaf blowers are better than gas powered leaf blowers for several reasons.
Battery powered leaf blowers are much quieter than a gas engine counterparts
Better for the environment, no harmful emissions
Push button or trigger style starting
No gas to maintain or store
No mixing of gas and oil
Lighter weight
Just pop a freshly charged battery onto the leaf blower and you are ready to start blowing leaves.  No more hard starting recoil starters from gas-powered blowers.  Really the convenience, ease of use, and less maintenance are ideal for the homeowners. Frankly, I moved to all electric equipment for my home, and have never looked back.
Features to look for in a battery operated leaf blower
Here are a few of the key features that I think someone would want to consider when trying to determine what to look for in a battery operated leaf blower or cordless leaf blowers.
Battery capacity – the larger the volts the more powerful the blower and runtime
Light Weight – choose a blower that is comfortable for you to carry
High CFM and MPH suitable for the tasks you intend to use the blower for. Higher and faster means more powerful
Adjustable speed settings – allowing you to adjust the speed of the blower for your work task
Low Noise level – quieter blowers are just more comfortable to operate, quiet operation is a must have
Included Battery and Charger – this might seem obvious but if you don't already have a lithium battery and charger, it is a must. Also, having an extra battery never hurts
Do you need a lot of power for a leaf blower?
It depends on what you want to blow around or clean off. Any battery powered leaf blower on the market today can handle sweeping off driveways and pavement. They can also take any leaves that might get on your patio or deck; Those are pretty lightweight tasks.  If the leaves are soaking wet and ankle-deep, you will want to look at some of the more powerful cordless blowers.
If you need to move large amounts of leaves, wet leaves, and small twigs, choose a battery powered leaf blower with more voltage and airspeed. Most modern leaf blowers range from 18v – 80v, with the 30v – 60v range being the sweet spot.
CFM vs MPH
CFM = Cubic Feet per Minute. That is the cubic feet of air the leaf blower manages to blow at full power.
MPH = Miles per Hour rating. That is the miles per hour wind speed the blower pushes out at full power.
The CFM rating is the one that matters the most when moving leaves. Use the amount of CFMs to determine the job you want to do.  You will often see CFM and MPH numbers on the sides of the blower body.
If you need more information, check out what you should be looking for in a battery operated leaf blower.
So what is the best battery operated leaf blower?
Well, truthfully, you can't go wrong with either one of these models. However, if I had to pick, I would have two picks.  One of them picks a backpack blower, and the other a handheld blower.
I think the RYOBI backpack blower is the cream of the crop when it comes to backpack-style blowers that are battery-operated.  With the combination of performance, dual batteries, and battery life you can't go wrong with that model. I own this model and was pleasantly surprised by the quietness of the blower.  It is much quieter than any of my other electric blowers. The model also has a fairly reasonable price, and if you own RYOBI 40V batteries, already you can purchase the tool.
I would have to give the nod to the EGO 56v Blower for handhelds.  It has extreme power for a handheld and excellent battery life.  As far as handheld blowers go, this is top of the line model, though it might have a hefty price tag.
So get out there and show those leaves who the boss is this fall.