Last Updated on May 1, 2021 by the staff of TheAllElectricLawn
So you are in the market for an electric lawn mower, and have decided you might want to go the route of a battery or cordless electric lawn mower.  You want cordless but don't want to spend a ton of money, so let's find the best cordless electric lawn mower under $300.
We hope you love the products we recommend! If you buy something through our links, we may earn an affiliate commission.
Why choose an Electric Lawn Mower for your yard?
Electric lawn mowers require little maintenance, are quiet, and light weight.  For cordless or battery powered electric lawn mowers, which we will be looking at today, you pretty much just have to keep the battery charged and sharpen or replace mower blades.  Cordless or battery powered lawn mowers are very light and are easy to push. Also, electricity rates are generally much cheaper than the price you will pay for gas.
Electric Mowers are Better than Gas Mowers
Cordless electric lawn mowers are better than gas lawn mowers for a few reasons:
Zero emissions, which is much better for the environment
Electric mowers are much quieter, that means cutting the grass early or late in the day is a possibility
No gas to buy, or maintain.
Little or no maintenance, besides charging batteries and sharpening or replacing mower blades.
Push button start, no more recoil starters
I actually completely switched to electric powered outdoor lawn equipment recently, and I am happy I made the decision.
What about a Battery Powered Lawn Mower
Battery powered electric lawn mowers are more expensive due to the price of the batteries it requires to run the lawn mower, than a comparable size corded mower. However, battery powered lawn mowers will allow some benefits over their corded counterparts. The benefit of being cordless allows you to cut your lawn and not be tied to the nearest electrical outlet.  There are quite a few cordless electric mowers in the $300 price range from many manufacturers.
What are the disadvantages of a cordless electric lawn mower?
There are two major disadvantages with cordless electric lawn mowers.
Expensive batteries.  Batteries can be expensive if they go bad.  Lithium-ion batteries have come a long way in the last 5 years, so their reliability has increased, but the cost of a 40v battery can be as much as $150, which is half the price of the mower.
Runtime.  While the newer 40v, 50v, and 60v Lithium-ion batteries are strong and powerful, they do have a shorter runtime.  With most 40v batteries cutting average grass, you will get a 40-minute runtime.
What are the features you are looking for in a cordless electric lawn mower under $300
Lithium-ion batteries in the 18v – 60v range, with 40v currently being the normal battery size
16inch – 20inch cutting width
mulching and bagging capabilities depending on the model
multiple position height adjustment
battery and charger should be included
It is hard to believe you can get all these features at such an inexpensive price range
Best Cordless Electric Lawn Mower Under $300
Below are some of the best cordless electric lawn mowers you can buy in the under $300 category.
Greenworks 16-Inch 40V Cordless Lawn Mower, 4.0 AH Battery Included 25322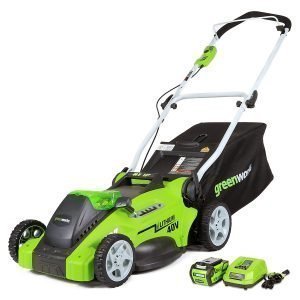 Greenworks make a wide variety of great battery powered lawn mowers.  The 16 inch 40v 25322 has powerful 40v battery that can be used in other Greenworks outdoor power tools.  This mower also has an adjustable cutting height and has options to bag or mulch your clippings.
40V 4Ah Li-Ion Battery  includes 1-4Ah Battery and Charger

Single lever 5-position height adjustment offers cutting height range from 1-1/4 inch to 3-3/8-inch 

2-in-1 feature offers rear bagging and mulching capability for multiple use. 

16-inch cutting deck

6-inch front wheel and 7-inch rear wheel for easy maneuvering 
Worx WG744 17-inch 40V (4.0Ah) Cordless Lawn Mower, 2 Batteries and Charger Included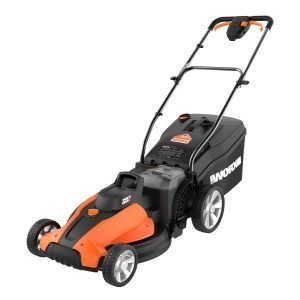 The Worx WG744 is a great 17 inch 40V powered lawn mower that can get your lawn mowing duties handled easily.  It comes with 2 20V batteries instead of a single 40v battery.  The mower can either be used to mulch, bag or discharge your grass clippings giving you many options when maintaining your lawn.
17-inch cutting deck

2 removable 20V 4. 0Ah batteries 

Patented intellicut provides additional torque on demand and the ability to conserve battery when desired.

Premium 2-in-1 design that mulches, bags and rear discharges

includes a quick single lever cutting height adjustment.

Cuts up to 1/8 Acre per charge

dual Port charger can charge two batteries at once
RYOBI 20 in. 40-Volt Brushless Lithium-Ion Cordless Lawn Mower 6.0 Ah Battery/Charger Included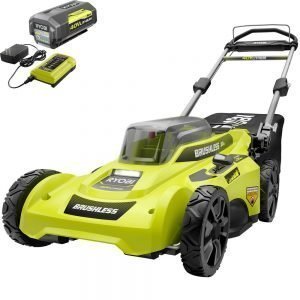 The RYOBI 20 inch mower is the largest in this comparison and is powered by a powerful 40V battery.  This mower has all the bell and whistles even coming with a head light for those cutting sessions that might take you into the setting sun.  The 40V battery included with this mower will work with all of RYOBI's other 40v powered lawn equipment.
20-inch cutting deck
Powerful brushless motor
Includes 40-Volt 5.0Ah high-capacity battery for extended run time
7-position, single-point height adjustment from 1.5 in. to 4 in.
2-in-1 mulching and bagging capabilities
 push-button start
High-intensity LED headlights
Carrying handles for user convenience
On-board battery compartment for additional battery
Foldable quick-release handle for compact storage
Up to 40-minutes of runtime with provided battery and 3.5-hours charge time
Sun Joe iON16LM 16 in. 40-Volt Cordless Battery Mower with Brushless Motor – 4.0 Ah Battery/Charger Included
The Sun Joe iON16LM is a great 40V cordless mower with a long 40 minute runtime.  It has a larger 16 inch cutting with bagging and mulching capabilities.  The mower has multiple height adjustments to help you dial in the perfect cutting height for you lawn.
40-Volt 4.0 Ah EcoSharp rechargeable lithium-ion battery
Powerful brushless motor
Compact design ideal for small to mid-sized lawns
6-position height adjustment lever with cutting height from 1.18 in. to 3.15 in.
Provides up to 40 minutes of runtime
Instant start
BLACK+DECKER 40-volt Lithium-Ion 16-in Cordless Electric Lawn Mower (Batteries Included)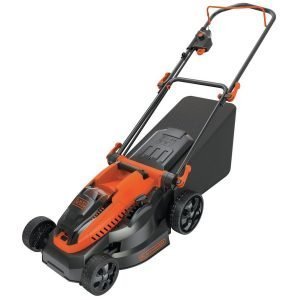 Black and Decker has a long history of making quality power tools used by the home consumer, and this 40V 16 inch mower is just another great tool in the long line of quality tools.  This mower has multiple cutting height adjustments and even comes with a carrying handle when you are done mowing for the day.
40 V MAX lithium-ion battery with 2 x 2.0 Ah for up to 30 minutes of runtime
16-inch cutting deck
Single lever height adjustment for cut of 1-1/5-in to 3-1/5-inches.
Folding handles for easy and convenient storage
Carrying handle makes it easy to lift and carry
The foldable handle offers easy, space-saving storage, perfect for sheds and smaller spaces
Includes 9.5-gal nylon grass bag to collect clippings, and features a hardtop, so you can easily check when it's full
What's the best cordless electric mower under $300?
Well, you can't make a bad decision with any of the mowers listed in this post.  Each one can easily cut grass in small yards with the included battery or batteries.  These mowers can take care of your lawn mowing needs.  If I had to pick one mower I would choose the Greenworks 16-Inch 40V Cordless Lawn Mower 25322.
Any of these mowers can do it without using gas, without a lot of costly maintenance, and without breaking the back. If you need a new lawn mower and don't have or want to spend over $300, check out the mowers above, and give a cordless electric powered corded lawn mower a chance I don't think you will be disappointed. Get out there and cut some grass!
Lawn Mower Manufacturers Mentioned in this Post