Last Updated on October 2, 2023 by Kyle Whitley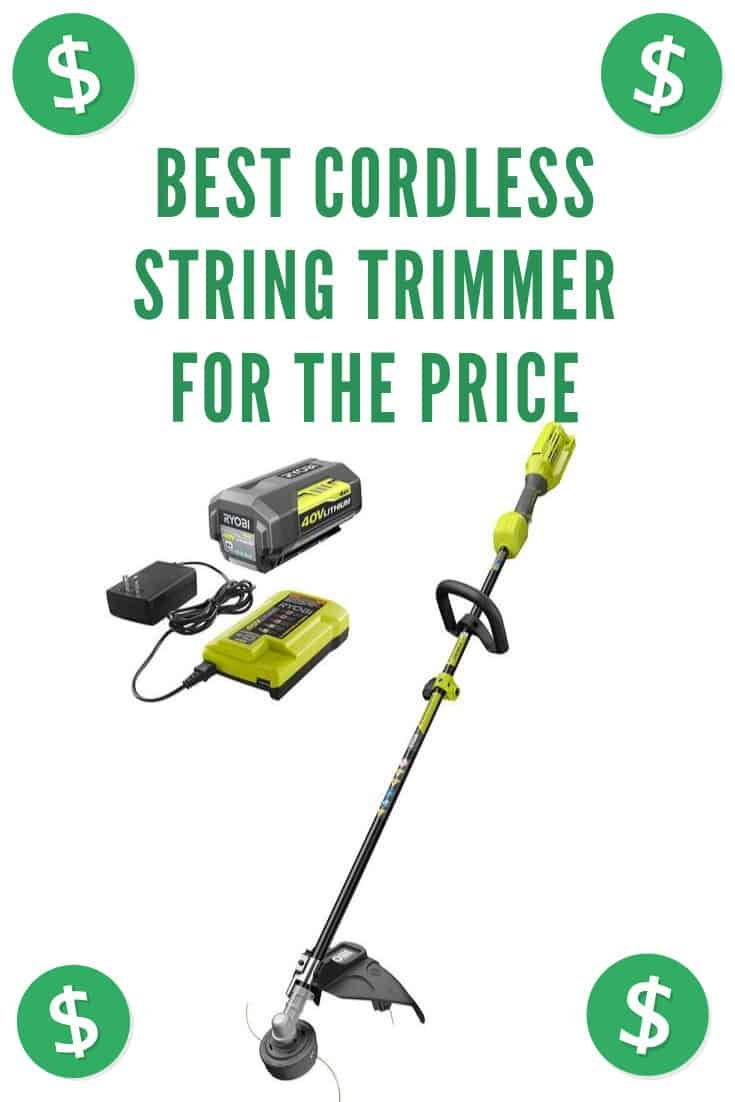 When you are searching for cordless string trimmers, you will come across many different models. This can make it hard for you to select a product that is right for you. But, no need to panic as we have compiled a list of the best cordless string trimmer for the price, which would make it easier for you to find a suitable model.
Cordless string trimmers combine the convenience of a gas trimmer with the many benefits of an electric string trimmer – zero emissions, no engine maintenance, silent operation, and a push-button start. A decade ago, there weren't any cordless models available that had the battery life to be feasible for practical use. Fast forward to today, the market is laden with cordless string trimmers that are durable and practical. Not only that, but some of them are even better than gas-powered models.
Personally, I switched to all electric outdoor equipment and haven't looked back.
We hope you love the products we recommend! If you buy something through our links, we may earn an affiliate commission.
Are there affordable cordless string trimmers?
There are many cordless string trimmers on the market today.  Below are nine of the most affordable models that are worth the price.  Each of the models listed below includes a charger and battery pack.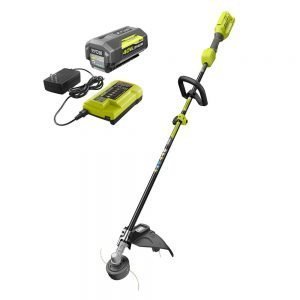 The Ryobi 40-Volt has the strength to cut through dense grass of your lawn and run time to manage a large yard. This model is attachment ready, which means that the trimmer head can be removed and replaced for other yard tools such as a mini cultivator, brush cutter, or a pole saw. It also comes with a 0.080-inch twisted line and the Reel-Easy bump-feed string, which is usually found on gas models.
The Ryobi Cordless String Trimmer packs a powerful 40V lithium-ion battery, which takes 90 minutes to charge and lasts for about 30 minutes. It also features a variable speed trigger to give you more control over the cutting action. The cutting width of this model ranges from 13 inches to 15 inches. The Ryobi 40V String is an excellent value for the price.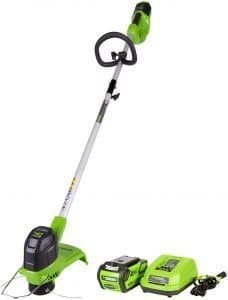 This cordless string trimmer from Greenworks comes with a 40V battery, which gives a run time of up to 30 minutes. The head of the Greenworks 12-inch trimmer rotates, allowing you to easily edge with the motor.
This model also sports a variable speed trigger so you can crank up the power to cut through tough weeds. Unfortunately, this model doesn't support attachments so if you want to use more tools with your trimmer, you should opt for the 40V 14" version of Greenworks Cordless String Trimmer. The Greenworks 12-inch Cordless String Trimmer is a great trimmer for smaller trimming duty.
The DeWalt  trimmer is a high-end model cordless string trimmer. Weighing 8.5 lbs, this string trimmer boasts a rubber-padded auxiliary handle for ease-of-use. It trims efficiently with the 0.080-inch bump feed and incorporates a 13-inch cutting swath for a superb cutting performance. Moreover, this model is empowered with a variable speed trigger for accurate control. Unfortunately, it doesn't support attachments, which is a major downside given the price of this model.
The DeWalt 20 Volt MAX runs using the 20V lithium-ion battery that's easily installed. One great plus is that the 20 volt battery used in this trimmer can be used will other DeWalt tools in the 20 Volt max line of power tools. Overall, the DeWalt 20 Volt MAX is a decent option for the price.
Weighing only 4.5 pounds, this cordless string trimmer comes with a simple trimmer design. It is empowered with a comfortable grip handle, which makes it easier to hold it for trimming those pesky weeds. The cutting length of the Ryobi One+ measures 10-inches and it doesn't include any bumper feed. The device is powered by an 18V lithium-ion battery which gives it a run time of 60 minutes on a 30-minute charge.
The timmer spool capacity measures 12 ft having a 0.065-inch, holding up to 15 ft as needed. The Ryobi One+ doesn't accept any attachments so you can't replace the head with other tools. However, it can work as an edger at the same time.
The Ego 15-inch Cordless String Trimmer is just as affordable and powerful as a gas device, but without the time-consuming maintenance, smelly gases, and messy fuel. It is powered by a 56V lithium-ion battery and runs a 0.095-inch professional grade trimmer line. The 15" cutting swath combined with the power of brushless motor makes this device a great choice for those looking for a more powerful trimmer with more professional-grade features.
At 10 pounds, the EGO 15 isn't the lightest trimmer on the market, but its excellent handling and balance make it easy to maneuver in tight spots.
The Greenworks ST-140 is a good option for yards up to 0.5 acres. It is powered by a 40V lithium-ion battery, which gives it a run time of up to 55 minutes on a full charge. This model supports several attachments so you can use it for a variety of tasks to keep your landscapes in top-notch shape.
The Greenworks ST-140 has a variable speed trigger which gives you more control over the cutting power. The cutting width of this unit is 14 inches and it trims very efficiently with the 0.080-inch bump feed head.  It is a great overall value since it has a 14″ cutting width and ability to add attachments.
The Milwaukee M18 comes with an 18V lithium-ion battery which provides a run time of about 1 hour per charge. It has two speed settings – low and high. In low mode, you will get up to 4600 RPM while the high mode gives you 5800 RPM. The speed cannot be changed on the fly through and you'll have to stop the device, change speeds, and then activate it again.
The dual string head of this string trimmer will accept a 0.080-inch or 0.096-inch trimmer line. The unit comes with a 0.080-inch line preinstalled. The cutting diameter is adjustable from 14-inch to 16-inch so you can change it according to your requirements. The Milwaukee M18 comes with a battery and rapid charger.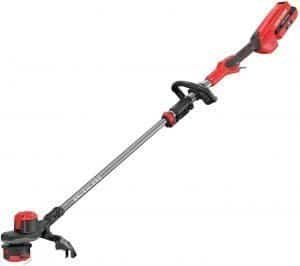 This model is powered by a 60V battery which gives it a run time of about 60 minutes. The cutting width of the unit is 15 inches and it features a dual 0.080-inch twist line which makes quick work of tough weeds. The Craftsman V60 also boasts a two-speed variable switch – for longer runtime or higher power. It doesn't support any attachments, but you can use it as an edger.  However, it's longer runtimes offset the lack of not being able to add attachments.
Which string trimmer is the best cordless string trimmer for the price?
Each of the models we reviewed is a great string trimmer for the price.  They each contain a battery and charger which is a must if you are just getting started using a particular brand. They are all powerful and just as good if not better than a gas counterpart.  However, if we had to choose the best string trimmer for the price, I would go with the Ryobi 40-Volt Lithium-Ion Cordless Attachment Capable String Trimmer 4.0 Ah Battery and Charger Included  This trimmer is an excellent value, not only because it is a great trimmer, but you can also add attachments to it, such as a blower or brush cutter which make it an even greater value.
Pick out any of these affordable cordless string trimmers and you will have your yard cleaned up in no time.