Last Updated on December 2, 2022 by the staff of TheAllElectricLawn
Let's face it, the average home has a ton of electrical devices that we use every day, but power outages are becoming more and more commonplace.  If you want to have access to those electrical devices in a power outage or when you are away from home (ie tailgating), you are going to want to have a power station or battery powered generator.  If so, then you might need to find the best portable battery power station for home.
We hope you love the products we recommend! If you buy something through our links, we may earn an affiliate commission.
Best Portable Battery Power Station
After reviewing several models we felt the Yeti 3000x Portable Power Station, was the best portable power station for your home.  We felt that the Yeti 3000x met all the features we were looking for.
Very portable with handle and wheels
Easy to use
An abundance of charging ports
Plenty of power capacity
Alternative charging sources in this case solar power
Now let's take a look at the features you should be looking for in a portable power station
What is the Best Portable Battery Power Station for Home
| Model Image | Model Name | Description | Buying Options |
| --- | --- | --- | --- |
| | Yeti 3000X Portable Power Station | Powerful but heavy power station with enough capacity to power a full size refrigerator. | Get It Now |
| | Jackery Portable Power Station Explorer 1000 | Portable power station that can get your essential gear through a power outage, camping, or being off the grid. | Get It Now |
| | Jackery Portable Power Station Explorer 500 | Extremely portable power station with power to make sure your essential devices are powered up in an outage, camping or a tailgate. | Get It Now |
| | EF ECOFLOW Portable Power Station RIVER Max | A powerful portable power station with the capacity to power 10 devices at a time. | Get It Now |
| | Westinghouse iGen600s Portable Power Station | Small but powerful power station at a bargin price that can keep your essential devices powered up at the campsite or in an emergency power outage | Get It Now |
Now let's take a look a the portable battery power stations we reviewed.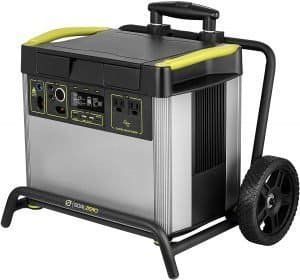 What can I say about the Goal Zero Yeti 3000x.  It really is the cream of the crop for portable (maybe luggable) battery power stations.  This power station has impressive power.  It can power a full size refrigerator for over two days straight.  It also has plenty of output ports to recharge and power many different types of devices.  This power station is built to handle harsh environments and should be right at home in a situation that requires emergency power.
Powerful 2000W AC inverter
2000W continuous power and 3000W surge power
7 output ports including USB-A, USB-C, 12V and 120V
3 Methods of recharging AC, solar, and 12V DC
Impressive 3000wh of capacity
Jackery has a long history in the portable power station arena, and the Jackery Portable Power Station Explorer 1000, is their top of the line portable power station.  It has an impressive array of outlet ports, to power all types of devices.  This portable battery power station was designed from the ground up to be solar rechargeable so that is a great feature.  It also has plenty of power to run blenders, coffee makers, and even an electric grill.
1000W continuous power and 2000W surge power
8 output ports including 3 110v pure sine wave outlets
3 methods of recharging including solar, AC, and 12V DC
MPPT tech provides faster solar recharge rates
1002wh of capacity
Here is another great model from Jackery.  The Jackery Portable Station Explorer 500 is the little brother of the 1000 Explorer above.  This model also sports some impressive power but upping the portability.   The Explorer 500 has a wide selection of outlet ports, and power to handle a wide range of devices like TV's and mini fridges.
500W continuous power and 1000W surge power
7 output ports including 3 USB-A, 12V DC, and 110v standard outlet
3 methods of recharging include 12v DC, solar, and AC
Small size and easier portability than larger models
Weighs only 13lbs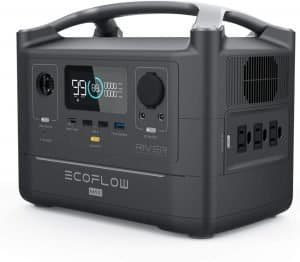 The ECOFLOW River Max is an interesting portable power station, where it is actually a power station and an extra battery.  The extra battery gives it the MAX name in the ECOFLOW line of portable power stations.  This portable power station has a wide range of outlet ports, and the ability to handle the largest of electrical devices, like full size refrigerators.  It also has a unique recharging input for fast charging, which cuts recharge times in half.
600W continuous power with 1800W surge power
X-Stream technology for 80% recharges in less than 1 hour
Modular battery design lets your change battery capacity to meet your needs go from 288wh to 576wh of capacity
3 methods of charging including solar, 12vDC, and AC
8 output ports including USB-A, USB-C, and  3 120v outlets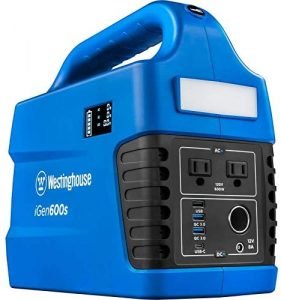 The Westinghouse iGen 600s is another impressive portable battery power station.  The iGen 600s has a wide range of outlet ports to support critical electrical devices such as CPAP devices and mini-fridges.  The iGen 600s is super portable and is solar recharge capable.
600W continuous power with 1200W surge power
Unique 3 mode flashlight to help light your way in a power outage
8 output ports including 2 120V AC outlets, USB-A and USB-C
3 methods of charging including AC, 12V DC, and solar
Very portable design only weighing 9lbs
What Features are You Looking for in a Battery Power Station
Portable power stations and battery powered generators are great to have in situations where you have power outages or need to have power when you are off the grid or hanging out at a tailgate.  That being said there are some key features you need to keep in mind when looking for a portable power station for your home.
Portability
The whole key to a portable power station is that is it portable right.  All of the models we reviewed either had carrying handles, wheels, or both.  The idea is to be able to move the power station from one place to another with minimum effort.
Easy of Use
The last thing you want to do when the power unexpectedly shuts off is trying to figure out how to turn on your power station.  Being able to power on, view charging capacity, and device status easily is a must.  Most models have a LCD screen that displays the essential functions of the power station.
Charging Ports
Having a bunch of different types of charging ports is a must.  Most good battery power stations will have the following port:
Having a wide range of port choices will allow you to charge multiple devices at the same time, for instance charging a families worth of cell phones,  a led lamp, or even a mini fridge.
Power Capacity
How much power do you need?  It all depends on what you are wanting to power up.  If you just need to keep your phone charged or power a laptop, a smaller portable power station with 150W and 155Wh would work for you.
If you need to keep full-size refrigerator or a combination of things like tv, lamp, and wifi router, then you are going to need a battery powered power station with much more power like 2000w and 3000wh or capacity.
Alternative Charging
When the power goes out or you are off grid for an extended amount of time, you might find that you need to recharge your portable battery power station.  You will need alternative ways to charge it, for example, solar and 12v power from a car or truck.
What do you do When the Power Runs Out
As we mentioned earlier there could come a time when you expend the power available from the power station and need to recharge it.  So two of the most common ways to do that are with solar and 12v dc power.
Solar Charging
This is kind of self-explanatory, but several of the models we reviewed have the ability to connect to solar panels to recharge the power station's batteries.  This process might not be super fast, but if you have sun and an unobstructed view of the sky, then you have an unlimited source of power to recharge your power station
12v DC Charging
Recharging your battery power station from a 12v source of power is a great and sometimes fast way to charge.  Simply connecting a 12v charging cable from your running automobile to the battery power station will get your power station recharging.  In some models, this can dramatically decrease charging time.
How Portable Are They
Well, all of these models we reviewed are portable.  Smaller battery power stations come in around 6 – 7 pounds.  Some of the larger more powerful battery power stations are upwards of 70 pounds.
Like I mentioned previously, though all of these models have carrying handles.  The heaviest of the group has wheels and a carrying handle.  So yes they are portable.  I did say portable not easy to carry around.
Which Best Portable Battery Power Station For Home Should you Choose?
Each of these portable power stations is a great choice as portable power for your home when you have an unexpected power outage or just need some remote electrical power while you are at home.  We think the Yeti 3000x Portable Power Station meet all the requirements for a power station we would keep in our home in case we needed it for an emergency, and since it is on wheels it is portable enough to take on the go.
Don't let a power outage get you down, pick a portable power station for your home, so you can stay connected and not in the dark.