Last Updated on October 2, 2023 by Kyle Whitley
A robot lawn mower is a new and exciting way to make your yard look well-groomed. For many people, however, the idea of purchasing an expensive machine that is more or less limited to one task sounds like a big waste of money. We will take a look at the cost of a robot lawn mower.
The cost of robot lawn mowers has gone down in recent years; this means there's no longer such a high barrier to entry for those trying out this new technology. In addition, these machines are pretty cool.
What exactly is a robot lawn mower?
A robot lawnmower is a type of lawnmower that will automatically cut the grass on your lawn. They are battery powered, and have a recharging stand that is connected to regular AC power from your home.
These mowers are generally around the same size as a standard push mower with 7″ – 22″ cutting widths.  You have to bury a guide cable or wire in your lawn which creates a boundary where the robot lawn mower knows not to cross.
The robot mower cuts the grass in a random pattern much like a robot vacuum works in your home.  The mower will zig and zag from one side of your yard to the other cutting grass along the way.  Setting the robot lawn mower up is a fairly simple task.  Most have a learning algorithm that helps them learn your yard so they cut it more efficiently over time.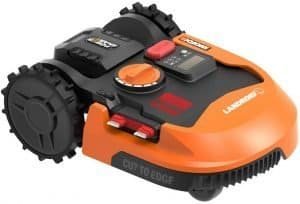 How much does a robot lawn mower cost really?
A robot lawnmower can cost anywhere between $500 to $4000. However, this is only an estimate as the prices may vary depending on the quality of the product and how many features it has.
The average consumer robot lawn mower costs around $1000 – $1500.  Now that might seem like a lot of money, and it is, but think about how much time you put into cutting your lawn. Is your time worth more than $1500?  I bet it is.
The robot lawn mower's in this price range usually have a good amount of features which puts then right in the sweet stop for consumers.  They will have some or all of the following features:
Runtimes between 45 – 100 minutes
Cutting range of about 1/2 acre
Rain sensors so that the robot lawn mower knows to return to its charging station and wait out the storm
Adjustable cutting heights and mobile apps for controlling the robot lawn mower from your phone.
As far as running the robot lawn mower on a day to day basis the cost is relatively low based on the national average electricity price currently around $0.11 per kWh, you won't be spending a ton of money to recharge the mower.
All machines need parts right?  The cost of parts for a robot mower is not insignificant but is also not going to break the bank.  Replacement blades for the mowers in this price range are from $30 -$40 dollars and these are usually multiple sets of blades.  If you have to replace a battery for some reason, that will run you somewhere in the range of $100 – $200.
How does a robot lawnmower work?
Before you cut your robot lawn mower loose in your yard, you will need to do some basic setup, which includes burying or staking down a guidewire/cable that lets the robot mower know where to cut and where not to cut.  If you have a larger lawn, some mowers support multiple zones like your sprinkler system.
Robot lawn mowers operate much like a traditional lawn mower either electric, battery, or gas powered.  There is a blade that spins and cuts the grass as the mower moves along.  Where a traditional mower might have a single blade, robot mowers tend to have three or more smaller blades.  The smaller blades help conserve battery power, as they are easier to turn.
All robot lawn mowers use mulching blades since they don't have a bagging system on the mower. Robot lawn mowers mulch the clippings back into the yard creating a natural fertilizer which in return helps the lawn.  These mowers operate continuously so the grass doesn't get really long, which would require the clippings to be bagged.  Also most of these mowers have a "cut to the edge" feature which will eliminate some of the trimming and edging you might have to do on your lawn.
Robot lawn mowers learn how to best cut your lawn over time.  They use built in algorithms to calculate the most efficient ways to keep the lawn cut and looking nice.   Every time it bumps into an object or runs into its boundary line it learns, mapping out your lawn.  It is actually pretty cool stuff.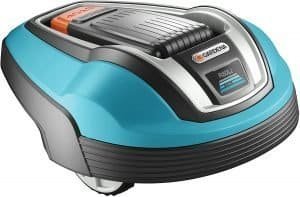 Should you buy a robot mower to mow your lawn?
The biggest advantage of purchasing robot lawn mowers is the convenience because they can be set up in automatic mode or run manually. They can run day or night through your entire growing season or your lawn.   They recharge themselves and you really only have to do a few maintenance tasks like changing blades and cleaning the mower occasionally
They also come with plenty of cool features such as remote controls, height adjustments, and object detection systems, and GPS. How cool is it to be lounging around on a hot summer day, and pick up your phone and tell the robot mower to cut your grass, doesn't get much better than that right?
The biggest downfall for robot lawnmowers is that if you have a larger lawn greater than 1/2 acre, then the cost of the mowers really starts to climb. Mowers that can cut up to an acre are in the $2000 -$4000 range which is around the same price as nicely equipped electric and gas zero turn mowers.
Cost of a Robot Lawn Mower
Some folks might think a robot lawn mower is a waste of money.  I don't think it's a waste of money at all, because you can use your robot lawn mower for more than one task. You can have your robot lawn mower do the entire yard, including edging and trimming around the trees, while you relax.  Plus, wouldn't it be entertaining to watch it work.
Robot Lawn Mower Manufactures