Last Updated on September 20, 2021 by the staff of TheAllElectricLawn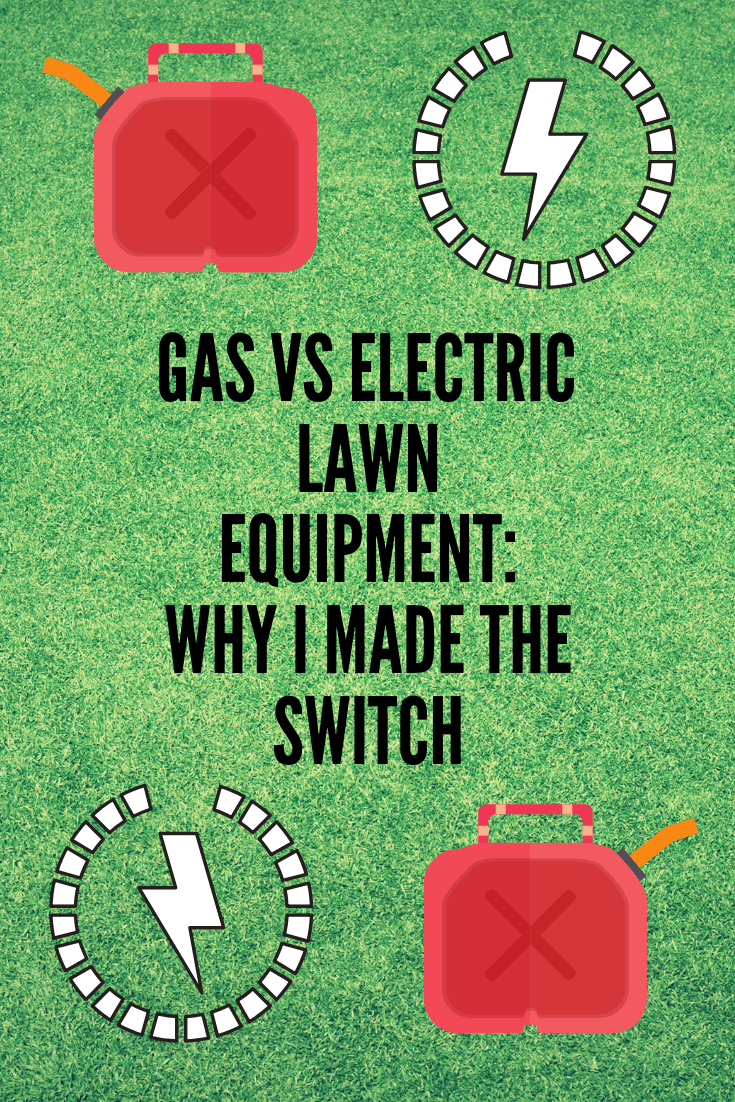 Why I made the Switch to Electric Lawn Equipment
Want to know why I switched to all electric lawn equipment? I took a look at gas vs electric lawn equipment, and I got rid of all my gas outdoor equipment.
Imagine this.  It is a nice spring morning, and you head out to your garage or shed to power up the weed eater or lawn mower.  You check the gas, if you have any on hand that is, and fill up the tank of your weed eater or lawn mower.  Oh yeah, don't forget to not put your mixed gas/oil mixture into your lawn mower or put your regular gas into your weed eater if it is 2 cycle engine.  You go to pull the recoil starter or turn the key on the ignition switch and it doesn't start.  No big deal, you make sure you pull the choke or push the primer bulb a few times.  You pull the starter again or turn that ignition switch, it fires up or it doesn't.  I think everyone gets my drift, gas engines can be a hassle.
That is the main reason why when I took a look at gas vs electric lawn equipment, I made the switch to electric.
Making the Switch to Electric Lawn Equipment
So you might be wondering.  Can I make the switch?  Sure you can.  I might be a little different than most folks, but I went cold turkey.  I dropped gas and started using electric, and pretty much replaced every major piece of lawn equipment I owned that was gas with an electric counterpart.
Is Electric Lawn Equipment Convenient?
I am not even going to mention the maintenance of small engines or what happens if your gas gets stale (break out the carb cleaner) and you didn't put a stabilizing additive in it.  The switch to electric was made for convenience.  I no longer have to go buy gas and store it.  I don't have to worry if the gas is getting old or did I put my stabilizer in the gas can.
No more spark plug or belt replacements.  There are no broken fuel lines or clogged up air filters.  I can go on and on.  When I want to cut the grass, blow leaves, or weed eat, all I have to do is put a battery in the weed eater, mower, or blower and go.  Guess what?  They start every time….it is amazing.
Who makes Electric Lawn Equipment?
Well, pretty much every major tool manufacturer has entered the game of electric lawn equipment.   I personally am a big fan of RYOBI.  Most of my equipment right now is from RYOBI, but that doesn't mean you have to go that route.
If you are a Kobalt, Husquvarna, Mikta, EGO, GreenWorks, Stihl, Craftsman, or Worx fan, they have you covered.  The options are too numerous to mention, the world is your oyster as they say.
Take Some Weight Off Your Shoulders
So did I mention that my previous 4 cycle weedeater weighed a ton…not literally a ton, but it was heavy.  Heavy to the point where I had to use a shoulder strap.  Don't get me wrong the thing was powerful, but after lugging it around my yard doing the trimming, my back would hurt.
When I went to my electric trimmer, there was such a difference, in weight, but surprising the power was still there, at least with my 40v RYOBI trimmer.  Also, my battery-powered push mower is significantly lighter than my old Husquvarna push mower.  I can actually lift the thing with one hand and it folds up so I can store it easier as well.
It Sure is Quiet
When you compare Gas vs Electric lawn equipment,  we all know that small engines can be loud.  The sound of 2 cycle weedeater at full throttle is hard to ignore.  If you have ever used one, you know how loud they can be.  My 40V RYOBI trimmer is pretty quiet, definitely not as loud as the gas one it replaced.
The RYOBI lawnmower is practically silent except for the whirling of the blade.  I even had one of my neighbors approach me a week or so ago and ask about the mower.  He said, "That thing sure is quiet, I didn't think you had it running".   I think I could cut the grass or do some grass trimming in the early morning now, which was never an option with my old gas equipment.
Let's Save the Environment
Small engines put off a lot of exhaust gases.  Cutting your grass for 1 hr is the equivalent of running a car for 40hrs.  Sounds crazy right.  It has been reported that 5% of the United States air pollution comes from cutting the grass.  Now I am not an eco-nut, but I do try to do what's best for the environment when I can.  Especially when there really is not much of a trade-off.  If I can get longer run times and powerful tools that can do the job, seems like a no brainer to go electric when you can.
Life After the Switching
I couldn't be happier.  Really I don't miss much about gas small engines or even the larger engine in my yard tractor.  The maintenance was a pain.  I don't have to go to the gas station anymore to fill up gas cans.  There are no filters, oil, or belts to change.  Electric lawn equipment is so much more convenient for me.
For example, it has been raining quite a lot in the southern United States where I am located.  I had a short window to get my yard work done, and it was easy to just go unplug my RYOBI zero turn and quickly go cut my grass.  I didn't have to run to the gas station to fill up.  There was no oil to check.  It also started on the first turn of the "on" switch, as it does every time.
Once I got done cutting the grass, I grabbed my 40V trimmer and went to trimming, and then switched the battery out to my blower and blew off the driveway and walkways.  I then grabbed a separate 40v battery and put it in my RYOBI push mower, to cut the grass inside the pool fence.  When I was done,  I put the two 40v batteries on their respective chargers so they would be ready for the next time, and plugged the zero turn back into its charger.
I have even thought about how I could use electric lawn equipment to my advantage.  What about an electric chemical sprayer, electric tiller, electric log splitter, or an electric chain saw.  Those are tools I didn't own previously, but they sure do look like a good idea, especially since I have existing batteries that I could possibly use.  Having the tool on hand and just adding a battery to it makes yard work so much more enjoyable and less of a hassle.   Simple and clean.
I switched to electric and I am not looking back.  I hope you too can make the switch to electric lawn equipment. I couldn't be happier after I compared gas vs electric lawn equipment and that is why I made the switch to electric.
Resources:
Battery or gas? Looking to the future of outdoor power equipment
Battery equipment and the green industry's green revolution
Backyard Battle Gas vs Electric