Last Updated on October 2, 2023 by Kyle Whitley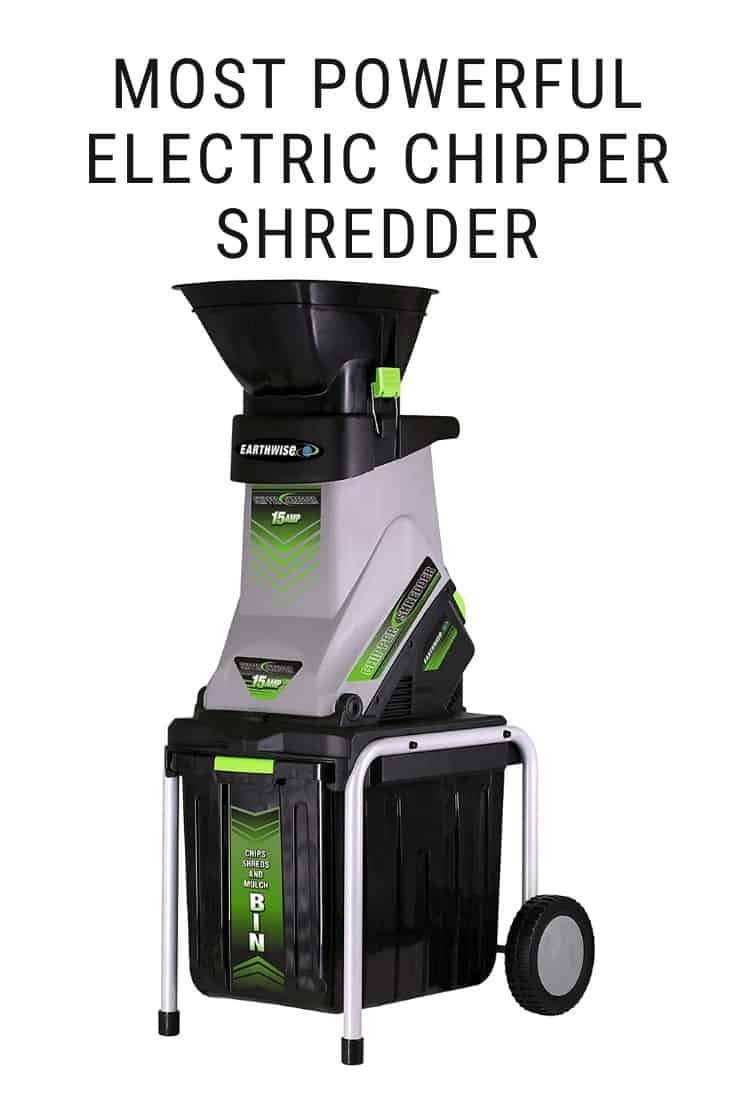 If you have a garden, a lawn, or lots of trees on your property, then you probably understand the true value that a powerful electric chipper shredder can make for your yard work. Electric chipper shredders have become significantly more powerful in recent years and provide the same level of performance that you get from a gas-powered unit.
The main benefits of electric garden shredders are that they are easier to clean and operate, more portable than gas-based units, and are good for the environment. These powerful machines are just what you need to ensure that those leaves, twigs, small branches, and garden debris are disposed of quickly. Shredders can also create useful wood chip mulch for your yard and save you money on fertilizer.
We hope you love the products we recommend! If you buy something through our links, we may earn an affiliate commission.
Finding the Most Powerful Electric Chipper Shredder
In this blog, we look at 5 of the most powerful electric chipper shredders available in the market that can make your yard work a breeze. Take a look and see which one will work best for your lawn or yard work.
| Model Image | Model Name | Description | Buying Options |
| --- | --- | --- | --- |
| | Patriot Products CSV-2515 14 Amp Electric Wood Chipper/Leaf Shredder | Powerful electric chipper shredder with large hopper capacity | Get It Now |
| | Sun Joe CJ602E Electric Wood Shredder | Affordable light weight wood chipper and shredder with safety hopper | Get It Now |
| | Earthwise GS70015 15-Amp Garden Corded Electric Chipper/Shredder | Powerful 15 Amp motor with large hopper and collection bin to capture mulch and wood chips | Get It Now |
| | Landworks Chipper and Shredder | Very inexpensive model with larger wheels and powerful 15Amp motor | Get It Now |
| | Sun Joe CJ603E 15-Amp Electric Chipper/Shredder | Powerful 15Amp powered motor with larger hopper capacity and great safety features | Get It Now |
The Sun Joe CJ602E is a powerful and high-quality electric wood chipper that delivers amazing shredding power at its price range. This electric chipper has an electromagnetic switch that prevents the machine from operating when the lid is open. The CJ602E is very easy to clean and weighs just over 26 pounds, making it easy to handle and move around.
This unit is powered by a 15Amp motor that can create sufficient power to shred through all kinds of garden debris easily. The recommended cutting diameter for branches is 1.6 inches, but it easily shredded branches as thick as 2 inches in diameter in our tests. It has a 6-inch wheel, making it one of the most compact models on our list.
This electric chipper shredder is quite safe and approved by the ETL to be an ideal pick for new and advanced users alike.
Pros
Powerful 15Amp motor
2 inch diameter chipping capability
Large wheels for easy mobility
Cons
It can be loud when chipping larger branches
Green branches can cause it to clog
Struggles with larger branches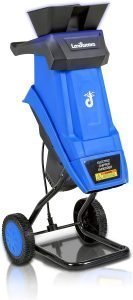 The Landworks chipper shredder is the most economical choice in this review, but don't let its lower price full you.  This new and improved Landworks chipper shredder has a powerful 15 AMP 1800watt 120v AC motor.  The chipper shredder has an impressive 17:1 reduction ratio to chip those leaves and limbs into tiny pieces.  The motor churns at an impressive 4100RPM.
The Landworks chipper shredder also has a long list of impressive safety features that you might not expect to find in a lower price electric chipper shredder.   This includes an overload switch to detect if the chipper shredder is pushed too hard.  A foam filter also protects the motor from the dust and debris that get kicked up into the air when handling your chipping and shredding tasks.  Also included is a hopper push paddle to push debris into the hopper keeping your hands at a safe distance.
Pros
Powerful 15Amp motor
nice safety features for a low-cost model
Large wheels for easy mobility
Cons
It tends to clog easily.
Green branches can cause it to clog
Struggles with larger branches
If you are looking for real power, this is another great wood chipper for home use. This powerful shredder will put your garden in tip-top shape in no time. It is lightweight and compact and can turn mountains of leaves into great nutrient-rich mulch.
It runs on a 14AMP electric engine that powers the motor on this shredder. Simply plug it into the standard 110-volt outlet, and it's ready to go. The cutting diameter of up to 2.5 inches is supported.
It offers a smooth and quiet operation which is great if you have a small yard. The shredder moves effortlessly with large wheels though it is a bit heavy at 95 pounds. It features a large hopper at the top for feeding all your garden debris. There is a hopper at the side to fit a collection bag to collect all the chips and shredded material.
Pros
Powerful 14Amp motor
Larger hopper for feed lots of material
Large wheels for extra mobility
Cons
Hefty price tag
Pretty heavy
Have issues feeding branches that aren't straight
This powerful electric gardening chipper will allow you to carry out a large variety of gardening and yard cleaning activities on your property with perfection. This dual-purpose machine can be used as a chipper or a shredder based on your needs.
The machine is quite safe and easy to use. Ensuring safety while in operation includes the overload protection system with a reset switch that will quickly stop it when the lid is open.
It has a bigger, 15-amp motor that can handle loads of debris. The recommended feeding diameter is 1.75 inches, but it easily chops through branches as thick as 2 inches.
The powerful motor boosts the functions of this electric chipper shredder to deliver excellent results for users. It is designed with durable back wheels that make it very smooth and easy to maneuver. The machine has a 1.2-bushel collection bin that makes it easier to clean after use.
The great ergonomic design makes it one of our favorites, and all users, new or experienced, will find it very handy. The tamper tool and leaf chute also ensure a safe machine.
Pros
Strong 15 Amp motor
Can handle branches up to 2 inches
Included collection bin for easy cleanup
Cons
Blades wore quickly
Can clog with wet leaves
Small entry chute slows down leaf mulching
The Sun Joe CJ603E has a powerful 15-amp electric motor.  The CJ603E is perfect for turning leaves, twigs, brushes, and branches into great garden mulch.
The CJ630E can handle branches up to 1. 73-inches in diameter.  The chipper and shredder are easy to assemble, and like other electric chipper shredders, you don't have much maintenance. The electric wood chipper is easy to move from area to area with large wheels.
The built-in safety automatically engages when the hopper is opened. The safety hopper is a great feature that keeps you from accidentally putting your hands in a dangerous place when loading the hopper.
Do You Need an Electric Chipper Shredder?
You should buy an electric chipper shredder to save time and create free mulch. Wood chippers reduce leaves and twigs into smaller pieces and then allow you to recycle them into mulch.
Continuous power means that there is always power available to run your equipment. Electric chippers get the upper hand over gas-powered ones because they are more efficient.
They also use less fuel. Most electric chippers are smaller than gas-powered ones. Gas-powered ones are usually heavier and cost more money.
When Should You Use an Electric Chipper Shredder?
You use an electric wood chipper to cut up your garden waste. Wood chippers are used to chop up large pieces of wood. A wood chipper is useful because it quickly cuts up large pieces of wood.
Cutting up large pieces of wood makes them more manageable. Wood chippers make great lawn mulchers.
You can easily feed leaves, branches, or twigs into the machine and turn them into mulch. This makes chipping an economical solution for transforming waste into usable mulch.
You can also use the chips as decorative walkways or other landscaping aspects, and you can do this all with relative ease.
What to Look For in an Electric Chipper Shredder?
Electric wood chippers are great because they are easy to transport and use. They are also very lightweight, making them perfect for people who want to use them outside.
You need to think about several things when buying the best electric wood chipper.
Mobility
Electric chipper shredders are generally lightweight but also have big wheels. You'll be glad to get those large wheels once you've been using them for a while.
Large wheels and lightweight make moving around your lawn from chipping and shredding jobs to chipping jobs easier.
Hopper Size
The largest hopper is usually designed for leafy material. A large hopper opening allows you to get all of your leaves or leafy material in the hopper easier.
The smallest hopper is made for twigs and branches. The smaller hopper keeps you from adding too much material at one time, damaging the chipper shredder.
Hoppers are usually sized based on how much material the machine is expected to handle.
Safety
Some models hopper locks to help prevent accidental starting if the hopper is left open.
Overload protection is important because you don't want to overheat the chipper when chipping on shredding large amounts of material.
Since extension cords are necessary with electric chippers and shredders, they come equipped with grounded plugs to use in GFCI outlets.
Accessories
Most chippers and shredders are fed from the top down.  Meaning you put material into the top of the chipper shredder, and the wood chips and mulch come out somewhere near the bottom of the chipper and shredder.
Some models come with bags or hard bins to store the mulch material.  These are great options if you want to move the shredded or chipped material to other parts of the yard landscape.
What is the Most Powerful Electric Chipper Shredder?
Electric chipper shredders have come a long way in recent years and can be another valuable yard tool to add to your arsenal. If we had to choose a model, it would be Patriot Products CSV-2515 14 Amp Electric Wood Chipper/Leaf Shredder.  It is the most powerful chipper shredder in the bunch and comparable to a gas chipper shredder.  Check out all of these chipper shredder models and see which one will help you clean up your lawn or garden.