Last Updated on October 2, 2023 by Kyle Whitley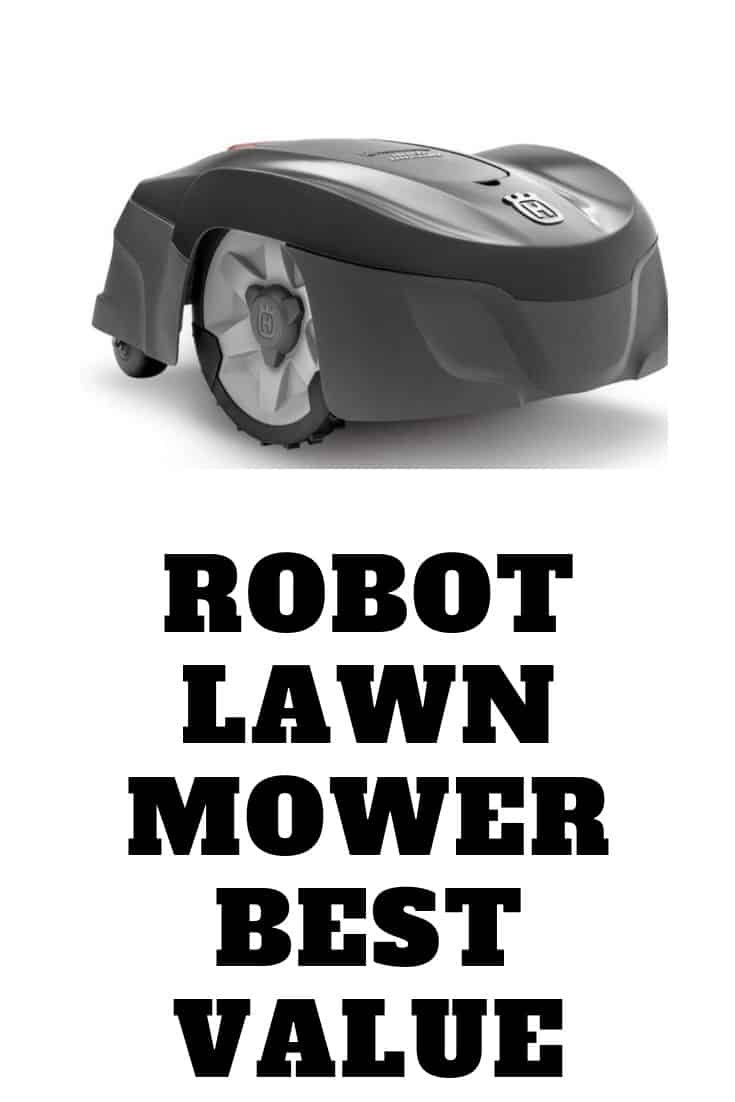 Owning a home with a beautiful lawn is a dream for millions of families. When you achieve this milestone, you would set out to keep everything in your yard neat and tidy. You would be cutting grass every week to keep your lawn in top-notch shape. But after a while, keeping your lawn maintained may become another tedious chore that you would start putting off for a week or two until you no longer pay any attention to your overgrown lawn.  Sound like you might need to find a robot lawn mower best value.
We hope you love the products we recommend! If you buy something through our links, we may earn an affiliate commission.
Which Robot Lawnmowers are the Best Value?
We have taken a look at seven of the top robot lawnmowers that have the most bang for the buck.  Check them out below.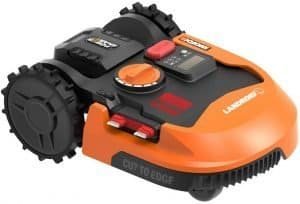 The WORX WR150 Landroid L 20V incorporates the latest electronics that enable this mobile machine to mow lawns up to ½ acre, unsupervised. This streamlined, compact mower is programmable to cut lawns in any day and time combination through the user interface of the mower or remotely via the Landroid's mobile app.
One interesting feature of the Landroid mobile app is the "lawn size calculator". You can walk the perimeter of your lawn with the app and it'll automatically calculate its size. The app will then automatically configure a schedule for the WORX WR150 based on the lawn's size.
In the event of rain, the rain sensor of the WR150 will send the mower back to the charging dock. You can program when mowing resumes. This robot lawnmower packs a 20V lithium battery and "Find My Landroid" GPS module which allows you to locate the WR150 in the event it is stolen, lost, or misplaced.  Cutting height adjustments for Landroid L 20V include 1.5 to 4 inches and it weighs 48 lbs with battery. The cutting width of this model is 9".
Specs and Features
9″ cutting width
Adjustable cutting height 1-1/2″ to 4″
Cuts up 1/2 acre up to 20-degree slopes
Weighs 48 lbs
20V battery (compatible with all other WORX 20V outdoor tools
Mobile App
What we Liked
Slick mobile app for configuration and scheduling.
GPS module that will allow you to locate your WR150, also WORX has other add on modules for object avoidance, and off limits areas to cut too.
The built-in rain sensor is nice so you don't have to manually shut off the mower when it starts raining
What we Disliked
The cutting width leaves a little to be desired at only 9″ it will take a while to cut a 1/2 lawn
The 20V battery is a little small these days, a 40v or dual 20v batteries would increase run time considerably
Having to purchase separate modules for GPS and object avoidance, adds to the final cost of the robotic mower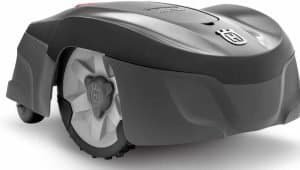 The Husqvarna Automower is designed to handle lawns up to half an acre and it can handle challenging areas with slopes of 17-degree and narrow passages. The 115H boasts a maximum cutting height of 3.5 inches and includes a smartphone app – the Automower Connect@Home – with Bluetooth connectivity. This enables you to use your mobile to control, schedule, and monitor the 115H robotic lawnmower.
This lawnmower packs an 18V lithium-ion battery that delivers a maximum run time of 1 hour. The maximum cutting width of the 115H is 8.66 inches.
Specs and Features
8.6″ cutting width
Adjustable cutting height 2″ to 3.6″
Cuts up 1/2 acre up to 17-degree slopes
Weighs 20 lbs
18V battery
Mobile App with Bluetooth
What we Liked
Husqvarna Automower reputation, this line of mowers was one of the first robot lawn mowers I had ever seen.  They have been in the robot lawn mower game for a while and it shows with design and features
Ability to handle cutting steep slopes.
Smaller sizes help get the mower into tight places in your yard where larger robotic mowers wouldn't fit
What we Disliked
Short battery life.  The 18v battery is barely sufficient to power this mower for 60 minutes.  A battery upgrade would help runtime tremendously.
A smallish cutting diameter will extend the time it takes to cut your lawn.
Cutting height not as adjustable as other mowers, which might not work for some cool weather turfs.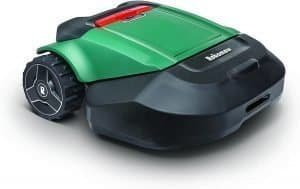 The Robomow RS612 is capable of handling two zones and four subzones within the master zone. It can mow up to ¼ acres or 14,000 sq. ft. of the yard and can scale scopes as steep as 20-degree. There is a floating mower deck with a special mode called the 'edge', which is designed to eliminate the issue with most automowers that can't cut the grass along the perimeter wire. It is a good feature but one that requires you to alter some settings to engage edging. There is also the turbo-mow setting, which provides more powerful but slower cut.
The RS612 boasts heavy blades for impressive performance even on thick grass. Moreover, it supports Bluetooth connectivity and comes with a smartphone app that allows you to program and control the mower from the comfort of your chair. This robot lawnmower also sports sensors to stop and change direction when faced with an obstacle and the unit will stop if it flips over or tips too much. It also features a rain sensor so it'll automatically return to its charging station when it starts raining and resume when the rain stops. The cutting width of the Robomow RS612 is 22" and it features a single 26V lithium-ion battery that gives a run time of around 45 minutes.
Specs and Features
22″ cutting width
Adjustable cutting height 3/4″ to 3.5″
Cuts up 1/4 acre up to 20-degree slopes
Weighs 44 lbs
26V battery
Mobile App
What we Liked
Multi zone cutting is nice when you have separate sections of a larger yard, that might require different cutting times
Turbo Mode helps cut the thicker grass but at a slower pace
The 22″ width is huge for a consumer robot lawn mower
What we Disliked
For a big cutting width, you would think it would be intended for larger lawns up to 1 acre or more
Short 55 minute runtime, and slow recharge time
There tend to be issues with the charging stand with bent charging prongs being the most notable issue.
If you own a medium-sized lawn of up to 0.25 acres, the Husqvarna Automower 315X Robotic Lawnmower is worth considering. Tight spaces, slopes, and obstacles are no sweat for this automower and it can even work in rain. This robotic lawnmower comes with a smartphone app and supports Bluetooth connectivity to remotely control the mower.
The 315X packs an 18 V lithium-ion battery that gives an estimated run time of up 70 minutes on a full charge. The cutting width of this robot lawnmower is 8.7 inches and it can cut grass up to 2.4 inches. The Husqvarna 315X also boasts a graphic menu display that's easy to use, and comes with GPS tracking and pin activation for security.
Specs and Features
8.7″ cutting width
Adjustable cutting height .8″ to 2.4″
Cuts up 1/4 acre up to 22-degree slopes
Weighs 20 lbs
18V battery
Mobile App with Bluetooth
What we Liked
Due to its smallish size, it helps it cut in tight areas where larger mowers would have issues
Easier setup compared to its main competitor the Worx Landroid
Ability to handle steep 22-degree slopes
What we Disliked
The small 8.7″ cutting width will make cutting larger areas time consuming
Battery life wasn't great with an average 20-30 minute runtime
Took a long time to cut a single area based on its small cutting width and short than normal battery life
The Robomow RS630 is a robotic lawn mower designed to handle a lawn of up to ¾ acre or 32,760 sq. ft and inclines up to 20 degrees. Its impressive edge mode and wide cutting width – 22-inches – allows it to take care of the edge while it grazes through your lawn at high-speeds until you have the perfect lawn. It packs a 26V lithium battery that gives it a run time of around 80 to 100 minutes. This mower also has sensors that stop the blades in the event the automower is picked up or tips over.
The RS630 features Bluetooth connectivity that links the lawnmower to a smartphone app so you can manage the control of the mower from any place at any time. This robot lawnmower also incorporates rain sensors which means that it will return to the base station when it starts raining and resume work when conditions improve.
Specs and Features
22″ cutting width
Adjustable cutting height 3/4″ to 3.5″
Cuts up 3/4 acre up to 20-degree slopes
Weighs 86 lbs
26V battery
Mobile App
What we Liked
Long runtimes, means less time at the charging station and more time cutting the lawn
The wide cutting width will make quick work of smaller lawns
Multi zone technology keeps the mower from wasting time in areas that need less cutting
What we Disliked
It is big and heavy, larger than most robot mowers, think of a push mower rolling autonomously around your lawn
This model, in particular, has had issues with longer term reliability, with issues with axles and corrosion around the drive motors
The steep price, this mower is on the expensive side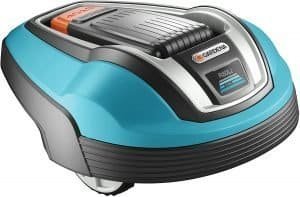 The Gardena 4069 shreds the grass finely as it mows and the tiny bits of grass that fall to the ground act as a natural fertilizer to promote the healthy growth of new grass. This robot lawnmower comes with the boundary wire, which ensures that your mower will know exactly where it should mow. The Gardena 4069 boasts an 18V lithium-ion battery and can mow for an hour on a full charge. It has a cutting width of 6.69 inches and can cut grass of up to 2". The 4069 can mow a lawn area up to 8611 sq. ft.  Gardena also provides a mobile app to help with the remote control of the mower.
Specs and Features
6.6″ cutting width
Adjustable cutting height 3/4″ to 2″
Cuts up 1/4 acre 25 degree slope
Weighs 16 lbs
18V battery
Mobile App
What we Liked
Small size and boundary cutting let this mower get into tight spaces
Long 60 – 80 minute battery life
Nice cutting height adjustability and 25 degree slope ability will make cutting on a hill a nonissue
What we Disliked
 Only intended for small areas with the smallest tested cutting width
Cutting height is low with a max of 2″ which might not work for cool season grasses, and will struggle with tall grass and overgrown grass.
Setup and installation on this model is not as easy as some of the other models in this test.
Someone Ask for a Robot Lawn Mower?
There is a way you can prevent cutting your lawn all the time – by investing in a robot lawnmower. A robot lawn mower is an autonomous device that works without your supervision. It follows random patterns and grazes through the field, cutting small grass and leaving it there to turn into mulch to promote healthy growth of the grass. By buying a robotic lawnmower, you can free yourself from the tedious chore of cutting grass and free up your time on the weekends to pursue more enjoyable activities with your family. There are a variety of robotic mowers available in the market. Below, we have listed some of the models that give you the best buck for your bang.
Features you would look for in a Robot Lawn Mower
When looking for a robot lawnmower to take care of your mowing duties, you should look for the following features.
Size of the mowing deck – narrow or wider cutting width
Height of the mowing deck – what height grass will it cut
Run time – how long the mower will run on a single charge
Charge time – how long does it take to recharge the mower after use
Charging Base and Boundry Wire – does the mower come with a battery, charging base station, and the boundary wire
Mulching – does the mower mulch the grass clippings
Anti Theft features – can the mower be tracked or disabled if someone tries to steal the mower from your lawn
Robot Lawn Mower FAQ
How is a robot lawn mower better for the environment?
Well, that is an interesting question, but robotic lawn mowers much like electric and battery powered cordless mowers emit no carbon emissions.  They also don't bag or collect grass clippings as well, so nothing organic is going to the landfill.
Do robot lawnmowers work on slopes?
Yes, robot lawn mowers will work on slopes.  The models tested above will handle slopes from 17 degrees to 25 degrees.  Some of the models even come with flip over detection that shuts the mower off if it rolls over on a slope or steep hill.
If you have some steeper than average slopes or hills in your lawn you might want to take a look at an all wheel drive mower.
What are some of the benefits of having a robotic lawn mower?
The biggest benefit of having a
robotic lawn mower
is time savings.  You can let the robot cut the grass while you are at work or sleeping. Another great benefit is the constant manicured look robot lawn mowers give to a lawn, they always are looking their best since they are continuously being cut.
They are not inexpensive, models range from $600 for light duty mowers to $2500 for premium models.  With the $1000 being the medium range for most residential models.  Just like with all outdoor equipment the more features you desire the higher the price tag.
Which is the Robot Lawn Mower Best Value?
Well, you really can't go wrong with any of the robotic lawn mowers reviewed, but if we had to pick a model it would be the Husqvarna Automower 115H Robotic Lawn mower.  It delivers decent runtime and charging times, excellent cutting, along with a mobile app connectivity, and with medium-range sticker price.