Last Updated on December 2, 2022 by the staff of TheAllElectricLawn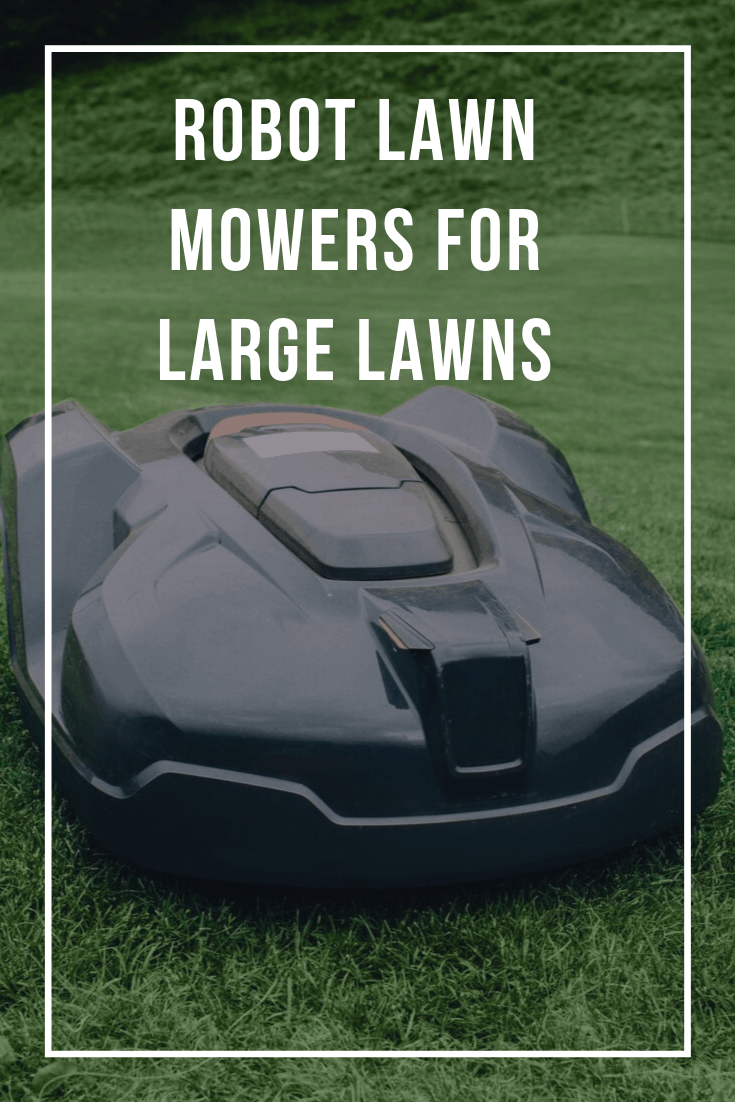 We are well into the 21st century and haven't yet seen flying cars that many had predicted. Forget flying cars, we haven't even been able to produce vehicles that can operate autonomously on the roads without injuring humans. However, there is one invention that has materialized; though it isn't as amazing as flying cars or autonomous vehicles, it is pretty useful for homeowners who are tired of mowing their lawns or losing their hard-earned dollars at the hands of landscapers. If you haven't guessed it already, we are referring to the robot lawnmower.
There are plenty of robotic mowers available on the market, we will help you find a robot lawn mower for large lawns.
Why choose a robot lawn mower for your lawn.
Robot lawnmowers operate autonomously to keep your lawn in emerald shape. They can be programmed to work at a certain schedule and these high-tech robots cut the grass in random patterns, ensuring that the entire lawn is mowed.
The right model for you depends on several things including the area of your lawn. If you have a large lawn, then the models listed below would be the best option for you.
We hope you love the products we recommend! If you buy something through our links, we may earn an affiliate commission.
| Model Image | Model Name | Description | Buying Options |
| --- | --- | --- | --- |
| | Husqvarna Automower 315 Robotic Lawnmower | Mid range large lawn mower with bluetooth connectivity, quick charge times, and long runtimes | Get It Now |
| | Husqvarna Automower 430 Robotic Lawnmower | High end large lawn robotic mower with class leading runtime, anti theft features, and Alexa capability | Get It Now |
| | Robomow RS630 Battery Powered Robotic Lawnmower | Impressive large lawn robot mower with long runtimes and class leading cutting width of 22-inches. | Get It Now |
| | Robomow RS622 Battery Powered Robotic Lawnmower | Mid-range robotic mower with large cutting width, 60 minute runtimes, and can handle lawns up to .5 acres | Get It Now |
| | WORX WR150 Landroid L 20V Robotic Lawnmower | Inexpensive robotic mower with anti-theft features, 20-volt battery power, and high cutting ablities. | Get It Now |
Robot Lawn Mowers for Large Lawns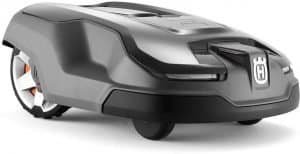 The Husqvarna Automower 315 is a mid range robotic lawn mower. It works with a mobile app that allows you to use your smartphone to start and stop the mower, create schedules, monitor progress, and see where the 315 has been on your lawn's map. This autonomous mower is designed for lawns of up to 0.4 acres. Moreover, it comes with an IPX4 weatherproof rating so it doesn't have any trouble working in the rain.
The 315 robotic lawnmower has a cutting width of 8.7 inches while the cutting height can be adjusted from 0.78 inches to 2.36 inches. Furthermore, it can handle a slope up to 22 degrees. This lawnmower is powered by an 18V lithium-ion battery that gives it a run-time of 70 minutes and requires 60 minutes for a full charge. Additionally, the 315 lawnmower offers Bluetooth, cellular, and GPS connectivity.
What we Liked
Long runtimes
Short charge time
wide range of connectivity options
What we Disliked
price
short max cutting height is for warmer season grasses
The Husqvarna Automower 430 is a higher-end robotic lawn mower.  It supports a mobile app, – the Automower Connect@HOME,  Amazon Alexa, or Google Home – which you can use you control the mower from your smartphone. It is worth noting that the mobile app communicates with the 430 using 4G LTE connectivity so you won't have to be close to the mower to send commands to it. This autonomous mower also incorporates weatherproofing, which protects it from damp environments.
The Husqvarna Automower 430 can tackle lawns up to 0.80 acres, slopes up to 24 degrees, and comes with an 18V lithium-ion battery that gives 145 minutes of mowing time and takes a little under an hour to charge on its charging station. The cutting width of the mower is 9.45 inches and it can cut grass up to 3.6-inches tall. Overall, the automower 430 is a great option for fairly large lawns and boasts some impressive features for the price.
What we Liked
Long runtimes
Large lawn capability
3.6-inch cutting capacity
What we Disliked
Price- it is pretty expensive
The Robomow RS630 is a premium robotic lawn mower, designed to handle massive lawns – up to 0.75 acres, which makes it one of the most expensive robot lawnmowers. The RS630 boasts a cutting width of 22 inches, which is wider than standard robotic lawnmowers due to its very powerful twin blade system. It is powered by a 26V lithium battery, which takes about 90 to 110 minutes to charge and gives an operating time of 80 to 100 minutes.
The RS630 also sports a rain sensor so it'll return to its dock/charging station as soon as the rain is detected. For areas that aren't easily autonomously, a remote can be used for better maneuvering the mower into place. Remote access is possible via Bluetooth connectivity using a smartphone or by purchasing a remote control.
The cutting height of this robot lawnmower ranges from 0.78 inches to 3.14 inches and it can tackle slopes up to 20 degrees. Other features of the RS630 include child safety locks, anti-theft alarm, and an edge-cutting mode.
What we Liked
Wide cutting width
Long runtimes
What we Disliked
Slope handling is not great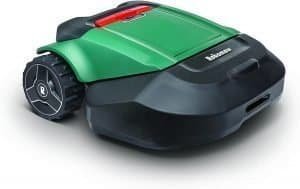 The Robomow RS622 is another high-end autonomous mower and can handle lawns up to 0.5 acres. It comes with a 26V lithium-ion battery that allows the mower to run for 50 to 65 minutes before returning to the base to recharge. Recharging the battery takes around 90 to 135 minutes. The RS622 also incorporates a rain sensor so it would automatically return to the charging station when rain is detected.
This robot lawnmower has a cutting width of 22 inches, which allows it to cover large areas in less time. Moreover, Android and iOS apps are available for the RS622 that allows you to remotely control it and see essential information. The app supports Bluetooth and GPS and enables you to set or change mowing zones and adjust cutting settings.
The RS622 is a good option for fairly large lawns, but not massive yards so if you have a bigger lawn, spend a few bucks more and get yourself the RS630.
What we Liked
Wide cutting width just like the 630 model
Decent runtime
What we Disliked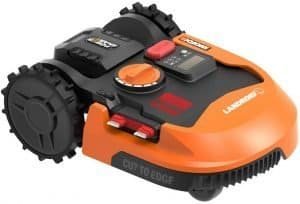 The WORX WR150 is a relatively inexpensive robotic lawn mower, designed to tackle lawns up to 0.5 acres. It is currently available at $1,199.99, which is a reasonable price tag considering that the WR150 comes with pretty decent features. Like other autonomous mowers, this one also has a mobile app that allows you to control and monitor the mower remotely from the comfort of your home.
The cutting width of the WORX WR150 is 9 inches and it can mow grass up to 4 inches. This robotic lawn mower packs a powerful 20V battery.  It has a charge time or around 90 minutes.
In the event of rain, the rain sensors on the WR150 send it back to the charging dock. Other features include an anti-theft option, an anti-collision system, and the ability to add other off-limit zones.
What we Liked
Low price
Ability to use other WORX batteries with mower
What we Disliked
Long charge time
Optional add-ons that you get with more expensive models like GPS and collision avoidance
Are there robot lawn mowers for large lawns?
Below we will take a look at several robotic lawn mowers that could be used for larger lawns.  One thing to note however is if you have a lawn that is multiple acres, then a robotic lawn mower might not be for you.
If you have a lawn between .25 and 1 acre then one of the following robot lawnmowers could be a perfect fit for your home.  If your lawn is a little smaller then you might what to take a look at these robotic mowers.
FAQ's About Robotic Lawn Mowers
How long does a robotic lawn mower last?
Well much like any kind of lawn or outdoor yard equipment, they must be cared for correctly to get the longest operating time.  In the case of a robot lawn mower, that would mean regular cleanings of the underside of the deck, changing the mower blades, and battery care.
In all likely hood, the battery will need to be replaced long before the mower itself wears out.  Batteries tend to last between 5 -10 years, which should give you an idea of the service life of a robotic lawnmower.
Can robot lawn mowers be used in the rain?
Well that depends on the model you have, but most are weatherproof not waterproof, meaning if a rain shower comes up they should be fine.  However, if the forecast calls for rain, then mower shouldn't be run, but that is for two reasons, it is bad for the mower, and you won't get great cut
Grass will clump and clog inside of the mower deck, and you will end up clumps of grass in your yard, and a messy robot to cleanup.
Are robot lawn mowers stolen?
Robot lawn mowers can be stolen, like pretty much anything else at your home.
There are some safeguards though for most modern robotic lawnmowers.  These anti-theft features such as PIN codes, GPS monitoring and tracking, and tip over alarms will all help with deterring a would-be robot lawn mower thief.
GPS tracking will allow you to track the mower if it was stolen, but the mower will not work for the thief, because they don't have a PIN to activate the mower.  Also, these mowers come with audible alarms for when they tip over, so if a thief were to pick up the mower the "tip over" alarm should trigger.
Where does the cut grass go on a robot lawn mower?
Robot lawn mowers are all mulching lawn mowers.  The lawn mowers using mulching blades that cut and recut the grass into tiny pieces that act as a natural fertilizer for the lawn.  This is one of the reasons the robotic lawn mowers run continually, to keep the size of the clippings small.
How often should I run my robot lawn mower?
These mowers were designed to pretty much run every day.  Now in the prime growing season, they should be running every day.  Since the mowers mulch the grass clippings, constant running will produce the best-looking yard.
When grass growth slows, then the runtimes should be shortened and the mower might need to run only a couple of times a week.
What is the best robot lawn mower for large lawns?
All of the robotic mowers we reviewed are pretty solid choices, but if you really have a larger lawn, then the only choice is the Husqvarna Automower 430 Robotic Lawnmower.  
With an impressive .80 acre cutting range, long operating times, short charge time, and large mowing width, it is hard to beat.
Robot lawnmowers might not be for everyone and might not fit your desired lawn goals, but if a robot mower will work for your lawn.  Go for it.  They can save you numerous hours of yard work which you can dedicate to something more meaningful for you and your family.