Last Updated on October 2, 2023 by Kyle Whitley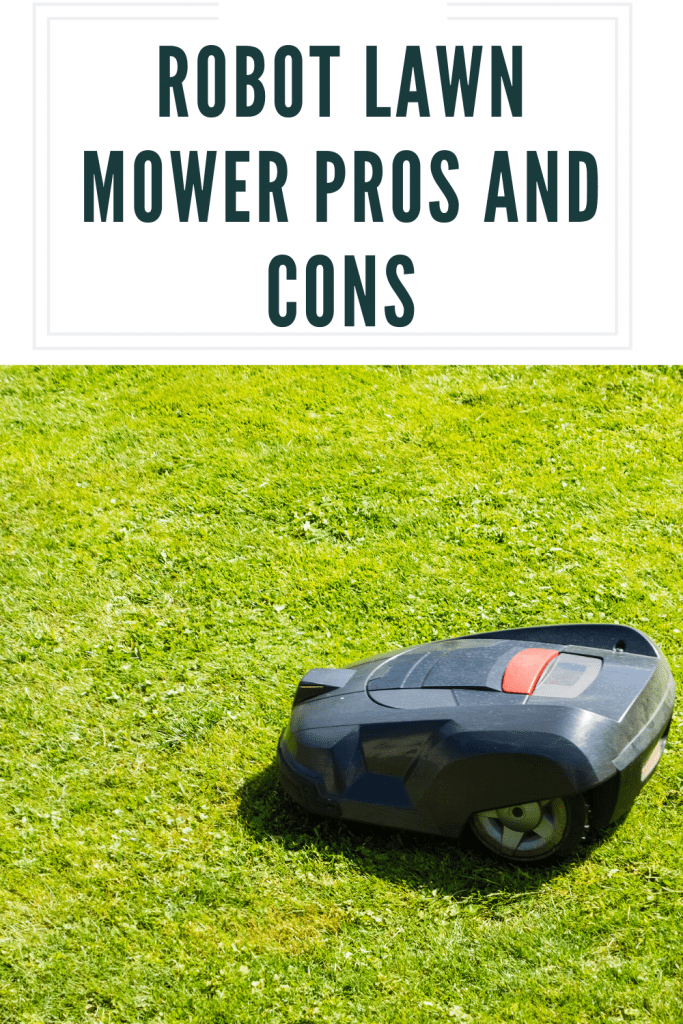 Robot lawnmowers are a new and exciting machine that has many people going crazy over them. They are smart and highly advanced devices with AI systems that help them learn and improve from their environment. Lets take a look at robot lawn mower pros and cons.
If you are considering buying one of them, there are many factors that determine whether or not they are good for you. In this article, we will go over the pros and cons of robot lawn mowers.
Pros of Robot Lawn Mowers
They Can Cut At Any Time
One major advantage of robot lawn mowers is that you can use them to cut your lawn at any time. All you have to do is simply set them up for a time of day and the number of times each week that you want the mower to work and the robotic device will take care of everything from there.
Ideally, you should set them up to run 3 to 4 times a week because the mower may not cut the whole lawn in one go.
They Charge Up Automatically
The earlier versions of lawn mowers had to be charged manually. This was a point of contention with users. Many felt that they could do the job themselves if they had to worry about charging the device as well.
Developers have improved them a lot in recent years. These days, you don't have to pick up or connect the lawn mower to power. The only thing you need to do is to plug the robot's base charger in an electric outlet and place the station in an area that can be easily accessed by the robot.
The robot lawn mower's programming system is designed to assess when it needs charging and goes into the station to recharge automatically.
They Are Very Safe
Safety has been one of the major concerns for buyers switching to robot lawn mowers. New and advanced lawn mowers are built with advanced safety features that prevent injury to you, your family and pets. Robots come with sensors that help guide them when they are close to an obstacle of foreign object.
The programing is used to help them avoid collisions. The robots are also loaded with sensors that ensure the power is cut immediately if they are lifted up, off the ground.
Robot Lawn Mowers Make Very Little Noise
One of the main pros of using a robot lawn mower is that it produces very little noise while working. Since lawn mowers are designed to be set up to operate at any time of the day, you can also program them to cut grass at night as you sleep.
Manufacturers realized that this could cause problems for people and their neighbors while sleeping at night. This is why they ensured that the machines are as quiet as possible compared to traditional lawnmowers.
Robot Lawn Mowers Take a Random Route
Robot lawn mowers don't cut your lawn in a pattern or sequence. These lawn mowers wander over your yard to cut grass randomly.
This may seem a little odd and counterproductive but the robots ensure that they cut all of your lawn without leaving any lines.
They Save Time and Money
Perhaps the best thing about robot lawn mowers is that they do a thorough and complete job. They completely remove the need for you to do anything.
This may seem very obvious but it is the number one reason why most people switch to this kind of device. Most people hate doing the lawn work, especially on their day off. The robot lawn mower provides complete convenience and automation for homeowners.
Robot Lawn Mowers are also much cheaper than the cost of hiring a gardener. If you decide to switch to a robot lawn mower you will never want to cut grass again.
They Are Environmentally Friendly
Robot lawn mowers run on electric power and they are very efficient at power consumption. Since you won't use any gas based lawn mower, your carbon foot print will be much lower when you switch to a robot lawn mower.
Robot Lawn Mowers Are Easy to Store
If you look at a robot lawn mower, you will note the design is very sleek and compact. It is purposefully designed this way to make it easier to enter the charging station and recharging. The flat design also makes it easy to store and move from one lawn to another.
They Have a Long Life
Robot Lawn Mowers typically have a long life and can last for years with good maintenance. Over time, they can save you hundreds of hours and dollars that would be otherwise spent on gardeners and mowers.
Cons of Robot Lawn Mowers
They Cost More
While they are more convenient than an old fashioned lawn mower, robot lawn mowers are more expensive and cost thousands of dollars.
They are Slow and Take Time
Robot lawn mowers move very slowly and take their time to cut your lawn. If you expect them to quickly trim your yard, you will be disappointed.
They work with a slow but steady strategy. Once the robot lawn mower starts working, your lawn will look much better a week later.
Their Battery Life Is Short
Robot lawn mowers are designed to be small. This is why the size and capacity of the battery on these devices small as well. This means the robot will need to get recharged often and will move back to the charging station frequently.
Robot Lawn Mowers Are Hard To Repair
If robot lawn mowers break down for any reason due to a mechanical failure, it can be quite difficult to get it repaired. You won't find many technicians that are familiar with the technology and your best bet is to get them repaired through the manufacturer.
Robot Lawn Mower Pros and Cons  Are They Worth It?
Well after comparing all the pros and cons of owning a robot lawn mower, I would say yeah it is worth it.  Robot lawnmowers aren't for everyone or every situation, but if you have a yard that could be easily maintained by one, I say go for it.  Let the robot take care of a task that you might not like doing or do it more consistently than you can.  With the robot is cutting the grass, it will free you up to do other tasks around your home, enjoy your family, or take care of some work.