Last Updated on April 21, 2021 by the staff of TheAllElectricLawn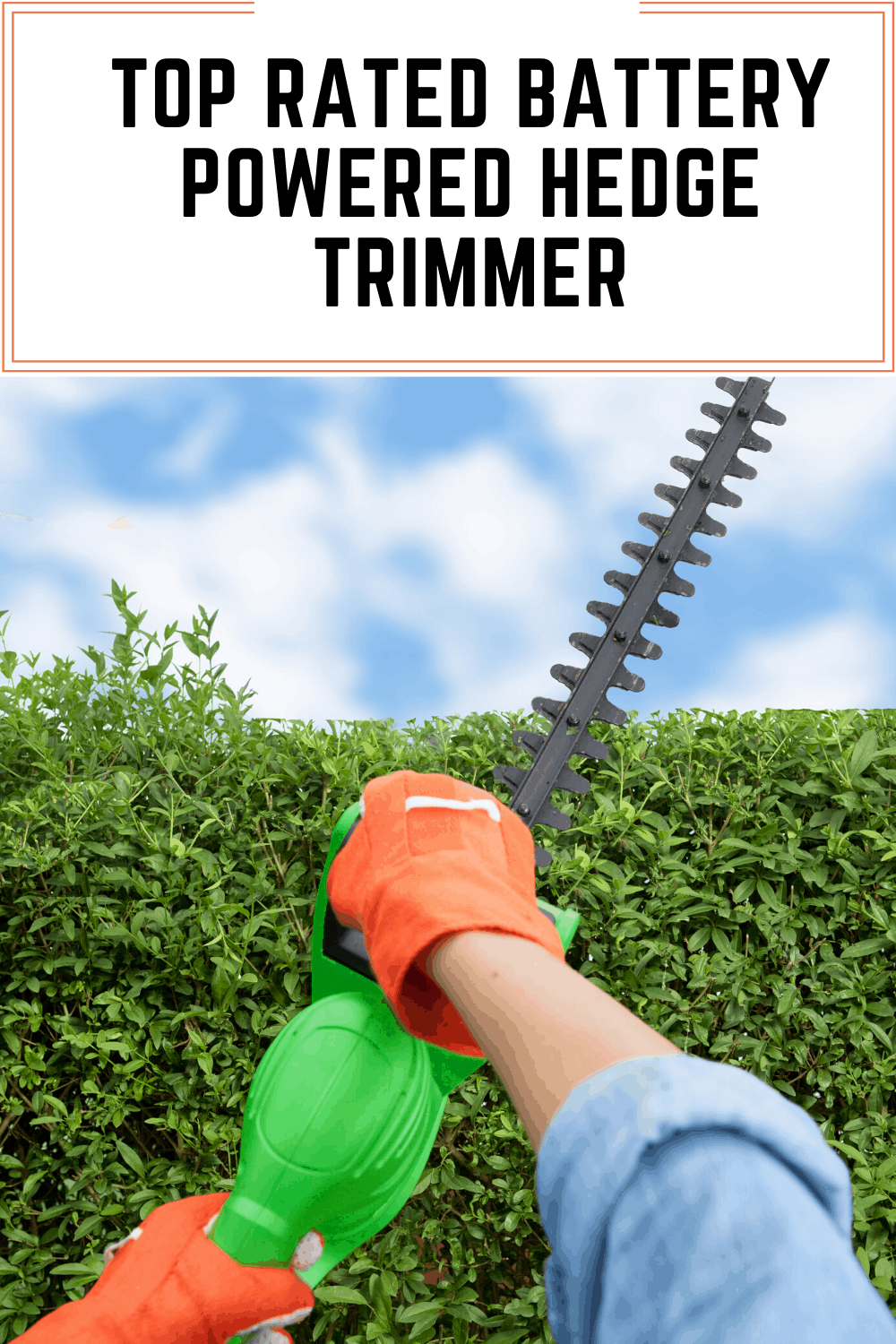 All gardening lovers love most aspects of gardening. For many of them, trimming the hedges is not a fun part of this passion, especially if you are doing it manually. It takes hours to snip each branch off over several hours, and corded hedge trimmers tangle up no matter how carefully you use them. Buying a top-rated battery powered hedge trimmer, on the other hand, can help you make quick work of this task without a problem.
Choosing the best one can make a massive difference in how you handle trimming the hedges. There are plenty of options available in the market, and it can get overwhelming to find one that is ideal for your needs. To make things easier for you, we've compiled a list of reviews of the top-rated battery powered hedge trimmers that can make life easier for you.
Types of Hedge Trimmers
There are basically four types of hedge trimmers.
Manual clippers or loppers
Corded electric hedge trimmers
Battery powered hedge trimmers
Gas powered hedge trimmers
Each of these different types of hedge trimmers has it's own purpose.  Manual loppers and clippers are good for doing precision work, where you are just clipping or trimming a few branches.  Corded electric trimmers are powerful and can do a great job trimming but they are tied down to an electrical outlet and length of extension cord.  This makes them best for shrubs and bushes near your home.
Battery and gas powered trimmers have both power and mobility.  They allow you to roam your yard both close to and away from your immediate home to handle trimming jobs.  I personally have a grapevine that is 30 yards away from my home, and it requires trimming each year.  I use a battery powered hedge trimmer and manual clippers to keep it trimmed up nicely.  Couldn't do that with a corded model.
Gas powered hedge trimmers are powerful and can be heavy.  They are meant for the toughest of jobs which is why they are usually limited to commercial landscapers, not to mention they can be quite expensive.
Why choose a battery powered hedge trimmer?
Well, there are many reasons why you might want to go the battery powered route when looking for a new hedge trimmer.  Here are few of the best reasons to choose a battery powered hedge trimmer:
mobility
little to no maintenance
no exhaust or mixing of fuels
lighter weight (when compared to a gas hedge trimmer)
powerful electric motors
cost (when compared to an equivalent powered gas model)
We hope you love the products we recommend! If you buy something through our links, we may earn an affiliate commission.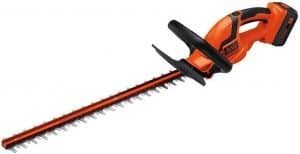 This Black and Decker hedge trimmer is the perfect product to begin the list of the top-rated battery powered hedge trimmers you can find in the market. The dual-action trimmer combines an efficient cutting mechanism with impressive battery life.
The Black and Decker hedge trimmer has a chainsaw-style wrap-around handle, which gives you much more control over the machine without worrying about injuring your hands in the process. The blade design is optimized to reduce vibrations even while cutting through the thickest of hedges. The result is a smoother operation that reduces muscular stress and better results.
The fully rechargeable battery has twice the running time of most competing machines, and you can swap it out in an instant with another charged one if it runs out.
Features and Specifications
Rechargeable battery with a long run time
Sharp blades that can cut through ¾-inch branches easily
Twice the battery life of most other hedge trimmers
A safer grip that allows for better control over the machine
Dual-blade design to reduce overall vibration for better results
Dewalt is another big name when it comes to gardening tools, and we have the DCHT820P1 in our list of the top-rated battery powered hedge trimmers by the manufacturer as an ideal example. The design of this trimmer makes it an easy-to-maintain tool to keep using this for longer without worrying about stopping to clean it mid-trim.
It has an easy starting system that lets you turn on and turn off the trimmer motor with the simple pull of a trigger. The ¾-inc teeth in each of the blades give you substantial cutting power to breeze through the thicker hedges. The overall design reduces vibrations and makes it more stable than a typical trimmer.
The lighter weight of the machine gives you better control over the machine for challenging areas.
Features and Specifications
Straightforward maintenance for the machine
Robust blades for powerful cutting action of thicker hedges
Optimized design to mitigate vibrations and improve control
A lightweight machine that is easier to maneuver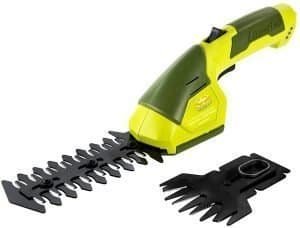 The third entry on our list of the top-rated battery powered hedge trimmer is a very respectable product. This is a two-in-one machine that gives you the functionality of a hedge trimmer and a grass shear in a compact and lightweight package.
The size of this Snow Joe machine may put you off at first glance, but it is a powerful tool. You can use it to make quick work of any unwanted patches of grass while accurately trimming the hedges to perfection. The durable body has a longer life, and the lighter weight gives you more maneuverability.
It does not take up too much storage space and gives you more control over tighter spaces.
Features and Specifications
Separate blades for grass shearing and hedge trimming
Simple to use machine
Durable body and components for a longer life
Lightweight design that does not require any additional parts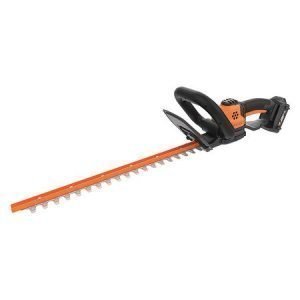 A chain-saw gripped cordless hedge trimmer that uses reliable and strong 22-inch blades that slice through thick hedge branches like butter, the WG261.9 by WORX is the next entry on our list of the top-rated battery powered hedge trimmers.
The dual-action design gives you more efficiency in different conditions. The design is optimized to reduce vibrations and give it a low body weight for better control over the machine without worrying about injuring your hands.
The ergonomic grip design is soft and allows you to use the machine for longer stretches without experiencing fatigue.
Features and Specifications
Long-lasting 20V battery
Padded and ergonomic grip for better comfort and reduced fatigue
Simple shape with an angled cutting edge for better posture
Designed to reduce vibrations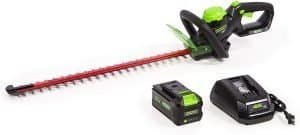 The HT40B2212 by Greenworks is the last entry on our list of the top-rated battery powered hedge trimmers, but it is not something you should take lightly. The 24-inch precision-crafted blades are cut using lasers to give them a perfect design. The cordless hedge trimmer's blades help it slice through thick hedges with accuracy.
The design is optimized to lower vibrations while operating. One feature that stands out is its 180 degree rotating rear handle. This gives you unmatched precision when it comes to getting a variety of angles without shifting your posture or putting your hands in dangerous positions. The battery also comes with an integrated USB port to charge other devices while you use this machine.
Features and Specifications
Precision-cut blades for greater efficiency
Dual-action design to reduce vibrations
180 degree rotating head
Comes with a USB charging port for other devices integrated into the battery
Long-lasting rechargeable battery
Cushioned handles for reduced fatigue
Final Thoughts
Knowing what each machine has to offer gives you a better chance of picking out the top-rated battery powered hedge trimmer that will be perfect for your needs. We thought the Greenworks H40B212 Battery powered Hedge Trimmer was the best trimmer we reviewed with impressive 24inch cutting blade and the rotating handle, this battery powered trimmer is hard to beat.
Picking out the right tools for your gardening efforts is a crucial investment. We hope that this list of reviews for the best battery powered hedge trimmers will help you find the model you need to get those hedges back into shape.