Last Updated on April 12, 2021 by the staff of TheAllElectricLawn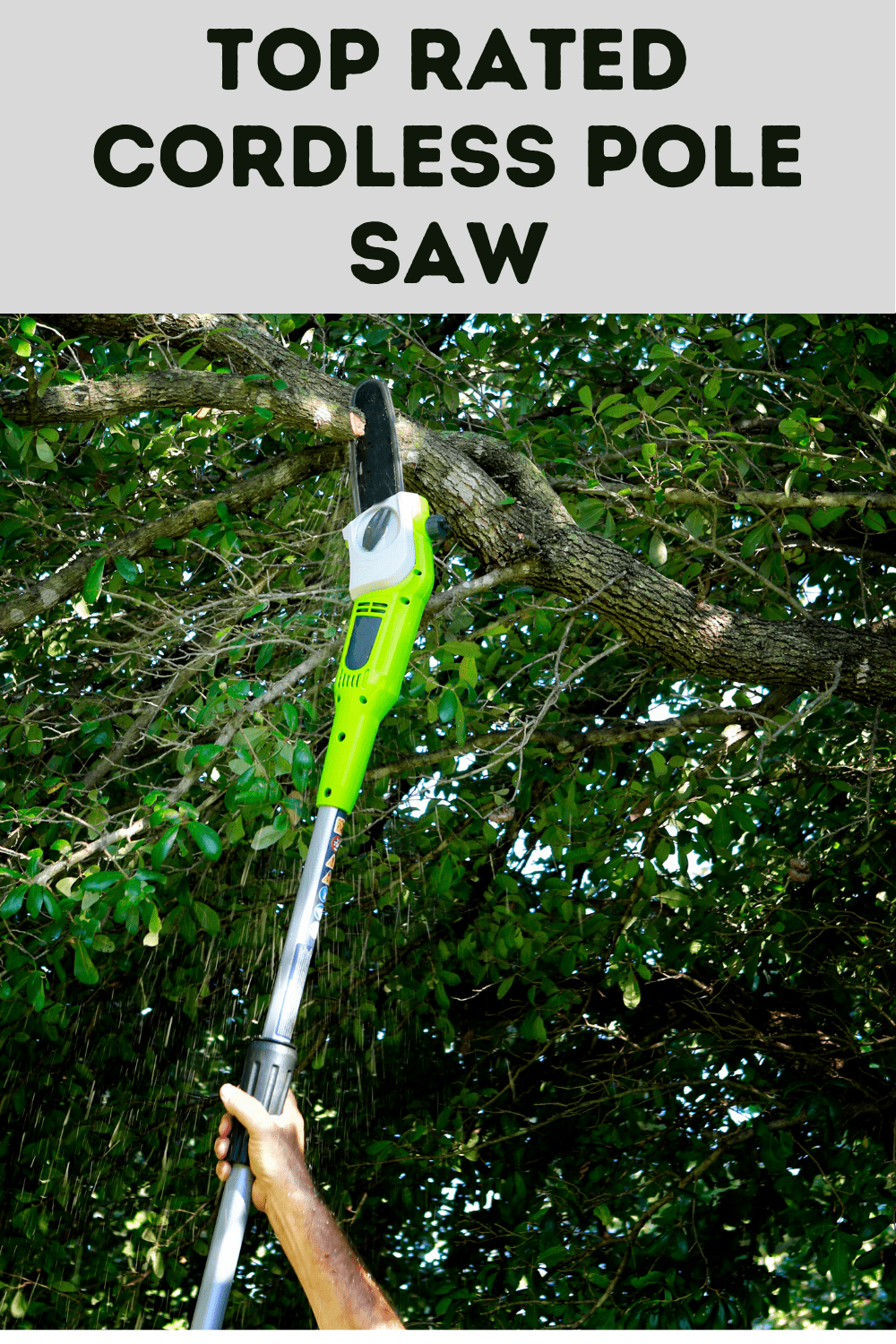 Are you dealing with a landscaping project, and you need to cut down some branches in tight spots?  Do you already have a corded electric pole saw, but need to cut something down where a cord cannot reach without getting hopelessly tangled? A corded machine cannot get to places like this, and it can become almost impossible to take care of the job. This is where you might want to consider using a top-rated cordless pole saw.
When it comes to trimming the higher branches on your trees, nothing beats the ease and convenience of cordless pole saws. Battery-powered lawn equipment has come a long way in the last few years, they give you plenty of power, they produce a clean result, it is easy to reach challenging places, and it does not create a plume of smoke in its wake.
Why you need a Cordless Pole Saw
Pole saws are an essential tool if you have trees or large bushes in your landscape.  Pruning is a key task in maintaining healthy trees and shrubs.  Pole saws allow you to reach limbs that are higher off the ground, that are easily reached from the ground.  Most pole saws have a telescoping shaft that allows you to reach those higher limbs.
Corded pole saws are great tools allowing you to prune trees and bushes without using gas and all the issues related to gas powered pole saws.  Cordless pole saws allow the mobility of gas without all the hassle. So you get the best of both worlds, mobility, and environmental friendliness.
Benefits of Cordless Pole Saws
Here are a few of the many benefits of using a cordless pole saw in your landscape
Mobility to use anywhere around your landscape
Less weight when compared to gas pole saws
Little to no maintenance, besides the what is required for the chain and bar
No gas, motor oil, air filters to maintain.
Telescoping shaft to reach higher limbs from the ground
The ability to use the pole saw for other chain saw duties.
If you have looked for cordless pole saws, you might be surprised at how many options are available in the market. However, it is a major investment that you are considering, and making the right choice is critical.
We have put together a list of reviews of the top-rated cordless pole saws that you can get in the market to make the right purchase decision easier. With these reviews, we hope to give you all the information you need to make the ideal choice depending on your needs.
We hope you love the products we recommend! If you buy something through our links, we may earn an affiliate commission.
The first product on our list of the top-rated cordless pole saws is the 8-inch 18V Lithium-Ion Cordless Pole Saw by RYOBI ONE+.
A pole saw that can extend from 6.5 feet to 9.5 feet, reaching the highest branches on your trees will never be a problem. The 8-inch bar and chain are suitable for trimming away branches that are up to six inches thick without breaking a sweat. The angled cutting head and the in-line motor help you make quick work of the branches in the tightest spaces.
The 18-volt battery keeps the machine running for a long time, and it recharges in 30 minutes after you plug it in so you can get back to work without a major delay.
Specifications and Features
Angled cutting head for getting to tighter spaces
Powerful in-line motor for better accuracy while cutting
Extendable up to 9.5 feet
Automatic oiler for smooth operation
8-inch bar and chain that can cut branches up to six inches in diameter
Comes with a three-year warranty

A product by Milwaukee was always going to be featured in a list of the top-rated cordless pole saw and the M18 Fuel 10-Inch 18V Lithium-ion Brushless Cordless Pole Saw is an ideal entry to prove why.
This product was designed to meet the needs of professional landscapers. It has the kind of power that would put hardwood branches to shame. Reaching full throttle in under a second, you can expect the machine to deliver up to 150 cuts per charge without losing efficiency.
The M18 FUEL Power Head with QUIK-LOK and the QUIK-LOK 10 Pole Saw attachment make up this product. You can use the Power Head with other attachments for various other applications, making this a versatile product.
The POWERSTATE Brushless motor on this product allows the M18 FUEL to maintain excellent speed despite rough applications and gives you more power than a 40CC fuel engine motor.
Specifications and Features
Has a 4,600 RPM that it can reach within one second
It features a powerful brushless motor for consistent high speed without losing efficiency
Features a 10-inch long chain bar that can cut through the toughest hardwood branches
Versatile machine that is compatible with the M18 system
Automatic chain oiler and easy access chain tensioning system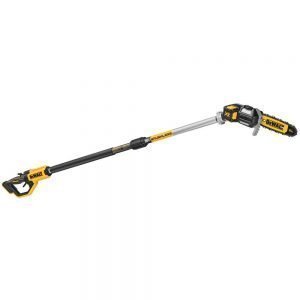 Another big name that features on our list of the top-rated cordless pole saw is Dewalt with its 8-Inch 20V MAX Cordless Pole Saw. A remarkable tool that can extend up to 15 feet, this cordless pole saw can let you reach places where most other products cannot.
Ideal for many cutting applications, this cordless pole saw is also compatible with a 10-inch chain bar that you can use instead of the 8-inch bar that comes with the product. Featuring a tree hook, the pole saw helps you make quick work of the toughest branches. It can even perform 96 cuts per charge on a 4×4 pressure-treated pine without a problem.
Its powerful brushless motor delivers power for up to a 16-inch cut if you use it along with the tree hook. Its angled head makes it easier to reach tighter spots up the tree along with its 15 feet extended reach.
Specifications and Features
Has an automatic oiling feature
Left sidebar and chain location gives you better visibility
The high-quality grip makes using the machine more comfortable
Compatible with a 10-inch bar chain
Durable construction with heavy-duty cast aluminum gear case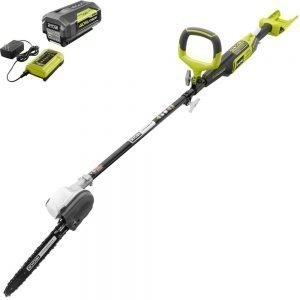 RYOBI ONE+ has another entry on our list with its 10-Inch 40V Lithium-Ion Cordless Pole Saw. Where the 8-inch machine was suitable for most home-based projects, the 10-inch 40V Cordless Pole Saw is an even more powerful machine that is worthy of use in professional landscaping projects.
You can use this machine to cut branches up to six inches thick in diameter and as far as 12 feet high due to its incredible reach. The extension shaft helps you reach those tighter spots with its angled chain bar for greater accuracy in more challenging projects without wasting time.
The high capacity 40V lithium-ion battery allows you to work for longer with a single charge than most other products in the market, so you do not have to recharge in the middle of the workday.
Specifications and Features
Comes with a variable speed trigger for better control over cutting speed
Works with all RYOBI 40V lithium-ion batteries
Automatic oiling system for smoother operation
Has an angled head for better precision and accuracy while cutting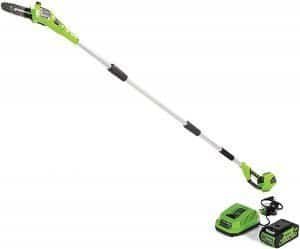 The last entry on our list of the top-rated cordless pole saws is the 8.5-Inch 40V Cordless Pole Saw by Greenworks. This is a lightweight machine that you should not take lightly because it is a very powerful tool for any landscaping project. Its 8-pound weight makes it easier for you to control the saw head for more accurate cuts, and its battery lasts longer than most other pole saws in the market.
It features an automatic chain oiler, so you do not need to worry about the chain running dry. It has a clear oil tank that shows you the oil levels and when you need to refill it. The 3-piece aluminum shaft can extend up to eight feet to provide you excellent reach.
It has an 8-inch chain bar to make quick work of thicker branches using its powerful motor.
Specifications and Features
Long-lasting run time on a single charge
A lightweight machine that is easy to maneuver
Angled cutting makes it more accurate for landscaping projects
Final Thoughts
Each of these products is the top-rated product in the category. Consider your possible applications for the cordless pole saw and compare it to the qualities and features of the products we've reviewed. We thought that the Milwaukee  M18 FUEL 10-Inch 18V Lithium-Ion Brushless Cordless Pole Saw, was the best model we test in this review, it has strong 18V power as well as a larger chain bar to handle larger limbs.  Between the features and your requirements, we are confident that you can find the top-rated cordless pole saw for your landscaping needs on our list.