Last Updated on October 2, 2023 by Kyle Whitley
What can I say, being without power sucks.  It does really.  If you like most folks power outages are becoming more and more commonplace.  Whether it is severe weather or aging power grid infrastructure, power often drops.  That is why it is a great idea to have a generator at your home as an emergency source of backup power.  Everyone knows about gas generators, but we are going to focus on the next generation of backup power.  We are going to find out what is the best battery powered generator.
We hope you love the products we recommend! If you buy something through our links, we may earn an affiliate commission.
The best battery powered power station
We took a look at five of the best battery powered generators on the market today.  After carefully reviewing these battery powered generators, we found that EGO Nexus Power Station was best battery powered generator.  We felt that it had the best power to cost ratio and provided the best flexibility for providing emergency power for the widest range of electric devices from your standard refrigerator to your cell phone.
This battery powered generator really is pretty awesome.  It is great for both indoor and outdoor use.  It can power a wide range of electronic devices with its 3000W peak and 2000W continuous power.  This thing has enough juice to power a standard-sized refrigerator and microwave.  That is pretty impressive.
Most powerful battery powered generators
| Model Image | Model Name | Description | Buying Options |
| --- | --- | --- | --- |
| | EGO Nexus Power Station | Versitale battery powered generator with capacity to run major appliances using EGO batteries | Get It Now |
| | Yeti 6000X Portable Power Station | Large powerful battery powered generator with capacity to get your through a power outage and keep even large appliances up and running. | Get It Now |
| | Yeti 3000X Portable Power Station | Powerful but heavy power station with enough capacity to power a full size refrigerator. | Get It Now |
| | EcoFlow Delta 1300 Portable Power Station | Battery powered generator that can keep your home going in case of a power outage and is solar recharge capable. | Get It Now |
| | Jackery Portable Power Station Explorer 1000 | Portable power station that can get your essential gear through a power outage, camping, or being off the grid. | Get It Now |
So what is the best battery powered generator?  Let's take a look at five of the top battery powered generators for 2021.
Like I mentioned previously in this post, the EGO Nexus Power Station is our favorite battery powered generator.  The power station is powered by EGO's 56v power + batteries that power EGO string trimmer and blower.  Which is a great feature.  If you already own EGO battery powered outdoor equipment you can use those same batteries to power the Nexus Power Station.  One other plus is that it will work with any combination of the power+ batteries so you can mix and match batteries based on what you already have on hand. One other thing to note, the Nexus Power Station is also solar power ready when used with EGO's solar panel charger.
3000W Peak 2000W Continuous

3 120V A/C Outlets,

4 USB Ports

LED Display Shows Run Time

Robust Steel Handles for portability

Quiet Clean Power for

Indoor and Outdoor Use

Weather-Resistant Construction

Works with 1, 2, 3, or 4 EGO batteries of any size, in any combination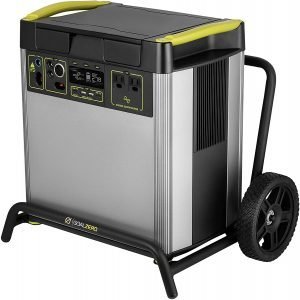 The Goal Zero Yeti 6000x is a great battery powered generator.  It has an impressive 2000w inverter, which is the most powerful inverter on the market today.  This generator has a huge amount of ports, 7 in total, to plug just about any electric device.  One of the biggest pluses for all of the Goal Zero Yeti battery powered generators is the solar power recharge integration.  These things were built with solar recharging in mind from the get-go, making this a go-to for off grid power.
Seven different output ports including USB-A, USB-C, USB-C PD, 6mm, 12V, 12V Power Port, 120V AC Inverter
industry-leading 2000W AC inverter with 3500W surge capacity
Charge the battery pack from solar panels while off grid.
Mobile app for monitoring and optimizing your battery powered generator from anywhere.
Home integration kit to power essential circuits at your home and can also be combined with the Home Expansion Kit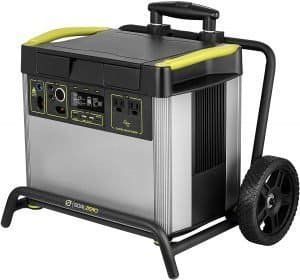 Here is another great entry from Goal Zero the Yeti 3000x portable power station.  Like it's big brother the Yeti 6000x, the Yeti 3000x has a huge selection of output ports, and boasts the same industry-leading 2000w inverter.  The Yeti 3000x is just a little smaller on capacity, but maintains most of the great features of the larger Yeti 6000x, while having a lower price point.
Industry-leading 2000w inverter with 3500w surge capacity
7 output ports including USB-A, USB-C, 12V, and 120V AC.
solar power charging capability for nearly endless backup power
Yeti mobile app for remote control and optimization of power usage from anywhere.
Has the ability to power essential circuits within your house when using the Yeti Home Integration Kit and Home expansion kits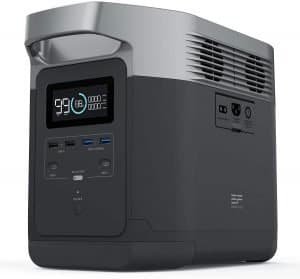 The EcoFlow Delta 1300 is a pretty impressive battery powered generator sporting 1800W continuous and 3300W peak output.  This generator also has 6 yes 6,  120v AC outlets.  The EcoFlow Delta has a unique X Stream technology that allows it to charge from 0% -80% in 1 hour, which is truely impressive.
1800W continuous power with a 3300w surge capacity
12+ outlets's including 120V AC, USB-C, USB-A, and USB-A fast charge.
Unique triple recharge mode from solar, ac wall adapter, and car charger
Fast charging ability using X-Stream Technology for 1 hr recharges
Harden aluminum chassis and rubber footing to protect the generator when being transported
Jackery is one of the pioneers in portable battery powered generators and the Jackery Explorer 1000 is the latest and greatest model in the Jackery line up.  This portable power station boasts 1000W continuous power and 2000W surge power, there is plenty of power to keep the lights, tv, and charge your phone during a power outage.  The Jackery Explorer has 8 output ports including 3 AC, 2 USB-C, and 2 USB-A ports. This is the lightest generator of the bunch coming in at just 22lbs.
1000W continuous and 2000W surge power
Multiple output ports, 8 total ports
Ability to charge via solar panels, wall outlet or even 12V car adapters
Very portable and compact and carry friendly
Pure Sine-Wave power to protect those delicate electronics.
Let's take a look at what exactly a battery powered generator is and how they will work for you in your home.
How do battery powered generators work?
Well actually they are pretty simple in theory, they have simply store electric power into onboard batteries, and then when you plug in a device that requires power the onboard batteries provide the needed power.  Simple right?
Now don't get me wrong in reality a battery powered generator is a high tech piece of equipment that has power meters, sine wave inverters, and even mobile apps so you can monitor your battery powered generator when you are not close to it.  The simplicity of the battery powered generator is key.
That simplicity is what makes a battery powered generator such a good thing to have around in an emergency.  It is simple and it works when you need it to.
So let's take a look at why you might want to choose a battery powered generator over a gas generator.
Gas Versus Battery Power
Everyone knows about gas powered generators. They are loud, heavy, and powerful.  I am guessing you have seen then at sporting events, construction sites, and people's homes during severe weather.  You see them so much because they are tried and true ways to get backup and mobile power when you need it.
Good ole reliable gas?
Truth be told, gas powered generators, in general, are more powerful than battery powered generators.  They have powerful motors that can generate up to 12000+ W peak power outputs.  That is a lot of power that can run a lot of devices at the same time.  Sounds great right?
Well in reality it isn't that great.  Gas generators are loud, heavy, and spew dangerous carbon monoxide.  Also, you have to keep gas on hand to power the generator, which is a hassle all on its own.  Also, you must always run a gas generator outside your home, due to the dangerous carbon monoxide exhaust gas.
Gas generators also need to be maintained, ie oil changes, fuel filters, air filters, and all the other tasks required to maintain a gas powered small engine.  I switched away from all gas powered lawn/outdoor equipment for this reason.  On occasion, you have to start up your gas powered generator to make sure it will start when you need it to on the job site or at your home in an emergency.
Out with the old in with the new
Gas powered generators are yesterday's news.  Battery powered generators are the future of emergency and portable power.  Battery powered generators can be run indoors or outdoors, and they are quiet.
Battery powered generators are also pretty powerful.  Several of the ones we reviewed have peak ratings of around 3000w.  While obviously not as powerful as what a gas generator can create, it will power a standard refrigerator and a microwave.  Battery powered generators are also very efficient.  When a gas generator runs, it runs all the time, consuming fuel every second it runs.  A battery powered generator only uses electricity when the device plugged in needs the power.
Battery powered generators need little to no maintenance.  The biggest thing to remember is to make sure they are charged, usually every few months, so you have emergency or portable power when you need it.  Also if your generator works with solar panels, you pretty much have an endless supply of power.
How many watts do I need?
That is a great question.  The answer is, it really depends on what you want to power.  If all you want to power is a cell phone, a small tv, or wifi router, then any battery powered generator will work. For those smaller tasks, you can get away with smaller capacity generators in the 500w -1000w range.  However, if you are wanting to power a fridge or microwave,  you are going to need something more powerful with 2000w – 3000w peak power output.  One thing to keep in mind is that the larger the battery powered generator the longer it will take to completely recharge, which could be important when outages extended for several days.
Are battery powered generators portable?
Battery powered generators are absolutely portable.  Even the largest battery powered generators have handles for carrying and some even have carts with wheels.  These options make battery powered generators very portable, so you can move them from the backyard to a tailgate to your kitchen.  Most gas generators are portable as well, but they are super heavy and not easy to maneuver around.   The portability of and ability to run these generators indoors or outdoors is a huge benefit for owning a battery powered generator.
So What is the Best Battery Powered Generator?
Well, you really can't go wrong with any of these battery powered generators, but it just depends on what you need.  Do you need to power essential circuits in your home, a fridge, or just a coffe maker?
We were really impressed by the overall features of the EGO Nexus Power Station but all of these are great battery powered generators.
Regardless of what you need to power up in an emergency or while off the grid, one of these battery powered generators will satisfy your power requirements.