Last Updated on April 21, 2021 by the staff of TheAllElectricLawn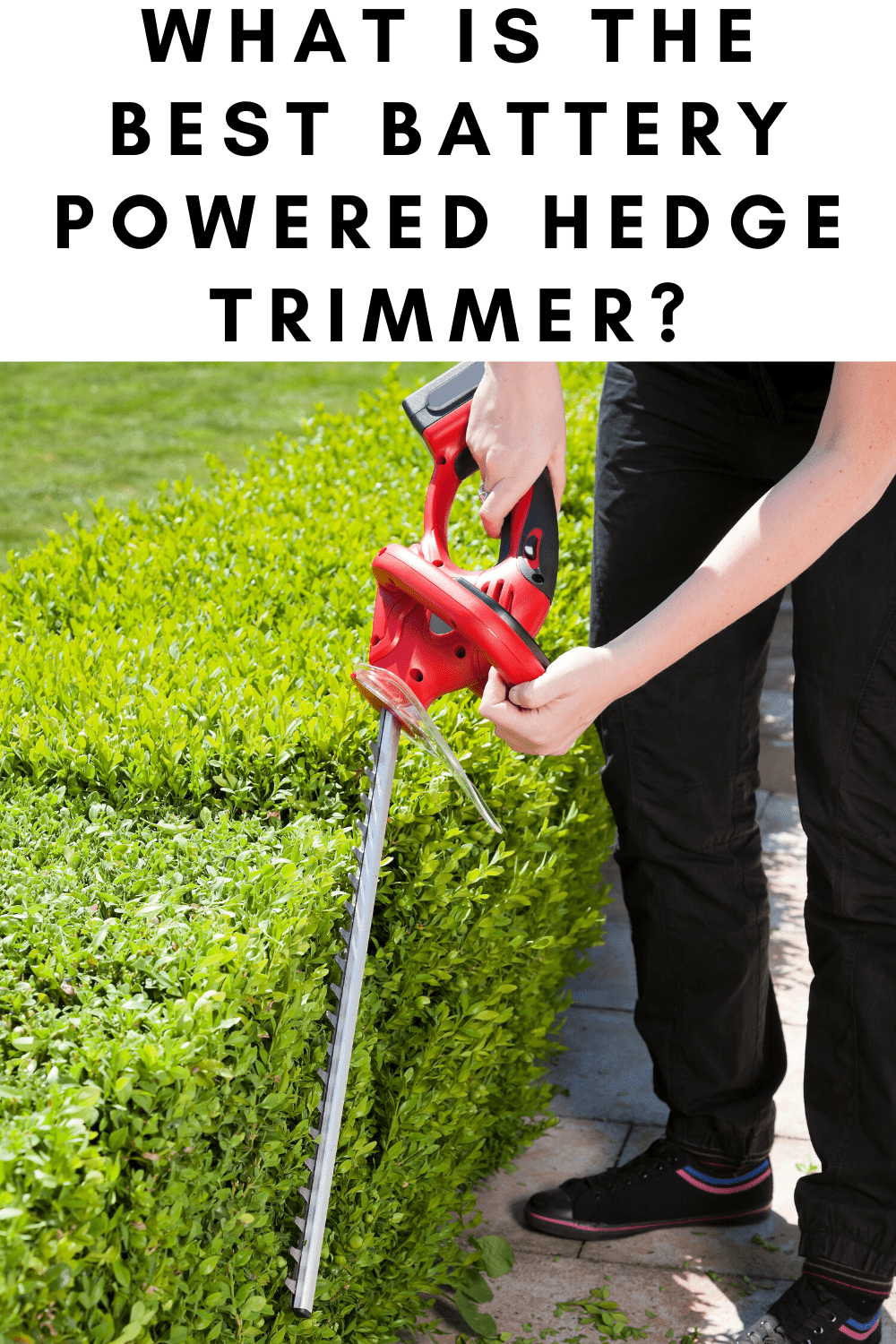 The average person who loves gardening can find themselves tending to various needs for their yard regularly. Perhaps one of the most dreaded tasks when taking care of the garden is trimming the hedges. No matter how experienced you are, corded hedge trimmers always manage to tangle you up. Fuel-based cordless hedge trimmers are a nuisance for all the noise they make and the smoke they spew. So you might be wondering what is the best battery powered hedge trimmer?
Why use a battery powered hedge trimmer?
Battery powered hedge trimmers are becoming more popular because they give you the convenience of being cordless without creating too much noise, and they do not harm the environment.
As amazing as the product is, there are too many in the market to choose from. Are you wondering what is the best battery powered hedge trimmer in the market right now? We might be able to help you with that.
Benefits of a battery powered hedge trimmer?
I don't know about you but I am not super fond of cutting my hedges and pruning the shrubs in front of my home.  I used to have had a corded hedge trimmer, while it was powerful, the cord was always getting in the way.  It was such a hassle to use, not to mention all the extension cords I went through when accidentally cutting the cord.
Gas hedge trimmers are heavy,  not to mention the extra heat and exhaust they are spewing out near your face and body when you trim the hedges.  I am not going to even bring up the maintenance involved in a gas engine and the mixing of fuel, both of which can be a hassle. Battery powered hedge trimmers are just a better proposition.  Here are a few benefits battery powered has over both corded and gas hedge trimmers.
Less weight
Cordless, no extension cords
No exhaust
Little to no maintenance
In this article, we have reviewed five of the most reliable battery powered hedge trimmers that you can consider to make your life easier. The most versatile outdoor tool, you can be ready to trim and groom your pushes neatly and quickly. Through this article, you will stop wondering about what is the best battery powered hedge trimmer and simply find the perfect one for your garden.
We hope you love the products we recommend! If you buy something through our links, we may earn an affiliate commission.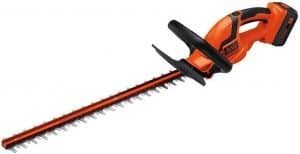 The LHT2436 is the perfect product to begin the list of the best battery powered hedge trimmers. The Black and Decker name on the product might be enough to make it the top pick for many gardeners. A brand associated with high-quality power tools and products, you get the best of its hedge trimming action with this machine.
The dual-action hedge trimmer helps you get the work done faster and smoother than you would with a single-action machine. The overgrown branches in your hedges are not a problem for this machine since it can slice through them easily with the ¾-inch gaps in its teeth.
Ideal for all kinds of hedges and bushes, the machine's 40V lithium-ion battery can help you cut through 6,000 square feet of hedges on a single charge. The fast charger helps you pick things up again in an hour after you put it on charge.
Features and Specifications
Comes with a three-year warranty
Offers a fast charging time of just one hour
A lightweight machine for easier maneuverability
Wraparound foot handle for better safety and control
Soft rubber grips to reduce fatigue on your hands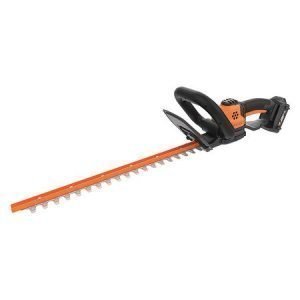 Wondering what the best battery powered hedge trimmer is that won't burn a hole in your pocket? The WG261 20V Cordless Hedge Trimmer by WORX might just be the product for you. This lightweight and affordable cordless hedge trimmer helps you get the job done without ruining your budget.
The 4.6-pound weight makes it one of the lightest machines in its category. The 22-inch dual-action blade delivers a smooth cutting action without creating a lot of vibrations. It helps keep the pressure off your hands and reduces fatigue after long hours of cutting the hedges.
It has an excellent grip handle to hold it at any angle without putting your arms or hands in a dangerous position. The two-hour charging time makes it easy to power up the 20V battery once you have run out of juice. It does not have a battery indicator, but that does not affect its performance when it goes low.
Features and Specifications
Comes with a three-year warranty
Has a high speed for a smoother finish
Fast-charging capability
Can utilize WORX PowerShare technology
Dewalt is another major name you will find when you ask an expert about what is the best battery powered hedge trimmer. Most likely, they will mention the DCHT820P1 Cordless Hedge Trimmer because of its sheer power and excellent performance.
This is the kind of machine you would use for larger hedges with thick branches that seem almost impossible to cut. The Dewalt hedge trimmer makes cutting through the hedges effortless and comfortable through its optimized design. The machine is easy to hold straight to get a clean cut. It might be slightly heavy for some users, but its ergonomic design makes it simpler to handle.
The front and rear handle let you grip the machine better, so your hands do not feel too much of the vibrations. It can help you trim the hedges without feeling tired.
Features and Specifications
Very efficient cordless hedge trimmer
Fantastic battery life
Suitable for working in larger areas
Comes with a three-year warranty
The EGO Power+ 56V Cordless Hedge Trimmer is one of the most powerful machines in the market. At full charge, its 56V lithium-ion battery can help you cut continuously for an hour so you can take care of most hedge trimming work rapidly.
If you already own another product by EGO Power+ that uses a similar battery, you can simply switch it out with the other one while the first battery charges so you can tend to your garden uninterrupted.
The 24-inch dual-action design helps you cut through the thickest hedges like butter and enjoy making quick work of hedge trimming with the machine.
Features and Specifications
Comes with a five-year warranty for the machine
The battery comes with a three-year warranty
Compatible with all EGO Power+ Arc Lithium-ion batteries
Has an IPx4 weather resistance rating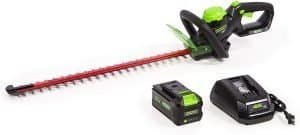 If you are wondering what is the best battery powered hedge trimmer that you can use in a smaller garden, the 24-Inch 40V Cordless Hedge Trimmer by Greenworks could be ideal for your needs. This might not be the most energy-efficient hedge trimmer that can run for hours before you need to recharge, but it is one of the most powerful.
The machine can make quick work of smaller hedges that do not pose too much of a challenge at an affordable rate. An entry-level device, the hedge trimmer has 24-inch dual-action blades that provide optimal cuts with a reduced level of vibrations to make gardening easier for you.
The grip design and the handle's shape lets you grip the machine with more convenience for better control and handling. Ideal for fine-tuning hedges, you can expect a crisp and clean finish with this machine.
Features and Specifications
Has a highly affordable price tag
Excellent value for money
Powerful for soft hedges
Comes with a four-year warranty
Final Thoughts
Finding out what is the best battery powered hedge trimmer is vital because this is a substantial investment you are making for your gardening needs. So after reviewing each of the models above we found that the EGO Power + 24-Inch 56V Cordless Hedge Trimmer was the best battery powered hedge trimmer.
We are confident that our list of reviews will narrow down your options and give you the information you need to make the ideal purchase decision. All of the products we've mentioned are the best in the category and can be a worthwhile investment based on your needs. Good luck and enjoy!