Last Updated on October 2, 2023 by Kyle Whitley
You might not have heard of the concept of tilling, but if you like to maintain your garden, you might have tilled the soil in your yard without even realizing it. Simply put, tilling is turning over the soil in your garden to loosen it up and help the healthy growth of plants.  Are you wondering what is the best electric tiller?
Tilling makes it easier to plant the seeds, get deeper into the soil, aerate the land, help drainage, and control weeds. While some people prefer gas-powered tine tillers from garden centers, the process can take a while and be costly. It's not ideal for smaller gardens. Electric tillers are the way to go.
What is the best electric tiller?
With all the great corded and cordless electric tine tillers on the market, we know it can be hard to make a choice.  We can help you find out what is the best electric tiller. We have a list of reviews of the top-rated electric tillers available in the market that you can use for your gardening needs, including features and options for each tiller.
We hope you love the products we recommend! If you buy something through our links, we may earn an affiliate commission.
If you have ever searched "what is the best electric tiller," the Earthwise TC70016 16-Inch Corded Electric Tiller must have shown up in your search results. This product is one of the best in the business for helping gardeners loosen up the compact soil for easier weeding and planting new seeds.
Since the process requires long hours of work, gardeners can experience plenty of fatigue due to the vibrations over long periods. Thanks to its ergonomic handle with soft grips, this Earthwise electric tiller allows you to get the job done without breaking a sweat.
It has an adjustable width between 11 and 16 inches, and it offers an 8-inch working depth. Powered by electricity by connecting it to a standard 120v outlet, it is a lightweight machine that makes it easy to compost, weed, and prepare the soil for new planting.
Specifications and Features
13.5 amp electric motor
Features six adjustable tines
Specially designed ergonomic handles
11 to 16-inch tilling width
It offers an 8-inch tilling depth
Weighs 30 lbs
What we like
A substantial 13.5 Amp electric motor churns up the dirt
Lightweight and portable with flip down wheels
What  we dislike
Single-speed (wide open throttle)
Not great for breaking up new ground, but it excels at busting up existing gar
Another product to our list of the best electric tillers is the TJ603E Electric Tiller by Sun Joe. This gardening machine features a powerful 12 Amp motor that can quickly aerate a medium gardens soil and give you the ideal base for planting new seeds.
The tiller has a wide 16-inch working area and offers an 8-inch working depth to give you a surprisingly effective machine in a compact package. The size of this machine also makes it easy to store. It has foldable handles that make storage even more relaxed when you want to put it away until you need it again.
The corded tilling machine comes with a 2-year warranty covering your investment if anything goes wrong with the machine.
Specifications and Features
12 Amp electric motor
Six angled tines with durable steel construction
Easily foldable handles make storage more convenient
3-position adjustment for its wheels
16-inch tilling width and 8-inch tilling depth
Weighs 27 lbs
What we like
Small, light, and powerful
Easy assembly
What we dislike
It might not be heavy enough for some really compacted soil
The handle might be a little tall for a shorter operator
If you wonder what is the best electric tiller, you should look for a lightweight and effective machine. Electric tillers are lighter than their gas-powered counterparts, and the Red and Black Electric Tiller by Mantis is a lightweight tiller. At just 21 pounds, you can easily maneuver this machine without tiring yourself out.
The 3-speed 540W motor is powerful and slices through the toughest of soil to help you till. It has a 9-inch width and a 10-inch operating depth to help you reach those tougher spots. You can even adjust the tines to get more shallow action so that you can cultivate the topsoil.
Specifications and Features
Powerful 3-speed 540W motor
It is incredibly lightweight
Foldable machine for easier storage
9-inch tilling width
Adjustable operating depth of 2-inch to 10-inch
Weighs 21 lbs
What we like
Super lightweight design for easy maneuverability
Great range of adjustment for tilling depth
What we dislike
Its lightweight might be a disadvantage when busting up fresh ground
The price might be a little high compared to other models in this test.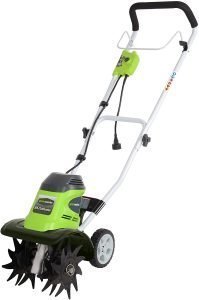 Another smaller machine that may look timid but is more than enough to get the job done is the 27072 10-Inch Corded Tiller by Greenworks. This is an electric tine tiller that packs a punch with its powerful 8-Amp motor, which goes up to top speed instantly as you start the machine.
The corded electric rototiller has robust 8-inch forward rotating tines that can easily dig through the toughest of soil to help you prepare the soil. It has an adjustable 8.25-inch to 10-inch operating width.
The 5-inch tilling depth is achieved by adjustable wheel height, allowing you to raise and lower the whole tiller.  While you might not use it to cultivate just the topsoil, it does give you plenty of versatility, depending on your planting needs.
Specifications and Features
8 Amp electric motor
Four 8-inch rotating tines
8-inch to 10-inch adjustable tilling width
5-inch adjustable tilling depth
Foldable machine for easier storage
Weighs 29 lbs
What we like
We really like the adjustable wheel height to adjust the depth
Powerful for a smaller 8 Amp electric motor
What we dislike
The pin on the tines seems to fall off quite a bit, which is obviously an issue with the tiller.
Not as powerful as other models tested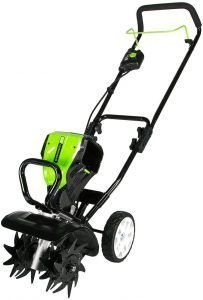 Are you wondering what is the best electric tiller in the market that you don't have to plug in to operate? The last entry on our list is the TL80L210 10-Inch 80V Cordless Tiller by Greenworks Pro. The only cordless electric tiller provides the convenience of electric tillers without the drawbacks of a plugin tiller.
Since it does not come with a cord, you can take it freely across the land you are tilling without worrying about tangling the cord or finding extension cables. The cordless electric tine tiller uses a powerful 80V G-MAX lithium-ion battery that gives you a consistent output after charging.  The battery has a 2-year warranty as well.  It has four 8-inch forward-rotating tines and adjustable 8.25-inch to 10-inch width and 5-inch operating depth.
Specifications and Features
It boasts a powerful brushless cordless motor
Powered by an 80V G-Max lithium-ion battery
Four 8-inch adjustable tines
10-inch adjustable tilling width
5-inch adjustable tilling depth
Weighs 44 lbs
What we like
Cordless tiller frees you from using extension cords
Similar performance to plug in model, without the cords
What  we dislike
Limited run times with included 2Ah battery  (only 45 minutes)
Weight…this is considerably heavier than plugin models ( that is mainly due to battery weight)
The Ryobi 40V HP Brushless 18″ Rear Tine Tiller is a cordless garden tiller equipped with two brushless motors and counter rotating tines, making it powerful enough to take on even the most challenging terrain. Here are some key specifications and features of the tiller:
18″ tilling width and 10″ tilling depth
Industry's first ever cordless rear tine tiller
Four 40-volt 6.0 Ah lithium-ion batteries included for ultimate power and runtime
The dual-port rapid charger can charge two 40V 6.0Ah batteries simultaneously in less than 60 minutes
Counter-rotating tines for breaking up hard or untilled ground better
Ideal for large gardens, deep tilling, small farms, and breaking new ground
5-year tool warranty and 3-year battery warranty
What we like:
Cordless design allows for greater flexibility and freedom of movement
Four powerful batteries and dual-port charger provide long runtime and quick charging
Counter-rotating tines make tilling easier and more efficient, especially in tough soil conditions
Large 18″ tilling width and 10″ tilling depth cover a lot of ground quickly
5-year tool warranty and 3-year battery warranty provide peace of mind
What we dislike:
Expensive compared to some other garden tillers on the market
Heavy and difficult to maneuver for some users, especially on uneven terrain
Tines can become clogged with debris, requiring frequent cleaning and maintenance
Some users have reported issues with the battery life and charging process
Why choose an Electric Tiller?
So if you aren't familiar with tillers, gas garden tillers can be a beast to use.  They are heavy and bulky.  Now don't get me wrong, a gas tiller has its place in some people's gardens, especially if you have to break up some very hard compacted dirt over a large piece of land.
That being said, most folks can be very pleased with an electric tiller.  Electric tiller's corded and cordless (i.e., battery powered) are pretty powerful and can bust up and turn over some pretty hard soil.
Corded electric tillers have one big limitation, the cord.  With that cord comes a pretty endless supply of power, as long as you have a long enough extension cord.  What you give up in mobility you gain with runtime.
Cordless electric tillers are powerful and mobile.  With that mobility, you do have to sacrifice a little runtime, so you might want to have a couple of batteries on hand if you have a bigger job to handle.
Regardless, you don't have to deal with gas, oil, air filters, and spark plugs with corded and cordless electric tillers.  You also don't have to deal with the exhaust of a gas engine.  I personally switched to all electric lawn equipment a year or so ago and haven't looked back.
Electric Garden Tiller FAQ
How much does an electric tiller cost?
So an entry-level corded electric tiller starts at around $100.  You can spend $300+ for a cordless electric tiller with an included battery.  The range for electric tillers is between $100 – $400
Are electric tillers as powerful as gas-powered tillers?
Most modern cordless and corded electric tillers have comparable power to small 2cycle gas-powered tillers.
Current electric tillers can not compete with power produce by large gas-powered tillers yet.
That being said, if you are looking at an electric tiller, then you are more than likely working in a smaller area, and electric tillers are perfect for small to medium-sized gardens and flower beds.
What to consider when buying an electric tiller?
When purchasing an electric tiller, you should keep the following in mind:
tiller size/weight
tiller power (size or motor, brushed or brushless)
tiller power source (corded/cordless/gas-powered)
tiller speed
ease of use
cost
Is there a difference between a cultivator and a tiller?
Cultivators are generally smaller than tillers, often referred to as mini tillers.  Cultivators are used for turning over soil that has already been tilled.  You would bring in a cultivator to turn over and mix up soil that had plants growing there previously.
Tillers are designed to break up and turn over soil that hasn't been broken up before.  This is often hard-packed soil or compacted soil.
Tillers are used to create flower beds or gardens, while cultivators prepare existing flower beds or garden soil.
Final Thoughts
If you have been wondering what is the best electric tiller in the market, each product might give you the answer you need depending on your gardening applications. We thought the Sun Joe TJ603E 16-Inch Electric Tiller was our choice of the best electric tiller.  We liked the wide 16-inch width and the 8-inch working depth, which should handle most homeowner garden tasks. While we generally prefer cordless electric tools, this corded tiller has all the options and key features we look for in an electric tiler.
Consider your application, the depth you might require to till, the width, and the possible gardening activities you need to perform. Compare your requirements to the features and specifications of these products. Hopefully, these reviews have helped narrow down your choice.  We are confident you can find the ideal product for your needs from this list.