Last Updated on August 26, 2020 by the staff of TheAllElectricLawn
You might not have heard of the concept of tilling, but if you like to maintain your garden, you might have tilled the soil in your yard without even realizing it. Simply put, tilling is turning over the soil in your garden to loosen it up and help the healthy growth of plants.  Are you wondering what the best electric tiller is?
Tilling makes it easier to plant the seeds, get deeper into the soil, aerate the air, help drainage, and control weeds. While some people prefer hiring gas-powered tillers from garden centers, the process can take a while and be costly. It's not ideal for smaller gardens. Electric tillers are the way to go.
Why choose an Electric Tiller?
So if you aren't familiar with tillers, gas tillers can be a beast to use.  They are heavy and bulky.  Now don't get me wrong, a gas tiller has it's place in some people's gardens especially if you have to break up some very hard compacted soil.
That being said, most folks can be very pleased with an electric tiller.  Electric tiller's both corded and cordless (ie battery powered) are pretty powerful, and can bust-up and turn over some pretty hard soil.
Corded electric tillers have one big limitation, the cord.  With that cord comes a pretty endless supply of power, as long as you have a long enough extension cord.  What you give up in mobility you gain with runtime.
Cordless electric tillers are powerful and mobile.  With that mobility you do have to sacrifice a little runtime, so you might want to have a couple of batteries on hand if you have a bigger job to handle.
Regardless, with both corded and cordless electric tillers, you don't have to deal with gas, oil, air filters, and spark plugs.  You also don't have to deal with the exhaust of a gas engine.  I personally switched to all electric lawn equipment a year or so ago and haven't looked back.
What is the best electric tiller?
We can help you find out what the best electric tiller. We have a list of reviews of the top-rated electric tillers available in the market that you can use for your gardening needs.
We hope you love the products we recommend! If you buy something through our links, we may earn an affiliate commission.
If you have ever searched "what is the best electric tiller," the Earthwise TC70016 16-Inch Corded Electric Tiller must have shown up in your search results. This product is one of the best in the business when it comes to helping gardeners loosen up the compact soil for easier weeding and planting new seeds.
Since the process requires long hours of work, gardeners can experience plenty of fatigue due to the vibrations over long periods. Thanks to its ergonomically designed comfortable handles with soft grips, this Earthwise electric tiller allows you to get the job done without breaking a sweat.
It has an adjustable width between 11 and 16 inches, and it offers an 8-inch working depth. Powered by electricity by connecting it with the main connection, it is a lightweight machine that makes it easy to compost, weed, and prepare the soil for new planting.
Specifications and Features
Features six adjustable tines
Specially designed ergonomic handles
Quiet action corded electric tiller
Has an adjustable width for versatile function
Offers an 8-inch operating depth
Another product that makes it to our list of the best electric tillers is the TJ603E Electric Tiller by Sun Joe. This gardening machine features a powerful 12A motor that can make quick work of aerating the garden soil and give you the ideal base for planting new seeds.
The tiller has a wide 16-inch working area and offers an 8-inch working depth to give you a surprisingly effective machine in a compact package. The size of this machine also makes it easy to store. It has foldable handles that make storage even more relaxed when you want to put it away until you need it again.
The corded tilling machine comes with a 2-year warranty covering your investment in case anything goes wrong with the machine.
Specifications and Features
Features a powerful 12A motor
Six angled tines with durable steel construction
Easily foldable handles make storage more convenient
3-position adjustment for its wheels
If you are wondering what is the best electric tiller, you should look for a machine that is lightweight and effective. Electric tillers are lighter than their gas-powered counterparts, and the Red and Black Electric Tiller by Mantis is one of the lightest machines. At just 21 pounds, you can easily maneuver this machine without tiring yourself out.
The 3-speed 540W motor is powerful and slices through the toughest of soil to help you till. It has a 9-inch width and a 10-inch operating depth to help you reach those tougher spots. You can even adjust the tines to get more shallow action so you can just cultivate the topsoil.
Specifications and Features
Powerful 3-speed 540W motor
It is incredibly lightweight
Foldable machine for easier storage
Adjustable operating depth of 2-inch to 10-inch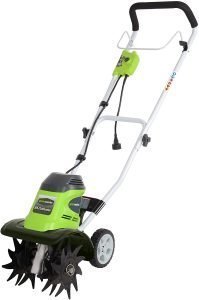 Another smaller machine that may look timid but is more than enough to get the job done is the 27072 10-Inch Corded Tiller by Greenworks. This is an electric tiller that packs a punch with its powerful 8A motor, which goes up to top speed instantly as you start the machine.
The corded electric rototiller has robust 8-inch forward rotating tines that can easily dig through the toughest of soil to help you prepare the soil. It has an adjustable 8.25-inch to 10-inch operating depth. While you might not use it to cultivate just the topsoil, it does give you plenty of versatility, depending on your planting needs.
Specifications and Features
Adjustable tilling width
Adjustable operating depth
Foldable machine for easier storage
Durable forward-facing tines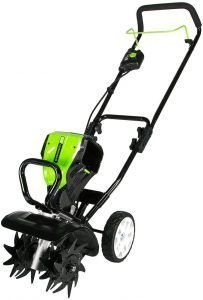 Are you wondering what is the best electric tiller in the market that you don't have to plug in to operate? The last entry on our list is the TL80L210 10-Inch 80V Cordless Tiller by Greenworks Pro. The only cordless entry, this electric tiller, provides the convenience of electric tillers without the drawbacks.
Since it does not come with a cord, you can take it freely across the land you are tilling without worrying about tangling the cord or finding extension cables. The electric tiller uses a powerful 80V G-MAX lithium-ion battery that gives you a consistent output after charging. It has four 8-inch adjustable forward-rotating tines and adjustable 8.25-inch to 10-inch width and 5-inch operating depth.
Specifications and Features
Adjustable tilling width
Boasts a powerful cordless motor
Powered by a 80V G-Max lithium-ion battery
Adjustable operating depth
Final Thoughts
If you have been wondering what is the best electric tiller in the market, each of these products might give you the answer you need depending on your gardening applications. We thought the Sun Joe TJ603E 16-Inch Electric Tiller was our choice of the best electric tiller.  We liked the wide 16inch width and the 8inch working depth which should handle most homeowner garden tasks.
Consider the application you have, the depth you might require to till, the width, and the possible gardening activities you need to perform. Compare your requirements to the features and specifications of these products. We are confident you can find the ideal product for your needs from this list.