Last Updated on May 7, 2021 by the staff of TheAllElectricLawn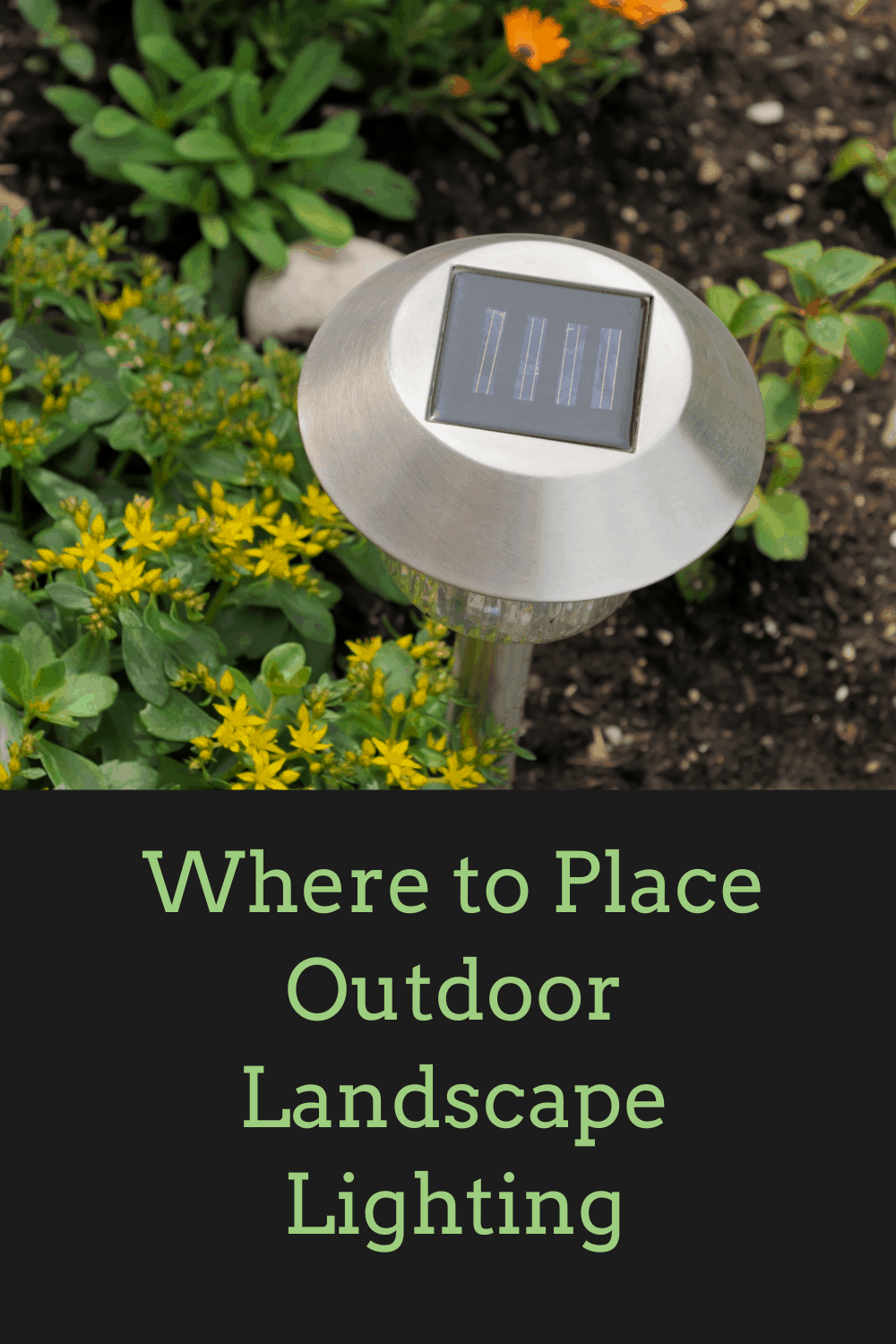 If you are looking at adding outdoor landscape lighting to your home, you will need to take some extra time to decide where exactly you are going to place your outdoor landscape lights. So the big question is where to place outdoor landscape lighting.
Outdoor Landscape Lighting Design
One of the best things about adding outdoor landscape lighting to your home is that it can bring out the true beauty of your house or patio. The right lighting will highlight all of the features you have worked so hard on, and with this knowledge, you can easily decide where to put the outdoor landscape lighting on your property.
The first thing to do when installing outdoor landscape lighting is to find a suitable place to install it. The best way to do this is by considering how large your property is, and what kind of lighting design you plan on going with.
Find a place where there is adequate distance between each light, and make sure that area cannot be blocked out by anything such as trees or bushes.
You should place lights around the outer edges of your home and have at least one in the middle. This will ensure that the front and back of your property are well lit up.
Keep in mind how far your lights would have to travel to reach their destination. For example, by placing a light on a corner it could easily hit a tree that dwells over it so make sure wherever you put them you know they can be seen from afar.
It is not enough to just have outdoor landscape lighting, the lights need to be set up so they work together.
Where to Place Outdoor Landscape Lighting?
In order to find out what kind of design to go with when adding outdoor landscape lighting to your home, you will want to do some research and see how other properties have implemented them into their designs.
Think about the layout of your backyard, patio, or pool area.  Are there certain areas you might want to highlight?  Maybe there is a tree or flower bed you want to spotlight.  If you have a path from your deck to the pool you might want to line that with stake lights to light the way safely at night.
Staying Safe and Sound
Another thing to keep in mind is safety around your home when deciding on where to place lights in your outdoor landscape lighting design.
If you are like most folks, you cannot see far in the dark, you will want to make sure to place lights in these darker unlit areas as well. Lighting up your backyard and the front of your house are also important.
If your neighbors can access your property or you have frequent visitors, lighting pathway walkways and also keeping them well lit when needed is a great idea.
If you have kids they may need a little extra lighting outside as well.  It is important to make sure you can safely navigate your outdoor landscape in the dark if need be.  You don't want to accidentally walk into the pool.
Creating the Desired Outdoor Lighting Effect
Let's face it the reason why most people install outdoor lighting is to create a "mood" or ambiance in their outdoor space at night.  There are few things to keep in mind when going through the placement of the outdoor lights
Don't overlap light "pools". This means you are installing the lights to close together if the light patterns overlap
Try to space lights so they cast a 4 or 5 ft area of light.
Install the lights high enough to adequately light the area you need
Don't put the lights too close to the base of your home, since that might limit the desired light affect
Avoid the "runway" effect offset your lights, which makes the lighting more appealing to the eye
If installing low voltage outdoor landscape lighting, make sure to get a transformer capable of handling all the lights you want to add.
Draw Up an Outdoor Lighting Plan
After you have decided what you want, you need to visualize where you are going to place the outdoor lights.  The best way to do that is to sketch it out.
In the sketch, you need to include any existing buildings, lights, and landscaping.  Each of these different items in your outdoor landscape could affect the way the outdoor lights work in your landscape.
You also might want to consider the height of objects around your yard, especially any trees and any larger bushes.
Putting the Outdoor Lighting Plan in Motion
Decide what you want to achieve with the outdoor landscape lighting. You need to decide if the lights will accent your home, provide a path to an area of interest, or illuminate a certain object or area. Once you have decided this, you can then place and install lights around the areas in your property that need lighting.