Last Updated on April 18, 2021 by the staff of TheAllElectricLawn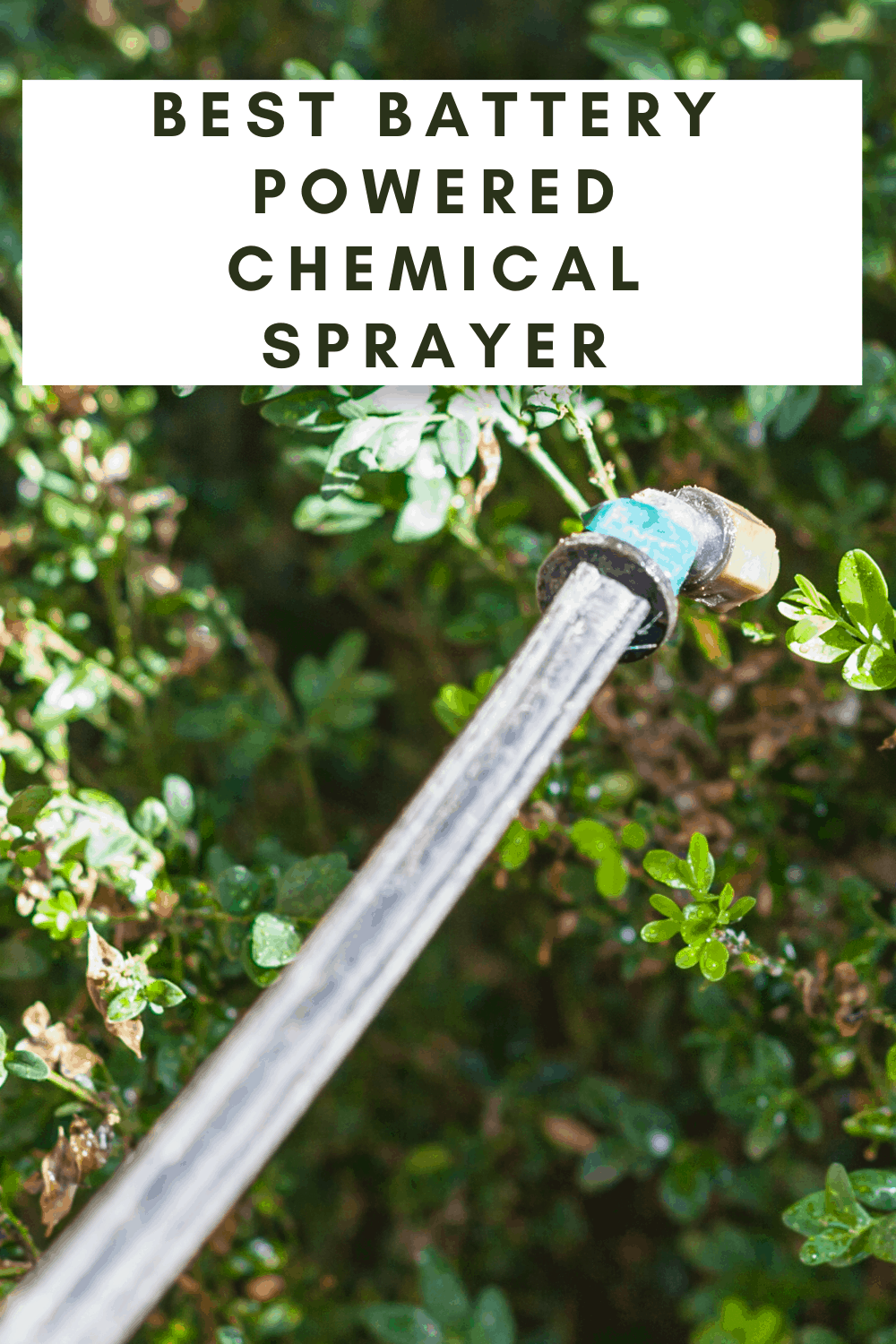 Maintaining your garden to keep it lush and green takes a lot of care, love, time, and effort. Part of the process is keeping all kinds of unwanted weed and insects away from your precious plants and helping your garden live pest-free.
Finding the right tools of the trade to disperse the chemical pesticides and herbicides to keep your plants safe is a challenge because there are so many available on the market. Manual chemical sprayers take too much time and effort. Most of them are not very efficient. However, the best battery-powered chemical sprayer can help you do the job faster and get better results to keep your garden safe.
Why would you want a battery powered chemical sprayer?
Well, this is a pretty easy question if you have ever used a manual sprayer.  It is less work.  With manual sprayers, you have to constantly pump the sprayer to get the consistent spray volume and distance.  This is not an issue with battery powered chemical sprayers.  Battery powered chemical prayers just make the task quicker and less taxing on the body.
I personally have a landscape that requires spraying either fertilizers, insecticides, and herbicides several times a year.  Manual pump sprayers either hand held or backpack style just take to long to work with.  With a battery powered sprayer, I can cover a lot of ground, garden, or home in a shorter amount of time.  This frees up more time to do other landscaping activities.
It is an important investment you are making, and we believe that you should have all the information you need before you make the purchase decision. If you are looking for the best battery-powered chemical sprayer to use for your garden, we have a list of reviews for the top products in the market that you can consider.
We hope you love the products we recommend! If you buy something through our links, we may earn an affiliate commission.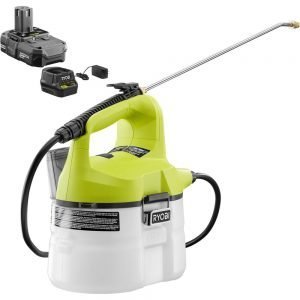 The P2810 is the perfect product to start our list of the best battery-powered chemical sprayers. The most popular product by RYOBI ONE+, this cordless chemical sprayer, is one of the most convenient devices you will come across. The chemical sprayer comes with a pump optimized to work efficiently with the 18V lithium-ion battery.
It has an adjustable spray nozzle that makes it ideal for a variety of applications for spraying chemicals. It has a cap that doubles as a mixing cup to make it easier to get the right mixture of chemicals in the 1-Gallon removable tank.
Backed with a 3-year warranty, this lightweight chemical sprayer comes in the form of a compact backpack that you can carry around for your spraying applications without tiring out.
Specifications and Features
Removable 1-Gallon tank
Comes in a lightweight backpack form for comfort and convenience
Has a 3-year warranty
Removable 18V battery with 60-minute quick recharge time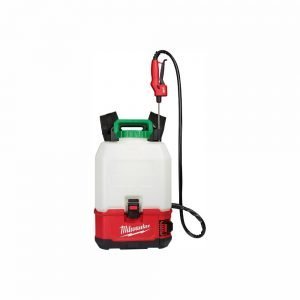 You do not have to worry about any manual pumping with the M18 Milwaukee Switchtank Backpack Chemical Sprayer. One of the first models in the industry that introduced an interchangeable tank, this model is an ideal entry on our list of the best battery-powered chemical sprayers.
Milwaukee is a renowned brand, and its M18 chemical sprayer is a powerful tool that exemplifies the brand's prowess. The 5-mode pressure adjustment knob allows you to change its pressure between 20psi to 120psi for a wide range of spraying applications. With a maximum range of 25-feet spray distance at 120psi, this is a powerful machine.
Coming in a backpack form, it has a powerful Redlithium battery that gives you 2.5 times more battery life than the average chemical sprayer of the same type.
Specifications and Features
Comes with an adjustable pressure knob for a wide variety of applications
Has a dual-diaphragm pump for longer battery life
Can run for up to 12 tanks per full charge
Interchangeable tank system
Wide straps for a comfortable ergonomic design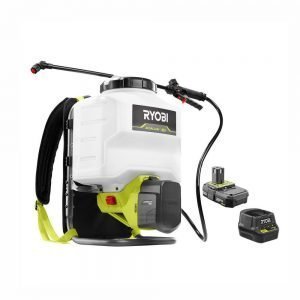 Another product on our list of the best battery-powered chemical sprayers by RYOBI ONE+, the P2840, is a more powerful version of the P2810 that gives you the power to quickly and efficiently spray chemicals a larger area in a shorter amount of time. The powerful 18V battery of this RYOBI ONE+ model lets you spray up to 40 gallons in a single full charge without manual pumping.
It has an adjustable spray and flat fan nozzle that lets you take care of several types of spraying applications. The backpack-style chemical sprayer comes with a translucent tank, which helps you keep track of the fluid levels in its 4-Gallon tank.
Specifications and Features
Adjustable nozzle and flat fan nozzle
4-Gallon tank
Comes with a 3-year warranty
Sprays up to 40 gallons per full charge
Translucent tank to keep track of fluid levels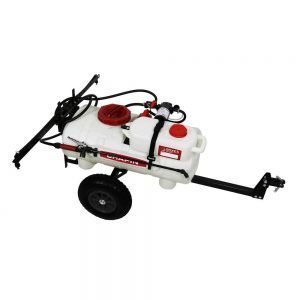 Chapin's 97761 Mixes on Exit Tow-Behind Sprayer is the fourth entry on our list of the best battery-powered chemical sprayers. This product stands out in our list for its drastically different design compared to the other products.  This sprayer is meant for handling large spraying jobs since it is a tow behind model.
This product has a tow-behind 15-gallon tank and a 1.33-gallon chemical concentrate tank supported on two wheels that you can pull with you while you spray the chemical in the garden. It is connected with a 2.2 gallons-per-minute pump, which you can connect with your ATV, UTV, or lawn tractor battery.
The design is optimized to reduce wastage of water and chemicals by using separate tanks to help you mix and use only the chemical concentrate and water you need. It works by pumping from both tanks in the adjustable mix valve as it exits the spray nozzle. Designed for larger area applications, this might not suit the needs of a small garden, but it can come in handy for someone with a larger yard that needs spraying.
Specifications and Features
Dual tank design keeps water and chemical concentrate separately to reduce wastage
Powerful spray with a 2.2GPM pump
Adjustable mix valves to allow variable mixture concentration of chemical with water
Mixes the chemical and water as it exits the spray nozzle
Suitable to tow with most ATVs, UTVs, and lawn tractors
The last entry on our list of the best battery-powered chemical sprayers is another product by Chapin. A battery-powered backpack-style chemical sprayer, this machine lets you spray the chemicals in its 4-gallon tank continuously for two hours for every full charge. The translucent tank comes with an extra-large opening for easy cleaning and refilling.
The cushion grip shut-off valve makes it easy to power on and off. The chemical sprayer comes with an easy-clean filter that prevents any dirt from clogging up the spray nozzle. It offers 35psi to 40psi pressure with a range of up to 35 feet.
Compact and lightweight, it has a powerful pump and a 20V battery you can recharge when it runs out.
Specifications and Features
Padded shoulder straps to reduce fatigue
Has a 4-gallon translucent tank to help keep track of fluid levels
Continuous 2-hour spray time on a full charge
Built-in serviceable filter that prevents clogging
Final Thoughts
The right choice can make a world of difference when choosing equipment to tend to your gardening. Using the best battery-powered chemical sprayer that is ideal for your gardening needs can help you maintain your garden and protect your plants.
The RYOBI ONE+ P2810 Battery-Powered Chemical Sprayer was the best chemical sprayer of the group we tested, it performed well and has a host of accessories like extra tanks and backpack straps that make it the most versatile battery powered chemical sprayer in the group.
We hope that our list of top products can help you find the perfect chemical sprayer for your requirements.