Last Updated on May 6, 2021 by the staff of TheAllElectricLawn
Do you have a small yard and don't want to have to deal with a gas powered lawn mower and the maintenance that comes along with it?  If so, you might want to take a look at a battery powered lawn mower.  Battery powered lawn mowers are perfect for small to medium sized yards found in most suburban areas.  Let's take a look at the best battery powered lawn mower for small yards.
Why is a battery powered lawn mower great for small yards?
Battery powered lawn mowers don't require much maintenance. All you have to do is keep the batteries charged and sharpen/replace the mower blades.  They are also much quieter than gas lawn mowers as well.  There is a weight advantage for choosing a battery powered mower, they are much lighter than there gas powered cousins.  There is also a slight cost incentive as well, as current electric rates are cheaper than the price you pay for gas.
Battery powered mowers are better than gas lawn mowers for small yards
Battery powered mowers are better than gas lawn mowers for small yards for a few reasons
No engine emissions. which means they are better for the environment
Battery powered mowers are much quieter, which gives you the flexibility to cut your grass late or early in the morning
There is no gas to buy and maintain
Little maintenance.  Charging batteries and sharpening/replacing mower blades are it.
Easy starting, usually with a push-button start.
I recently made the switch to all battery powered outdoor lawn equipment and couldn't be more satisfied.
Will a battery powered mower work for me?
You might be thinking about using a corded electric lawn mower.  They are great for small yards as well, and can be really inexpensive.  Being cordless allows you to cut the lawn and not be tied down to the location of your exterior electric outlets.  That can be a real pain.  Also with a corded mower you have to deal with the long extension cables which can slow you down in your mowing process.
What are the disadvantages of a battery powered lawn mower?
There are two major disadvantages with battery powered lawn mowers
The batteries.  Batteries can be expensive if they go bad.  The reliability of Lithium-Ion batteries has come a long way, but that reliability comes with an expensive price tag.  Some replacement batteries can cost as much as the tool itself
Runtime.  The newer 40v, 50v, and 60v Lithium-ion batteries are strong and powerful.  However, they do have a shorter runtime.  With most modern lithium-ion 40v batteries you will get a 40-minute average run time.
What features would you like in a battery powered mower for a small yard?
13inch -16inch cutting width
16inch – 20inch cutting width
mulching and bagging capabilities depending on the model
multiple position height adjustment
Lithium-ion batteries in the 18v -40v range.
battery and charger should be included
All of these great features make cutting the grass in a small yard with a battery powered mower a snap.
We hope you love the products we recommend! If you buy something through our links, we may earn an affiliate commission.
Best Battery Powered Lawn Mower for Small Yards
Below are some of the best battery powered lawn mowers you can buy to cut and maintain a small yard.
Greenworks 16-Inch 40V Cordless Lawn Mower, 4.0 AH Battery Included 25322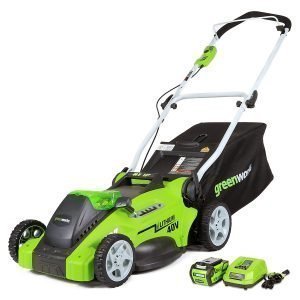 Greenworks makes a wide range of battery powered lawn mowers and the 25322 16 inch 40V mower is one of their best.  This mower has many great features including multiple cutting methods and a wide range of cutting height adjustments to get the perfect cut for your small yard.
40V 4Ah Li-Ion Battery  includes 1-4Ah Battery and Charger

Single lever 5-position height adjustment offers cutting height range from 1-1/4 inch to 3-3/8-inch 

2-in-1 feature offers rear bagging and mulching capability

16-inch cutting deck

6-inch front wheel and 7-inch rear wheel for easy maneuvering 
Sun Joe iON16LM 16 in. 40-Volt Cordless Battery Mower with Brushless Motor – 4.0 Ah Battery/Charger Included
The Sun Joe iON16LM is a great mower for small to medium sized lawns. The 40V battery has a long 40-minute runtime to let you complete the cutting of your lawn on a single battery charge.  The brushless motor provides plenty of power to get the cutting job done.
16-inch cutting deck
40-Volt 4.0 Ah EcoSharp rechargeable lithium-ion battery
Powerful brushless motor
A compact design ideal for small to mid-sized lawns
6-position height adjustment lever with cutting height from 1.18 in. to 3.15 in.
Provides up to 40 minutes of runtime
Instant start
BLACK+DECKER 40-volt Lithium-Ion 16-in Cordless Electric Lawn Mower (Batteries Included)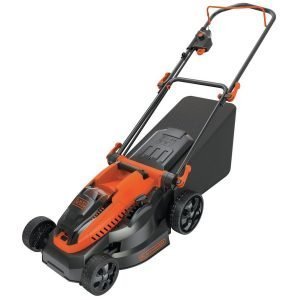 The Black+Decker 40V 16 inch mower is great from small to medium sized yards.  With it's 30 minute runtime you should have no trouble cutting a small yard before you batteries run out of power.  The mower even comes with a carrying handle to help storing the mower after cutting sessions.
40 V MAX lithium-ion battery with 2 x 2.0 Ah for up to 30 minutes of runtime
16-inch cutting deck
Single lever height adjustment of 1-1/5-in to 3-1/5-inches.
Folding handles for easy and convenient storage
Carrying handle makes it easy to lift and carry
The foldable handle offers easy, space-saving storage, perfect for sheds and smaller spaces
Includes 9.5-gal nylon grass bag to collect clippings, and features a hardtop, so you can easily check when it's full
16 in. ONE+ 18-Volt Lithium-Ion Cordless Battery Walk Behind Push Lawn Mower Two 4.0Ah Batteries/Charger Included
This mower from RYOBI is using two 18V batteries to power this 16 inch mower.  The mower has multiple height positions and cutting methods to satisfy any small yard grass cutting duties.  One plus is that the 18V batteries can be used in any of RYOBI's 18V power tools.
Includes (2) 4.0Ah lithium plus batteries for increased power and extended run time
16 in. cutting deck
5-position, single-point height adjustment 1.25 in. to 3.5 in.
Compact and lightweight design with carrying handle for easy transport
Folding handle with quick-release knobs for easy, compact storage
Push-button start
Up to 40min of Runtime w/ Provided Batteries and 2h Charge Time
RYOBI RY401100-Y 18 in. 40-Volt 2-in-1 Lithium-Ion Cordless Battery Walk Behind Push Mower 4.0 Ah Battery/Charger Included
The RYOBI 40V 18 inch mower steps up the power from it's 18V sibling.  This mower has plenty of power running up to 40 minutes on a single charge.  The 40V batteries can also be used in any other RYOBI 40V tool.
18 inch cutting  deck
2-in-1 mowing system for mulching and bagging
1.25 in. – 4 in. cutting height adjustment
Fold-down handle for compact storage
Carrying handles for user convenience
40-Volt 4.0 Amp hour high capacity lithium-ion battery for extended run time
Up to 40min of Runtime w/ Provided Battery and 2h Charge Time
What's the best battery powered lawn mower for a small yard?
You can't make a bad decision with any of the mowers listed in this post.  Each of these mowers can easily cut grass in small yards.  They can do it without using gas, costly maintenance, and without bad for environmental emissions. I actually like the RYOBI 18-inch 40v mower personally.  This mower would be perfect to cut the grass around a small fenced in yard or pool area, and I think it would work great in that type of environment.
If you need a battery powered mower for your small lawn, check out the mowers above, and give a cordless electric powered corded lawn mower a chance I don't think you will be disappointed.  Get out there and cut some grass!
Lawn Mower Manufacturers Mentioned in this Post