Last Updated on April 18, 2021 by the staff of TheAllElectricLawn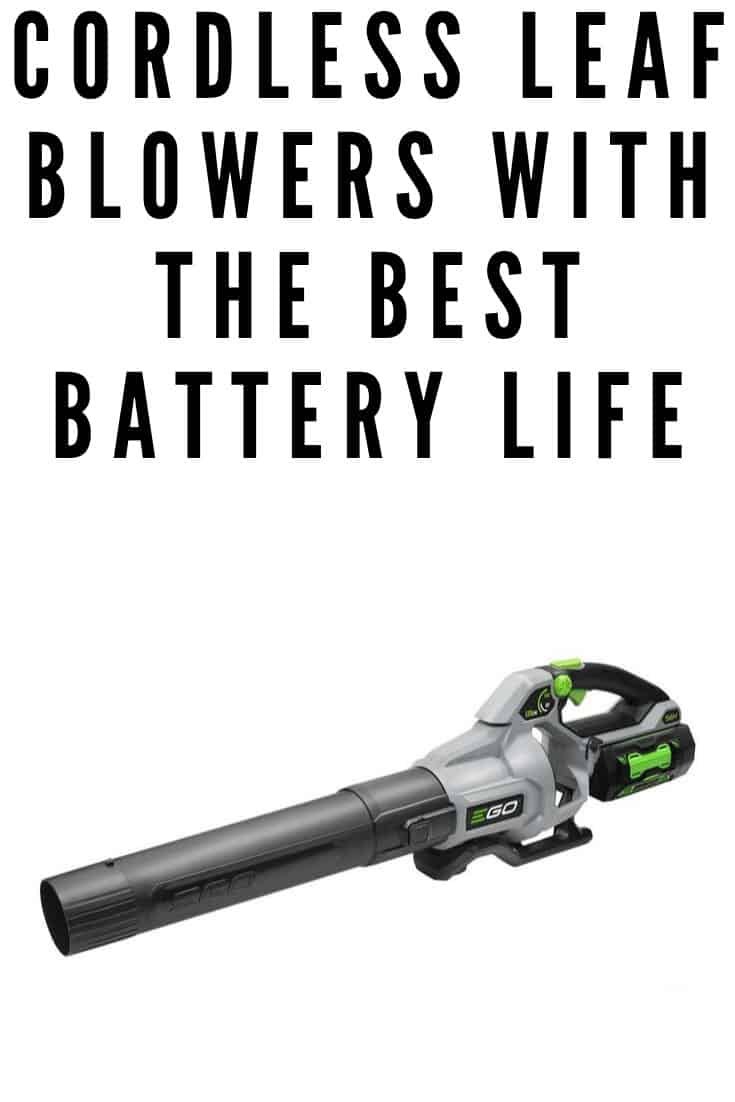 Across much of the world, fall is the most beautiful time of the year. The leaves start changing color during this season and cooler weather comes in. The red and orange colored leaves look very pretty on the trees, but they are a pain when they start falling and cover your manicured lawn. These leaves even end up clogging the drains outside of your house, which is why you have to keep the area around your home clear of them.
Raking up leaves is a time-consuming and difficult task and many homeowners don't want to add this annoying chore to their schedule. Fortunately, there are advanced tools like a cordless leaf blower that takes less effort than raking and works faster to clear the leaves off your turf. The market is flooded with cordless leaf blowers, each with its own benefits and caveats. Below we will find a cordless leaf blower with the best battery life.
We hope you love the products we recommend! If you buy something through our links, we may earn an affiliate commission.
Which cordless leaf blowers have the best battery life?
We reviewed several models of leaf blowers to find out which blower has the best battery life.  Battery life is very important when choosing a leaf blower, as the power, it takes to move leaves and debris easily takes lots of power.  Often blowing leaves takes quite a while to finish, especially in the heart of fall, so the longer the battery lasts the more work you can get done.  I always suggest adding an extra battery, so you can work while the spare is charging.  Take a look at the following cordless leaf blowers with the best battery life.
EGO Power+ LB4800 480 CFM 3-Speed Turbo 56-Volt Lithium-Ion Cordless Electric Blower
The EGO Power+ LB4800 is one of the most advanced cordless leaf blowers currently available in the market. It features a powerful turbine fan, – inspired by advanced aeronautics technology – which delivers a maximum of 480 CFM. You can also operate this leaf blower at 250 CFM and 385 CFM to preserve power. The LB4800 can manage an airspeed of 92 mph, which is quite good and should help you make quick work of those pesky leaves.
The EGO Power+ LB4800 uses an interchange 56V lithium-ion battery that can provide up to 1 hour of run time and takes about 40 minutes to charge. Battery and charger are included with this leaf blower, but you can also opt for a model that doesn't include these accessories.
Snapper XD 82V MAX 550 CFM Cordless Leaf Blower Kit with 2.0 Battery & Rapid Charger, 1687879, SXDBL82K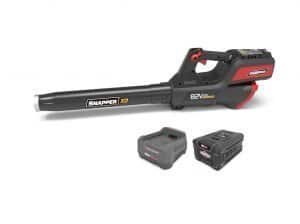 The Snapper XD is a good option for clearing leaves and debris off your yard in a matter of minutes. An 82V lithium-ion 2.0Ah battery powers this model, giving it a run-time of around 40 minutes. Despite being high in power, this battery only takes about an hour to charge. The Snapper XD combines lightweight and strong airflow; as such, it can maintain up to 555 CFM at an air velocity of 130 mph. This Snapper XD is thus powerful enough to clear fallen leaves and sawdust.
The 70db noise produced by this leaf blower is comparable to that of a household dishwasher so you may be able to use it in the morning without waking up your neighbors. The weight of the Snapper XD is 8 lbs so you won't feel uncomfortable holding it. Its on-off flip switch and ergonomic handle combined with its lightweight make the Snapper XD easy to use.
WORX WG591 Turbine 56V Cordless Battery-Powered Leaf Blower with Brushless Motor & Turbo Boost
The WORX WG591 embraces turbine technology and boasts a brushless motor to help you blow away leaves from hard surfaces and your lawn. With high efficiency, lower maintenance requirements, and lower operating temperature, this model generally has a longer life span than other cordless leaf blowers.
The WORX WG591 features a 56V battery that takes 90 minutes to charge. Moreover, it offers variable speed options, allowing you to change the speed depending on the task at hand. Turn the speed down if you are cleaning out corners and crank it up to sweep leaves out of the garage.
This powerful cordless leaf blower provides 465 CFM at a maximum speed of 125 mph. The charger and battery is included in the package, but you can also opt for a model that doesn't come with these accessories.
Ryobi 110 MPH 500 CFM 40-Volt Lithium-Ion Cordless Variable-Speed Jet Fan Leaf Blower 4.0 Ah Battery and Charger Included RY40460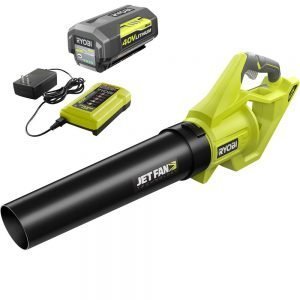 The Ryobi RY40460 couples decent performance at a much more palatable price than the high-end cordless leaf blowers. This model isn't brushless, but this doesn't stop it from making a strong impression. The Ryobi RY40460 delivers an impressive 500 CFM and 110 mph of clearing force. There is a variable speed trigger and a turbo boost button that you can use to crank the speed up to the maximum for tough debris.
The Ryobi RY40460 cordless blower boasts a 40V lithium-ion battery that delivers a run-time of around 26 minutes on high and about 20 minutes on Turbo mode. Unfortunately, this battery takes a long time to recharge – 2 hours and 45 minutes – so you will have to wait very long before you can resume your work if the battery dies in the middle of the job. This model includes battery and charger but if you only want the leaf blower, you can opt for a package that doesn't come with these accessories.
Ryobi ONE+ 100 MPH 280 CFM Variable-Speed 18-Volt Lithium-Ion Cordless Jet Fan Leaf Blower 4Ah Battery and Charger Included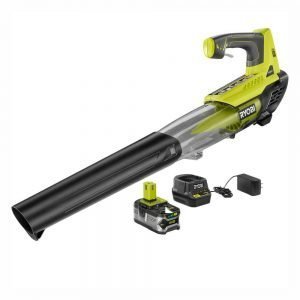 This jet fan blower from Ryobi packs an 18V lithium-ion battery that delivers powerful airflow – as high as 100 mph. The 280 CFM is enough to get rid of wet or stuck leaves while the handle design provides a solid hold on the blower.
The 18V battery of this cordless leaf blower gives an operating time of about 20 to 30 minutes on a full charge. The Ryobi P2180 also sports a variable speed trigger that gives you more control over its operation. Battery and charger come with the Ryobi P2180 but you can also buy the blower separately.
DeWalt 20-Volt MAX Lithium-Ion Cordless 90 MPH 400 CFM Handheld Leaf Blower w/ (1) 5.0Ah Battery and Charger DCBL720P1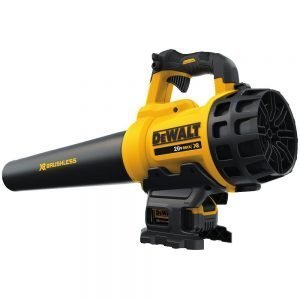 The DeWalt DCBL720P1 boasts an efficient and powerful motor that delivers a respectable 400 CFM at a maximum wind speed of 90 mph. A 20V lithium-ion battery comes with the blower along with a charger and it offers between 20 and 40 minutes run time. Batter power is decent, but you'll have to carry a spare if you need to clear very large areas of leaves.
This blower produces about 61db of noise, which isn't too loud. Moreover, the DCBL720P1 boasts a variable speed trigger, which allows you to change the power according to the task you are doing. Overall, it is a great leaf blower considering the price.
Which leaf blower outlasted them all?
These are all great leaf blowers with excellent battery life.  We felt that the cordless leaf blower with the best battery life was the EGO Power+ LB4800 480 CFM 3-Speed Turbo 56-Volt Lithium-Ion Cordless Electric Blower had the best battery life to power ratio.  The 56v battery is impressive, as a bonus, it can be used in other EGO products as well.  Regardless of which model you choose, I think you will be impressed with the be power and convenience of cordless leaf blowers, now go clean up that yard.