Last Updated on October 2, 2023 by Kyle Whitley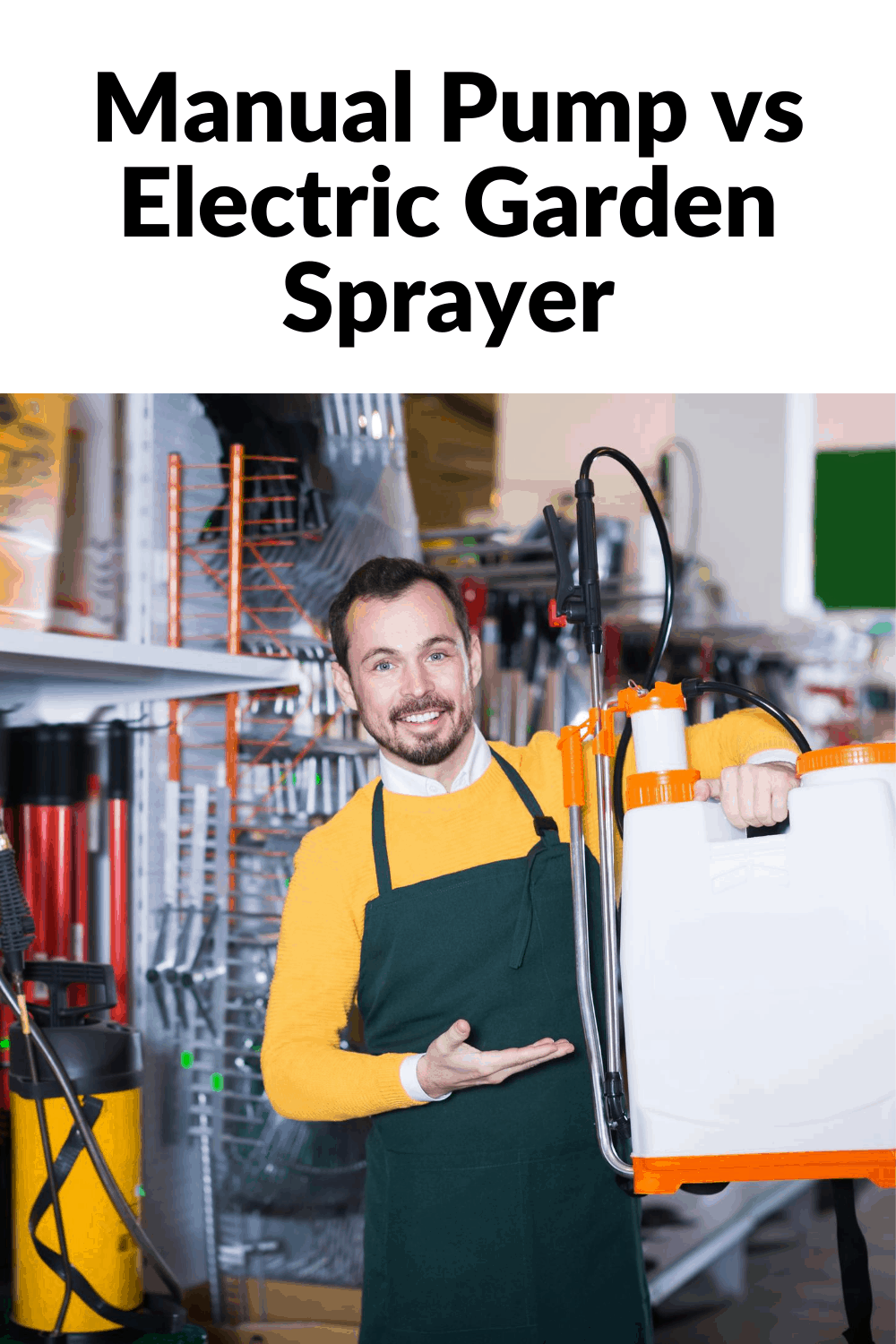 Spraying for weeds and spraying insecticides are part of homeowners' seasonal tasks if they have a lawn or garden. Let's see which type of sprayer we should choose when we compare a manual vs electric garden sprayer.  Spraying chemicals can be a very time-consuming task, and applying the chemicals can be tricky if you don't have the correct equipment.  That is where manual aka pump sprayers and electric garden sprayers come into the picture.
The Manual Pump Garden Sprayer
So manual garden sprayers or the hand pump garden sprayers's have been around for a long time going all the way back to the late 1940s.  You basically have two types of manual pump garden sprayers.  There are handheld and backpack sprayers.  They both are pretty simple devices, meant for smaller jobs.
They consist of a tank and handle to pump air into the tank to pressurize the tank.  You pump the handle to pressurize the tank which when you pull the trigger on the sprayer wand releases the pressure and the chemical mixture shoots out of the sprayer wand.  The higher the pressure, the farther, and the more powerful the stream or spray of chemical.
Manual handheld and backpack sprayers can be used to apply many types of chemicals for cleaning, fertilizing, controlling weeds, spraying for insects, and many other uses around your home or garden.  They also generally are equipped with adjustable spray nozzles as well. Most manual pump garden sprayers max out around 90 psi, though the average is around 25 -30psi.
Pros and Cons of a Manual Pump Garden Sprayer
Here are a few pros and cons of using a manual pump garden sprayer.
Pros:
Easy to Use
Simple to Maintain
More Economic Option
Cons
Best for smaller jobs
Manual fatigue from using the sprayer
Inconsistent spray pressure
If you are looking for a simple pump sprayer for smaller jobs around your home, then a manual pump sprayer might meet your needs.
The Electric Garden Sprayer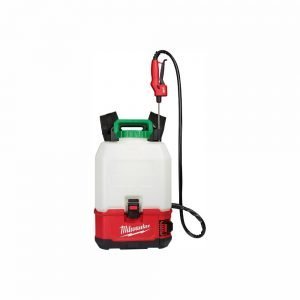 So electric garden sprayers are relatively new when compared to the manual style models.  They pretty simplistic as well but instead of manually pumping the sprayer, there is an electric motor to power the pump, so no manual pumping to pressurize the tank.  Electric garden sprayers are generally backpack style sprayers but there are a few handheld models.
Electric sprayers also consist of a tank and pump, but also have a pump motor and battery.  Most electric garden sprayers have removable lithium-ion batteries, though there are a few models with on board batteries.
Electric handheld and backpack sprayers can be used for both small and large spraying tasks.  Most models have adjustable pressure controls and adjustable spray nozzles.  Electric sprayers can also hit higher PSI pressures up to 120 psi for some models, but the average is around 40 -60 psi.  Higher pressures mean longer spray length.
Pros and Cons of an Electric Garden Sprayer
Here a few pros and cons of using an electric garden sprayer.
Pros:
No manual fatigue
Ease of Use
Consistent spray pressure
Speed of chemical application
Cons:
Weight
Cost
More maintenance
If you need consistent spray pressure and want to apply the chemicals in a quicker way then an electric garden sprayer might just be for you.
Who makes Manual and Electric Garden Sprayers
Well, lots of companies make garden sprayers.  Not surprisingly many of your larger tools manufacturers like Milwaukee and Ryobi make garden sprayers.  There are also specialized sprayer companies like Chapin and Solo, that make manual and electric sprayers.  Chemical manufacturers like Scotts and Ortho also produce sprayers, as well of many of the big box home centers like HomeDepot.
Garden Sprayer Manufactures
What's better Manual Pump vs Electric Garden Sprayer?
So what is better when comparing manual pump garden sprayers vs electric garden sprayers?  Well, that really depends on what you are going to use the sprayer for.  If you only have small or infrequent spraying tasks then a manual garden sprayer might work for you.  Also if the cost is your driving factor then a manual sprayer might suit your needs.
Electric garden sprayers are really the best of both worlds though.  You still have the simplistic use of the manual garden sprayer, but you can use the sprayer for larger projects, and it doesn't take as long since you no longer have to manually pump the sprayer to maintain the correct spray pressure.  Electric sprayers also have stronger psi measurements, which means longer distance spraying.  Many models have adjustable psi controls which will allow you to control the length and power of the spray.
Truthfully the choice is yours and depends on your individual use and circumstances at your home or in your garden.  However, we think for the most bang for your buck, that electric garden sprayer is superior to the old manual models.