Last Updated on December 2, 2022 by the staff of TheAllElectricLawn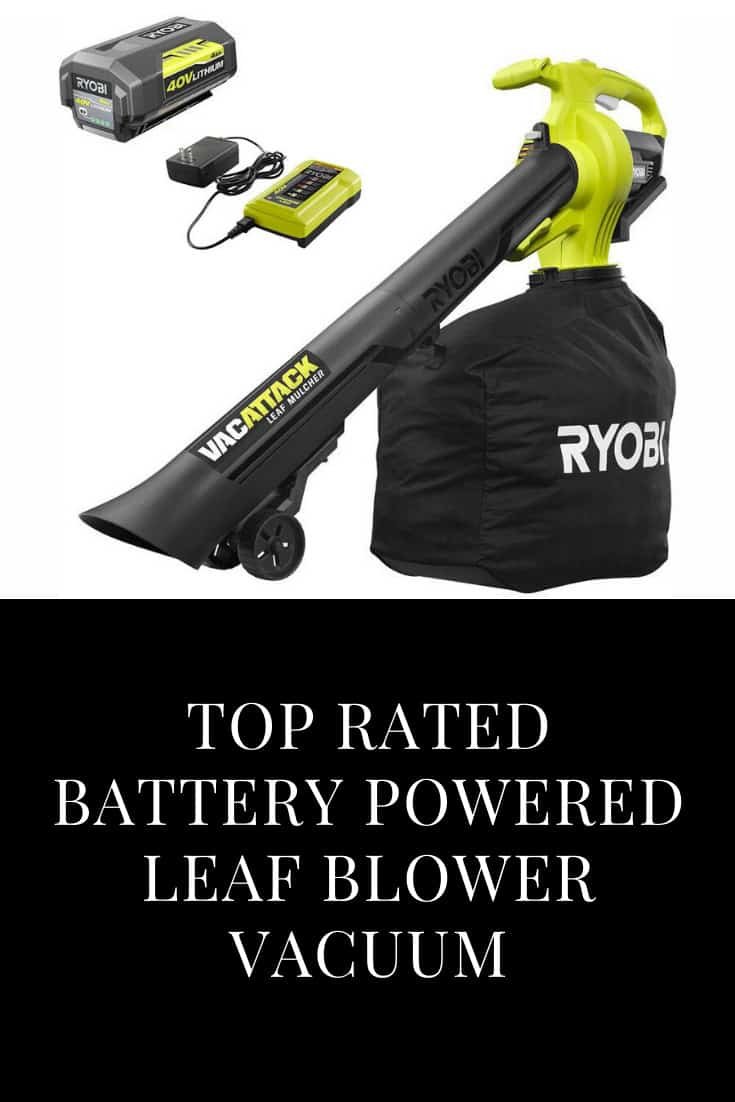 If you are looking to get a highly versatile tool for cleaning the leaves in your yard, then you may want to buy a top rated battery powered leaf blower vacuum. Electric leaf blower vacuums are quite powerful, economical and better for the environment compared to gas-based leaf blower vacuums.
Since these units are cordless, you don't have to worry about tripping over the wire. You can use these vacuum leaf blowers anywhere on your property without the wire getting tangled in trees or fences. They are ideal for vacuuming and clearing leaves from a big lawn and bagging them up for mulching later.
We hope you love the products we recommend! If you buy something through our links, we may earn an affiliate commission.
Top Rated Battery Powered Leaf Blower Vacuum
In this guide, we look at the top 5 cordless electric leaf blower/vacuums in the market to help you make a decision.
Black Decker is a recognized brand that sells affordable power tools for use in homes and gardens. If you are looking for a reliable and high-quality leaf blower, you will many options within Black Decker's lineup.
The LSWV36 from Black Decker is a top-class, compact leaf blower/vacuum that runs on a 40-volt lithium-ion battery system. It is a powerful vacuum blower that can go up to a speed of up to 120 miles per hour. This speed should be more than enough for most users to easily clear debris from hard surfaces like patios, decks, driveways, walkways & garages.
It has a sleek, long design and weighs around 6.9 pounds. The very lightweight model is easy to operate with a single hand. A power switch is placed on the thumb position making it very easy to operate with just a flick. The bag has a capacity of .5 bushels and generates less than 65 dB noise.
The unit is very low cost and has an affordable price tag, which is refreshing for a battery-based leaf blower. The battery and charger are included in the price, making it a high-value option for users. You will get a decent build quality with this unit along with a 2-year warranty that is quite remarkable for its price.
The Greenworks 24322 leaf blower vacuum offers a lot in its price range. You get a 40-volt battery plus charger with this powerful model. The motor can generate a speed of up to 185 mph with 340 CFM. It offers 6 different speed selections for power and efficiency. Vacuuming bag is also included in the price.
Another great thing about this leaf blower is that it offers great build quality and a 4-year warranty. It has a compact, easy to carry design with a moderate weight, making it very portable. When the battery is installed on this device, it weighs just over 12 pounds, which should be easy to carry with both arms.
The battery offers about 40 minutes of run time, makes no mess, and generates very low noise. It is lightweight and easy to use and maintain.

Sun Joe is known for marketing innovative, low-cost machines. The 40-V IONBV-CT is an extraordinary electric leaf vacuum/blower/mulcher that offers great leaf blowing and vacuuming power in its price tag. Accessories include running wheels and a 16-gallon vacuuming bag.
This is a lightweight model and weighs less than 5 pounds without battery and 9 pounds with battery, making it easy to carry around. Batteries are not included with the base model but can add up a 5.0 amp battery with a charger from the store.
Charge up the battery and attach it to the leaf blower/mulcher, and you are good to go. The push-button start is placed on the handle, close to the thumb position. The design is simple but effective, and you can blow away leaves in minutes.
It has a 700w motor that generates air velocity up to 200 mph with an airflow of 300 CFM. The battery has a continuous run time of 55 minutes. The 40-V IONBV-CT has an impressive 17: 1 mulching ratio, and a high impact plastic impeller to shred those leaves into fine mulch.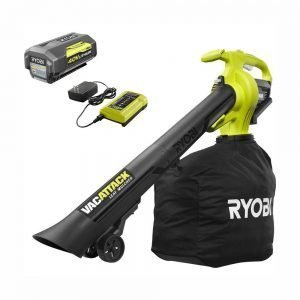 This Vacuum/Mulcher is part of the popular RYOBI 40v outdoor product line.  It features a 2 in 1 vacuum and mulcher for cleanup of all those leaves that have cluttered up your yard.
The RYOBI vacuum/mulcher has a metal impeller that can shred up to 16 bags of leaves down to 1 bag. So it has a mulching ratio of 16:1.  That is pretty impressive.  The mulched leaves flow into a heavy-duty zippered bag that is attached to the vacuum frame.
This vacuum/mulcher also has adjustable wheels that help keep the vacuum/mulcher at the correct angle to vacuum up the most leaves and debris.  The wheels also take a little strain off your back as you begin to accumulate a large amount of debris in the vacuum bag.
Variable speed control helps you fine-tune the power of the vacuum/mulcher. You dial up the power for large leaf piles and can dial it down if you are trying to clean up a mulched bed and don't want to vacuum up the mulch.
The 24V-X2-BVM143-LTE, is unique in that it can use 2 x 24volt batteries for maximum power.  This vacuum/mulcher is lightweight, powerful, and sleek looking.  With the dual batteries, this model had a 65-minute runtime.
The 24V-X2-BVM143-LTE has 5 variable speeds which will help you dial in the best suction to deal with the leaves that need to be mulched. The vacuum has a powerful 388 cfm vacuum airflow.  The mulching ratio is 8:1 which is impressive for a cordless vacuum mulcher.
There is a large 9.2 gal vacuum bag which can be used to contain all the mulched leaves, as you clean up your yard and mulched beds.  The impeller is not steel but is made of a high impact plastic which does an excellent job in reducing the leaves to a mulchable size.
Wheels are included with the 24V-X2-BVM143-LTE, which helps in the mobility of the vacuum/mulcher. The wheels help you keep the vacuum/mulcher at the best angle to maximize the cleaning ability of the tool.  The wheels also help you maintain longer cleanup sessions as the weight of the vacuum/mulcher and the debris bag are better distributed to reduce fatigue.
So what is the top rated battery powered leaf blower vacuum?
Each of these models has its pluses and minuses, and if you already have a yard tool that uses any of the existing battery platforms for either Black and Decker, Greenworks, SunJoe, or RYOBI, then you are more than likely going to want to stay in the ecosystem.
That being said RYOBI 40-Volt Lithium-Ion Cordless Leaf Vacuum/Mulcher is our choice for the top-rated battery powered leaf blower vacuum.  This model has power, adjustable throttle, a heavy-duty debris bag, a steel impeller, and is part of one of the largest selections of 40v battery powered lawn tools in the business.  We felt the RYOBI 40-Volt Lithium-Ion Cordless Leaf Vacuum/Mulcher was the best of class and would be a perfect addition to your lawn cleanup tools.