Last Updated on October 2, 2023 by Kyle Whitley
Threats to your plants are quite real. Whether you have plants growing in your backyard or growing them commercially, you have to take care of the surroundings to make sure they are well-protected and have an ideal environment to grow. We've created this guide to help you determine what is the best battery powered backpack sprayer.
Battery powered lawn equipment is becoming the go-to for making your outside tasks easier and faster for the everyday homeowner and professional gardener.  Using a battery powered backpack sprayer can help you dispense the ideal dose of insecticides or herbicides that can help you destroy pests and kill the weeds that can harm your precious plants.
Several battery-powered backpack sprayers are on the market, and not all of them are the same. Finding the right battery-powered sprayers to meet your needs can be challenging.
What is the Best Battery Powered Backpack Sprayer
After hours of research, we've compiled a list of the top five products in this category. After reading everything they have to offer, we are confident that you will find the right product and make the right choice for your gardening needs.
We hope you love the products we recommend! If you buy something through our links, we may earn an affiliate commission.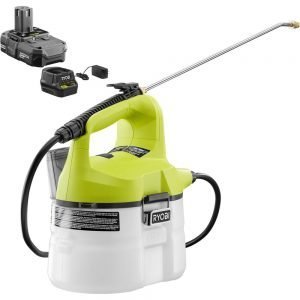 The RYOBI ONE+ has fast become one of the most popular solutions for homeowners and professionals looking for the best battery powered backpack sprayers to help them spray the ideal dose of weed- and pest-killing chemicals to protect their gardens and plants.
This best-selling model P2810 RYOBI ONE+ comes in as a prime example of the convenience and versatility of these battery-powered tools. An adjustable spray nozzle can help you with a variety of spraying applications, and its 18-volt battery comes with a 60-minute charge time for more than 30 gallons of spraying power in a single charge.
While not specifically a backpack sprayer, since it lacks shoulder straps, this sprayer does have an optional backpack holster with a single strap which turns the sprayer into a backpack model.
Specifications and Features
Efficient and quick-charging lithium-ion battery
1-Gallon capacity with a removable tank
30-Gallon spraying power in a single charge
Lightweight and convenient tool
It comes with a 3-year limited warranty
Power-efficient and lightweight pump
What we Liked
RYOBI 18v One+ batteries can be used with many other RYOBI products
There are swappable tanks that you can use for different spraying tasks.
What we disliked
It would have been nicer if it had a little more than one-gallon capacity.

To turn it into a backpack sprayer, you have to use a strap.
The second backpack model on our list of the best battery-powered backpack sprayers is the 4-Gallon Neverpump Bak-Pak Sprayer by Hudson Pro. This powerful tool can help you cover substantial ground while spraying using its 4-gallon tank capacity.
While it requires 10 hours to recharge the battery, it gives you 5 hours of battery life for excellent spraying power with various nozzles for a range of spraying applications.
This powered backpack sprayer is suitable for commercial or larger scale settings at home. It may be heavier than many other products, but it comes with ergonomic straps that make using it a breeze.
If that's not all, the adjustable straps add more comfort for the user. It has a removable filter to keep dirt out and keep the tank from clogging up.
Specifications and Features
Four different heavy-duty nozzles for a variety of spraying applications
5 hours of spraying power in a single charge to cover substantial ground
Translucent 4-gallon capacity tank to help keep track of fluid levels
Large and customizable shut-off valve that locks for continuous spray
Removable filter that keeps the tank from clogging up, reducing maintenance work
What we Liked
Large capacity for extended spraying tasks
Long runtime
What we disliked
It feels heavy when fully loaded
Hard to grab the sprayer nozzle if you accidentally drop the nozzle while spraying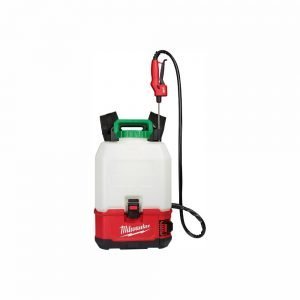 Milwaukee is a significant brand name for products homeowners love to use for various projects around the house. From this prominent manufacturer comes the M18 Switch Tank Backpack Sprayer with a 4-gallon tank that can meet professional landscaping standards.
Filled with useful features, the Switch Tank has an interchangeable tank design that allows you to use one full tank, replace it with another when it is depleted, and keep on spraying.
The high-capacity lithium-ion battery gives you long battery life and allows you to use the sprayer for 12 tanks in a single full charge. The 120 PSI pump is powerful and gives you distances of up to 25 feet while using the spray.
Wide straps with padding make the backpack comfortable for the user while spraying for extended periods, and the sprayer comes with adjustable pressure settings.
Specifications and Features
Powerful dual-diaphragm pump for longer pump life
Adjustable pressure setting to allow varying spraying applications
4-gallon capacity
Provides run-time of up to 12 tanks' worth on a single full charge
Viton seal for increased durability of the pump against harsh chemicals
120 PSI pressure with 25 feet range on spray
What we Liked
Single charge runtime is very impressive
The backpack sprayer uses interchangeable tanks for specialized spraying applications.
What we disliked
This is one of the most expensive battery powered backpack sprayers.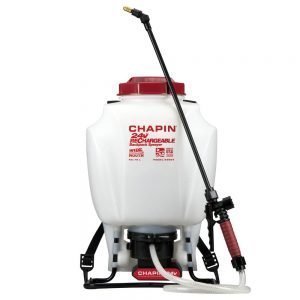 Chapin is another popular name when it comes to battery-powered backpack sprayers. While its manual pump products have made quite a name for the manufacturer, its Wide Mouth Battery-Powered Backpack Sprayer proves that Chapin is an excellent all-around chemical sprayer provider. This may not be the most heavy-duty product, but it gives you a respectable performance for its size.
The 35 PSI pressure with a 35 feet stream distance makes it very convenient when covering large areas. The lightweight construction makes it weigh 39% less than its closest counterparts for more convenience.
The wide-mouth funnel makes filling the tank and cleaning the sprayer easy. This powered backpack sprayer also comes with three different nozzles for varying spraying applications.
Specifications and Features
24-volt lithium-ion battery with 2-hour continuous spray time
Cushion grip shut-off valve for ease of use
4-gallon capacity
40PSI max pressure with up to 35 feet coverage with the spray
Three different nozzles for a variety of applications
Sprays up to 58 gallons in a single charge
What we Liked
The backpack sprayer has comfortable straps that make carrying it easy.
Big sprayer capacity makes it easy to spray large areas.
What we disliked
It's not possible to turn the power on or off when wearing a backpack sprayer.
When fully loaded, it can be heavy.
RYOBI ONE+ has a wealth of excellent backpack sprayers in its product line, and this is a backpack model we could not leave out of the list of the best battery-powered backpack sprayers. The RYOBI ONE+ 18-Volt Chemical Sprayer features a 4-gallon capacity tank, which is one of the large tank capacities for an RYOBI sprayer. It is also more potent than the previous model.
The P2810 may have its applications, but this powered backpack spray broadens your capacity to cover more substantial ground. It's 2Ah ONE+ 18-volt lithium-ion battery gives you a run time that allows you to spray up to 40 gallons of chemical in a single full charge. It includes an adjustable spray and flat fan nozzle for a wide variety of applications.
Specifications and Features
Sprays up to 40 gallons of chemicals per full charge
It comes with a 3-year limited warranty
Translucent tank to allow you to keep track of fluid levels
Adjustable spray and flat fan nozzle
Provides you with a long run-time
What we Liked
Those large spraying jobs can be done with a large 4-gallon sprayer tank.
The batteries are compatible with all other RYOBI One+ 18v tools.
What we disliked
It can be hard to remove the screw-on lid.
When fully loaded, the backpack sprayer feels heavy even with backpack straps.
Battery Powered Backpack Sprayers – What's the big deal?
Well, the big deal is time.  The one thing we can't get any more of.  Now I don't know about you, but spraying chemicals is not my favorite part of doing yard work.  It is a hassle, for the most part, so making it a quick as possible is the best thing to do.
Battery powered sprayers, in general, are just quicker chemical sprayers; they don't require manual pumping to maintain the correct pressure and distance control which you have to do with either handheld or backpack manual sprayers.  The other plus for a backpack model is size.
Backpack sprayers are, in general, much larger than the handheld variety.  They have tank capacities of up to 4 gallons of liquid, which means fewer trips going back and filling up with more chemicals and water.  Fewer trips mean you can get the job done faster—Win-win in my book.
What features to look for in a battery powered backpack sprayer
When selecting your sprayer, there are a few things you should make sure the backpack model has. The powered backpack sprayer should have most of the following:
Multiple spray nozzles or an adjustable nozzle
Tank capacities between 1 gallon – 4 gallons
Comfortable shoulder straps or strap
See-through tanks to easily tell the number of chemicals in your chemical sprayer.
Long battery life
Removable or interchangeable tanks are a plus
Battery Powered Backpack Sprayers Frequently Asked Questions
What to consider when selecting battery powered backpack sprayers?
What do you do with your sprayer most of the time?
You need to consider what type of chemical you are going to be spraying.  Are you spraying just weeds, weeds, and insects, or are you applying a stain to a fence or deck?
You will also need to check out the durability of the materials for the backpack sprayer and how long you want the backpack sprayer to last.
Not all battery-powered backpack sprayers have removable batteries, so if you are concerned about spraying for long periods of time, you will want to look for removable and rechargeable batteries.
Another thing to consider is comfort.  What type of straps does the backpack sprayer have? Are they padded straps?  How adjustable are they?  Carrying around that kind of weight can be extremely tiring, so the correct kind and type of straps are important.
Why You Need A Battery Powered Backpack Sprayer?
The most common reason you might want a backpack sprayer is added spray capacity.  Most backpack sprayers hold around 4-gallons of liquid.  That much liquid will allow you to spray for quite a long time.
Another reason why you might want to purchase a battery powered backpack sprayer is comfort.  All sprayers over 1-gallon can become pretty heavy after carrying them around for even a short distance.  With shoulder straps, you can better distribute the weight and be less fatigued after a spraying session.
How to maintain battery-powered backpack sprayers?
Proper cleaning is truly the best way to keep your spraying year after year.
This means that you should clean the sprayer after each use.  Storing a sprayer with chemical residue inside the tank can cause clogged nozzles or clogged pumps.
I often let my sprayer air dry in the sun while I take care of other tasks so that the sprayer can be stored at the end of the day.
If you live in cooler climates, make sure there is no residual water in the sprayer's parts.  If the water in those parts were to freeze, it might damage the sprayer.
Maintaining the battery in your battery powered backpack sprayer is essential.  Make sure the battery is charged and ready for use after each time you spray.  Always follow your manufactures recommendations for the care and maintenance of the battery in your sprayer.
What should I use to clean out my backpack sprayer?
The real simple answer is warm soapy water.  There are also specific sprayer cleaners, but warm water and a mild dishwashing detergent will get the job done.
Add water to the sprayer tank and let that sit for a while.  Pour that water out of the tank, and then add more warm water.  Run the sprayer to flush the sprayer's pump and nozzles to keep them from gumming up from dried chemicals.
If your backpack sprayer has a filter or filter screen, make sure they are clean so the pump on the backpack sprayer can function correctly and efficiently.
Final Thoughts: What is the best battery powered backpack sprayer?
Picking the best battery powered backpack sprayer is a significant investment, and you should make it very carefully. Hopefully, our reviews of the top products in the market right now will help you make the right decision for your garden maintenance needs. Each of these products is capable of doing an excellent job.
While it was hard to pick a model that we felt was the best, we thought the Chapin Wide Mouth Battery-Powered Backpack Sprayer was the best battery powered backpack sprayer we tested.  This was a great all-around chemical sprayer with a large tank capacity with long runtimes from sprayer manufacture with a long history in lawn and garden sprayers.  This battery powered backpack model should handle all of the spraying needs of the average homeowner.
You can't really go wrong with any of these models, however.  The only difference now is your personal preference and requirements specific to your plants' care. Best of luck!